HOOD RIVER — Catherine Dalbey, director of human resources, and Deputy George Economou, Hood River County Sheriff school resource deputy, presented the results of a multi-agency tabletop safety drill conducted May 27 in the Hood River Valley High School gym.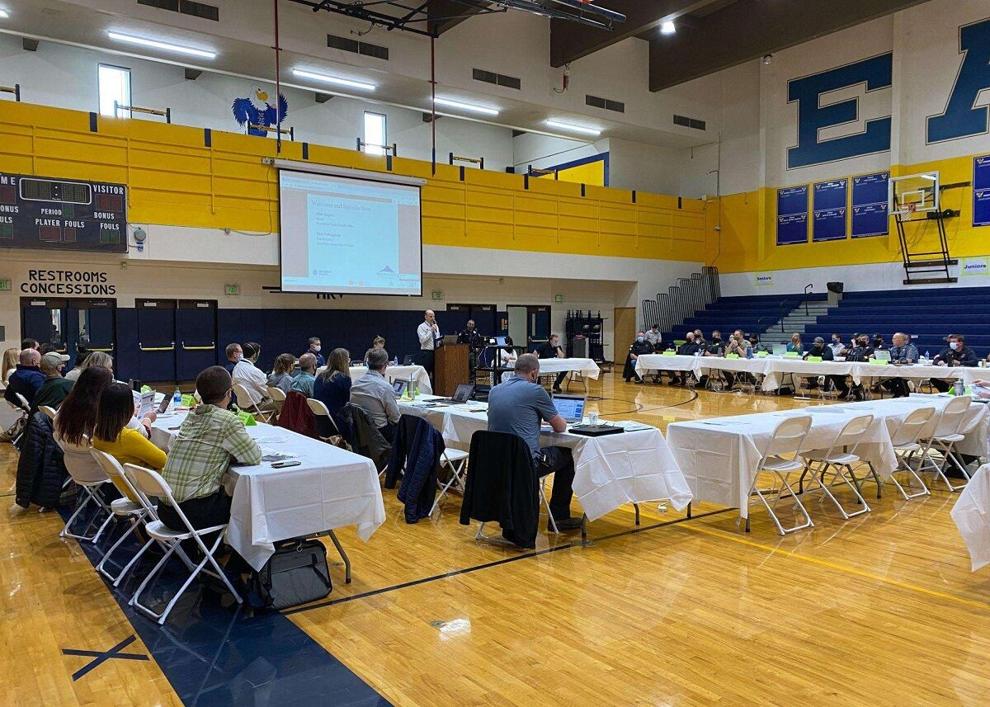 Tabletop drills are discussion-based sessions where team members meet in an informal classroom setting to discuss their roles and responses in an emergency. Economou worked with the Department of Homeland Security to find an exercise that could be used by the district and its community partners to practice responding to a safety threat or other type of emergency at a school. Afterwards, participants went over the exercise to assess overall strengths and weaknesses, and to discuss major takeaways.
"We're lucky the Oregon Department of Education and ESDs statewide came to assist," said Dalbey. "It was great to have their expertise, and it was designed to be our chance to talk through what we would do, and a safe space to make mistakes and ask those hard questions, and then try to figure out with our team what our next steps were going to be."
Multiple agencies were invited to participate — including private schools in Hood River County and emergency services in Wasco County — because any emergency incident is a community response, said Economou. "We did use an active shooter incident as the driving exercise, but it could have been an earthquake or hazardous materials spill, and all of these people would have come to the table," he said. "It was a great opportunity to see faces and dust off the cobwebs, and work that collaborate muscle."
Dalbey said the long-term plan is for agencies to meet in the fall before school starts — including this fall — to maintain and foster relationships, continuously improve response systems and make sure that plans coordinate well.
Economou said the tabletop drills are a way to "crawl, walk, run."
"It wouldn't make sense to try to do (a live emergency drill) if we couldn't give people the opportunity to review (responses)," he said. "… We wanted to make sure people left positive and felt more confidence. It was a good confidence-building event."
Board Member Dr. David Russo asked if the district practices internal and external mass communication strategies. "How would we be communicating with our families, the media and the public?" he asked.
Dalbey said that each organization has identified a public information officer, who would then work together at an information center.
"At the tabletop drill, all of our public information officers were able to collaborate and talk about who's doing the communication, what's going out, and how can we partner with the county emergency management and the emergency operation center to quickly set up a phone bank should we need to accept a large volume of calls into the district," she said, adding that they discussed automated calling and texting to push out a general message to families right away.
Board Member Chrissy Reitz and Vice Chair Julia Garcia-Ramirez pointed out that almost any emergency in the county was going to affect district families and staff, recalling the 2017 Eagle Creek fire that threatened homes in Cascade Locks.
"I think it's great that even if we're not at the center of the incident, we can still have those relationships so that we can say … how can we mitigate any sort of aftereffects for our population or even, what can we do to help you," said Reitz.
Dalbey shared that the district is looking into the feasibility of putting solar and emergency power at Wy'east Middle School that would serve as a response hub for emergency services.
"From a resources standpoint, we have buses and are able to transport people to and from an emergency," she said. "… We have food in our kitchens. We have a lot of resources to be able to assist if something happens."
Board Chair Rich Truax said he was grateful that so many organizations came to participate in the drill.
"It's obviously a big effort and a big commitment from a lot of different groups, and even ESDs across the state," he said. "It's a benefit to the community."
Participating with Hood River County School District and Hood River County Sheriff's Office were Hood River Police Department, Oregon State Police, Columbia River Inter-Tribal Fish Commission, Federal Bureau of Investigation, Hood River Fire and EMS, West Side Fire District, Wy'East Fire District, Parkdale Fire and Rescue, Cascade Locks Fire and EMS, Hood River 911 Operations, Columbia Gorge ESD, Providence Hood River Memorial Hospital, Mid-Columbia Medical Center, City of Hood River Public Works, Hood River County Public Works, Hood River County Emergency Management, Columbia Gorge Community College, Wildwood Academy, Horizon Christian School, North Wasco County School District, Wasco County Sheriff's Office, City of The Dalles Police Department, Wasco County Emergency Management and Mid-Columbia Fire and Rescue.