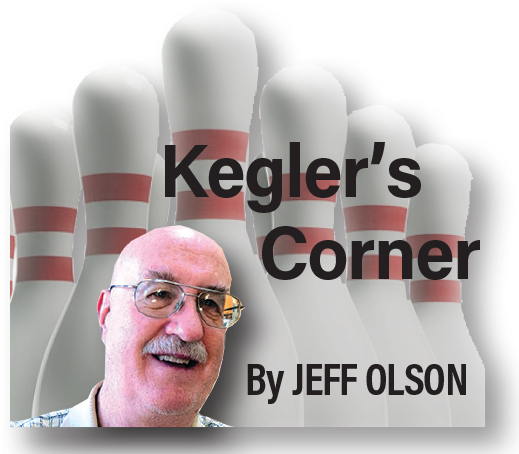 Just one question: are you bored? Sure, things picked up a bit this summer but have you noticed what's going on outside right now? That's right, summer is about over, you can sure feel that telltale nip in the air. It won't be long and we'll be facing cold Mr. Freeze and the doldrums of winter, probably for 6 months until next April. So, why not join a bowling league and get back into having some fun? Bowling leagues are famous for meeting people and socializing. We've got to get back to living. To be safe we're all masked up and social distanced at the lanes per Governor's orders. Leagues are just beginning to form at Orchard Lanes, Hood River's venerable bowling palace up on the Heights. And, do yourself a favor and don't bother with that old excuse that you're not good enough to bowl league. That's baloney! Leagues are for everybody and Orchard Lanes has something for all skill levels.
Monday night features the Industrial League, for three person teams at 95% of 220 pins. Ladies are welcome in all leagues. The Industrial starts at 7:30 p.m. every week; it's fun and fast paced, a great league for newcomers. Tuesday at 7:30 p.m. is reserved for the scrappy Tuesday Nite Mixed, a great league for couples because it has a four person team format also at 95% of 220 pins. The Colts and Fillies on Wednesday afternoon at 1:30 p.m. is for seniors. This one has three person teams at 95% of 200 pins. Then, on Wednesday night at 7:30 p.m. the high powered Fraternal league convenes. It's the best league in the Gorge, comprised of some of the best bowlers in the northwest. The Fraternal also has three person teams at 95% of 220 pins. The Fraternal is really exciting because it's quite competitive, so winning a few points sure feels good. Oh, and by the way, if you think you are afraid and intimidated to bowl with scratch bowlers because they are too good, well, that's nonsense. These big shooters are just people like everybody, they are friendly, helpful and fun to be around. They simply want to bowl, period.
We just scratched the surface of league action last week but there were still some notable scores. The Dalles lefty, Mike Weaver, had that speedy sphere of his in the groove as he fired a solid scratch 674 three gamer that was highlighted by a nifty 275 game. Mr. Dream-Weaver had the first nine strikes in a row in that big game and he finished up 116 pins over his average which was the top performance last week. In the senior Colts and Fillies, Dick Sherrell also had a field day in the first session with a beautiful scratch 257 game and 611 series. Dick ended up 101 pins over his average. And, Bernie (All Star) Keys led the ladies in scoring last week with a cool scratch 632 set. Bernie's classy down and in game was in top form as she pounded the pins to the tune of mighty fine 245 and 242 games.
League high scratch and games series
Wednesday afternoon senior Colts and Fillies
Bucky Klantchnek: 215,202
Wednesday night Fraternal
Bernie Keys: 245, 242, 632