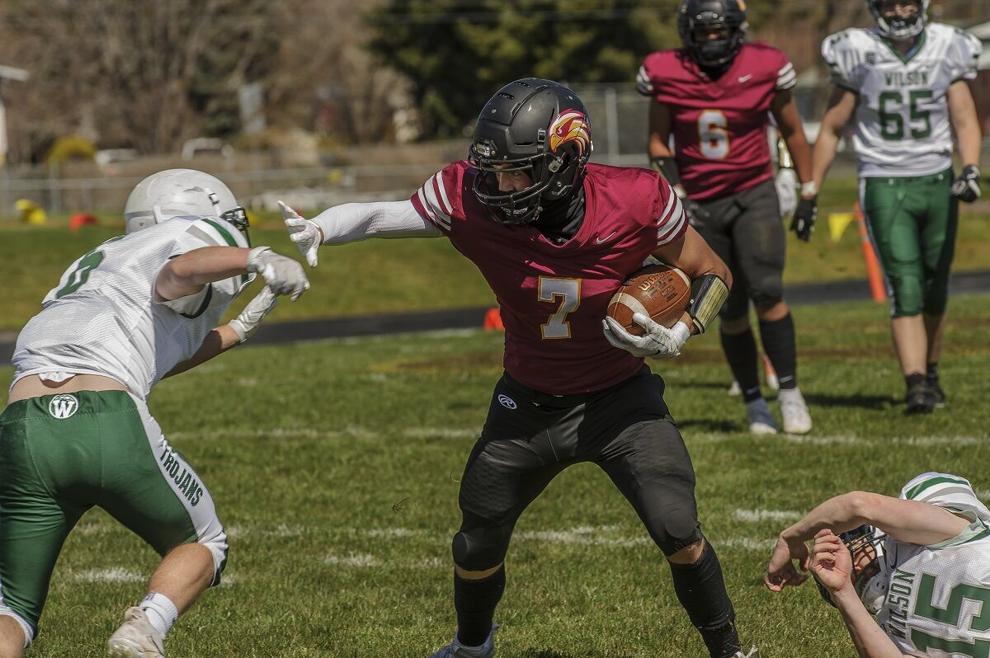 Extended pandemics have a way of adding perspective into a lot of things in life, especially those of double-masked football players. But there's nothing like a high school rivalry to provide a needed respite in otherwise trying times.
Hood River and The Dalles get such a chance Friday at HRV's Henderson Stadium, where they will square off in a Special District 1 contest starting at 7 p.m. April 2. Twenty miles separate the schools, but there are plenty of crossover activities in the Gorge linking players on both teams. Many of those involved in Friday's game started toeing the line against each other in grade school, playing for the Hood River "Blue" or The Dalles "Red" teams. Hood River Coach Caleb Sperry played in this rivalry game, as an all-state wide receiver for The Dalles in the early 1990s.
"I think for the kids it is a rivalry; they know each other pretty well from this and other sports," Sperry said.
Hood River has won the past four meetings in the series, including the last time the two played in 2019, 36-22. The two schools did not play in 2016 and 2017, as The Dalles had an independent schedule to try and build participation numbers in its program.
Andy Codding's first year (second stint) as head coach in 2018 had the Riverhawks back playing in a league — the Class 4A Special District 2. The Riverhawks were 2-6 that season followed by a turnaround year in 2019, when The Dalles went 7-5 behind a large group of 18 seniors and advanced to the Class 4A semifinals. Codding, who also coached The Dalles from 2008-10 when players wore an Eagle Indian logo, probably remembers that the 2019 season began with a two-touchdown loss to HRV, a game also played at Henderson Stadium. The Dalles, which was hurt by 145 penalty yards in the 2019 contest, last beat HRV, 28-20, in 2013.
The Dalles (2-1) is coming off a 34-0 shutout win Saturday over visiting Wilson, while Hood River (2-2) lost 46-26 at home to Redmond's Ridgeview. Against Wilson, The Dalles eliminated some of the costly mistakes that plagued the Riverhawks the week before in a 41-6 league loss to La Salle. Hood River opened its 2021 spring season with a 30-14 win over the Falcons.
"We're going in the right direction heading into the rivalry game against Hood River," said Codding after his team's defensive gem last week. "It's good to go into rivalry week on a positive note. We can't look too far ahead though, because we have lots of work to do in preparation for facing Hood River."
Hood River, on the other hand, will try to plug some defensive holes that Ridgeview exposed last week, especially during the third quarter when the Ravens outscored the Eagles, 16-0. Ridgeview rushed for more than 300 yards against HRV, which also had lost the prior week at Pendleton.
The Eagle defense will have to be aware of the Riverhawks' fly-sweep attack. When The Dalles needs a little speed and deception, it often will call upon fleet Jaxon Pullen to run horizontally along the line of scrimmage until he can find a seam to head up field. The fly-sweep system helped a Codding-coached Ridgeview team recover from a 17-0 second-quarter deficit and win the 2013 Class 4A state championship.
If the run game isn't working, Riverhawk senior quarterback Skyler Leeson has proved adept at play-action passes. He is coming off his best performance, an 8-for-11 passing effort for 120 yards against Wilson.
Hood River counters with a run-based offense, but one that is steadily becoming more balanced behind junior quarterback Trenton Hughes. His favorite targets include senior tight end Zac Wells and junior wide receiver Ryles Buckley, who had a 50-yard TD reception against Ridgeview last week.
Senior Tanner Fletcher is the go-to back in the Eagle offense. The sturdy, quick Fletcher doesn't need much of a hole created by Hood River's big, physical offensive line, to get loose in the defensive secondary. Fletcher had 120 rushing yards in the first half against Ridgeview.
"We've got to do a better job of taking care of ourselves," Sperry said. "(We have to) eliminate bad penalties; get back to making first-contact tackles.
"We've got to get back to playing physical and fast. Those were the trademarks that helped us get out to our first two wins."
(Mike Weber contributed to this story.)