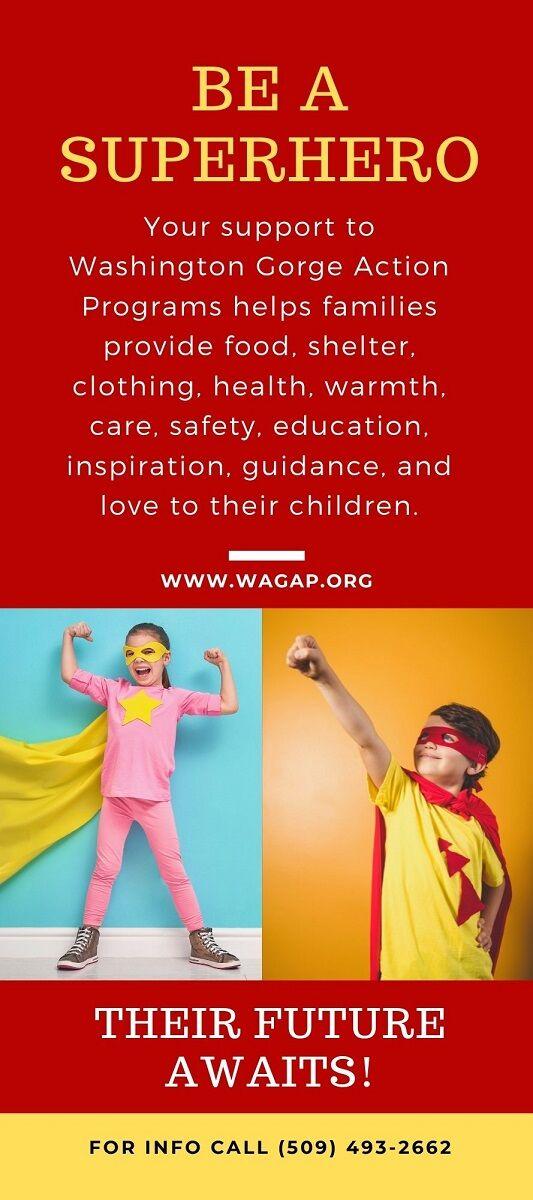 GivingTuesday is a global generosity movement, unleashing the power of people and organizations to transform their communities. It will be celebrated throughout the world on Tuesday, Nov. 30.
"Our amazing volunteers and donors make it possible to provide services to children and families," said Leslie Naramore, executive director for Washington Gorge Action Programs (WAGAP). "Donations of their time, talent, and funding help us help parents provide a roof over their children's heads, put food on their tables, and so much more."
Creating a day that encourages people to do good was the simple idea that launched GivingTuesday in 2012. Naramore said participating in the movement helps WAGAP focus on the most valuable resource in the community: People.
"Every person who participates helps us meet our mission of strengthening community by inspiring hope and helping people help themselves," she said.
Naramore said the multipurpose human service organization allows parents who might be struggling to create safe spaces for children. Aside from housing programs and food banks, WAGAP offers energy assistance programs, a community youth center, help for those in domestic violence or sexual assault situations, community health workers, youth substance use prevention programs, and a thrift store offering vouchers for clothing and household items as well as job training opportunities.
"All of these programs help create a brighter future, especially for children of families who need to create stable environments. Giving parents the opportunity to succeed gives them time to focus on their children, and that is good for all of us," Naramore said.
WAGAP invites community members to learn more about its programs and volunteer opportunities in Skamania and Klickitat Counties through its website, www.wagap.org, and encourages everyone to participate in GivingTuesday and share their generosity throughout the year. WAGAP's Season of Giving fundraiser is already underway. By the end of the year, the goal is to reach $100,000 in donations to support children and families.
Donors will have local match opportunities. They can also tap into Facebook's pledge to match up to $8 million for nonprofits by donating to Washington Gorge Action Programs on the Facebook platform be-ginning at 5 a.m. PST on GivingTuesday, Nov. 30.
While financial donations are essential for providing services, Naramore said, "Communities are built on people helping people. Every act of kindness is important."