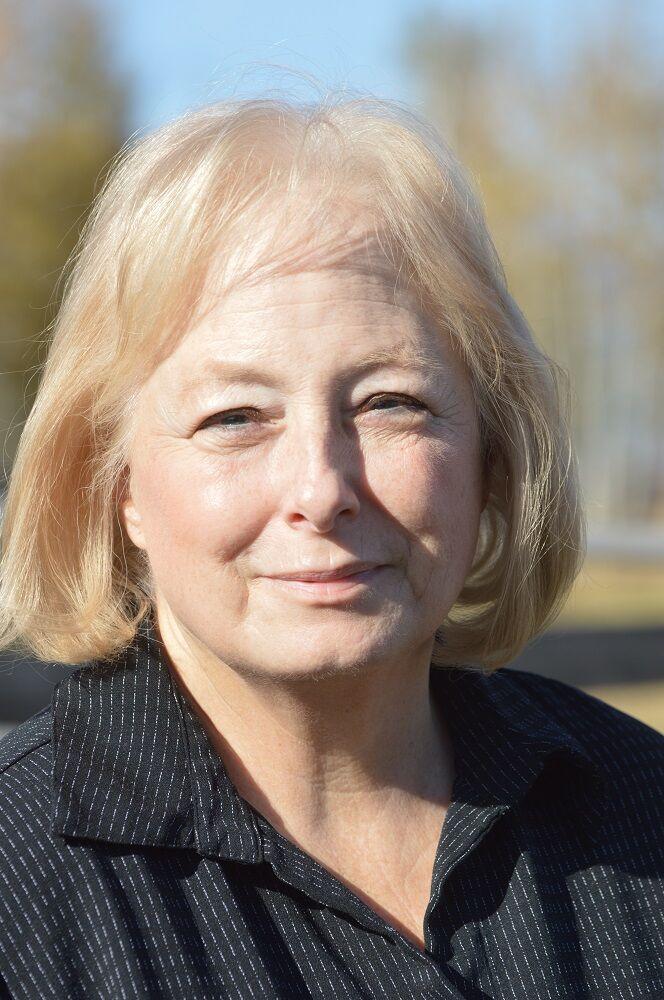 County fairs aren't just about corndogs, curly fries, sno-cones, and bouncy houses. There are a lot of local kids and their parents who put a huge effort into what they prepared and brought to the fair, and, boy it sure showed!
It's hard to decide where to begin, so I'll start with the Western Games on Tuesday evening, Aug. 17. Despite the cold wind, the contestants put on a great show. Jocee and Jentry Hoctor participated in their age groups and Jocee, age 11, finished as Grand Champion for her age class and now sports a beautiful belt buckle for her high point finish. Jentry, age 7, made a great run in the barrels on her good horse Geronimo, but Geronimo had a little case of nerves in the poles so they finished that event with a no time, putting Jentry out of the running for any top awards for the game. She did say she had a blast being out there in the big arena competing, though, and that's what counts.
Wednesday evening, those two sisters and their parents and friends competed in the penning. For both the open penning and family penning, the top six teams returned for the final rounds, with the top four placing in the money. In the open penning division, Jaecee and Josh Hoctor and Johnny Stephens placed fourth in the final round against very stiff competition. In the family penning, various local kids paired with adults to compete. Team Josh and Jaecee Hoctor, Bailey Rickman, and Jaycee McLean, Team Josh, Jaecee, Jocee, and Jentry Hoctor, and Team Aubrey and Johnny Stephens and Jocee and Jentry Hoctor all made it to the final round. What exciting finishes for them all as the Hoctor family team placed third and Stephens/Hoctor girls team placed first. They all looked great out there. Of course, working cattle is what they do for a living, so it definitely came naturally to them.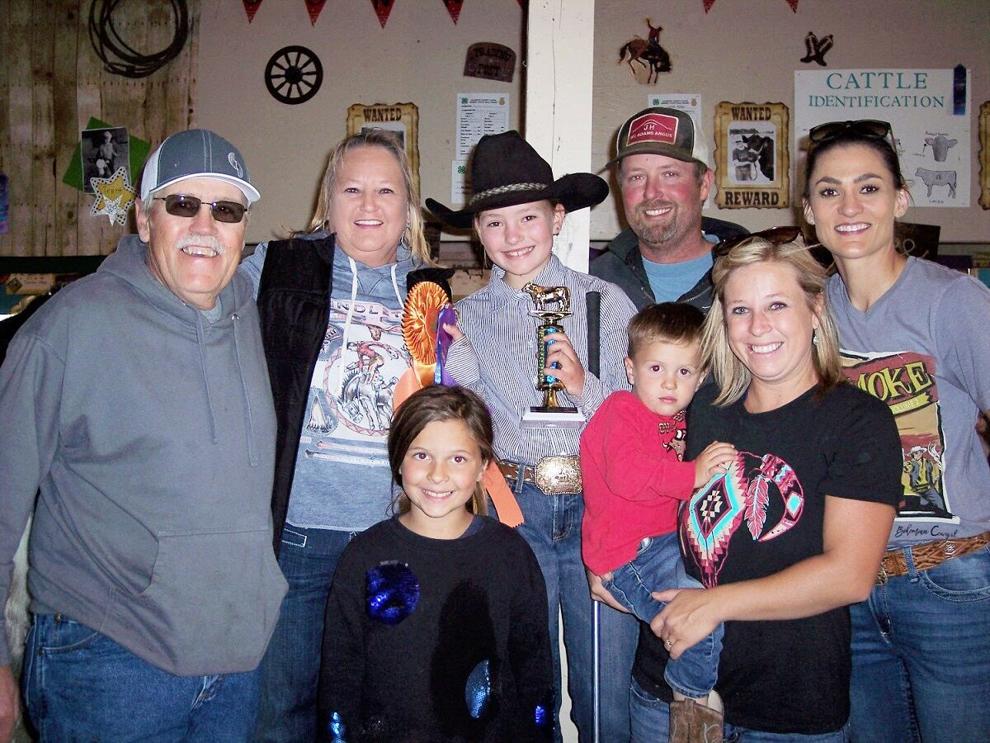 Once the livestock showing and judging started, things really got exciting. The Mt. Adams Community 4-H swine club learned a lot this year with their leader, Shayne Rickman. The swine club members received the club Herdsmanship Award, which is a pretty big deal. Gavin Bensel received Grand Champion market hog and also received an award for rate of gain. Riley Eichner received Grand Champion Novice Junior Showman and Hudson Kabriel received Reserve Champion Novice Junior Showman. Grand Champion Junior Showman and All-around Junior Showman Champion went to Bailey Rickman. Riley Rickman received Reserve Grand Champion Junior Showman and Frank Lorton received Reserve Grand Champion Intermediate Showman.
One very special little peewee showman competed in the show ring for the first time. Two-year old Natalie Miller, daughter of Travis and Kelly, was brave enough to show a pig in front of a large audience and did very well. For her efforts she is proudly showing off a lovely pink water bottle with a picture of a pig on it and the wording, "Klickitat County Fair — Peewee Showman." I think Natalie will have a long and exciting history of participation in the county fair from now on.
Club Leader Shayne would like to thank those who purchased pigs at the market stock sale, including Yakama Nation, Brasuell Plumbing, Dis Repair, Market Stock Sales, Ibby Jane Coyne, and Davenport Cattle. If any purchasers have inadvertently been left off this list, they will be acknowledged in the next news. The support of all these businesses and individuals is very much appreciated.
In the beef category, leader Mike Woodward did a great job helping his four club members prepare and practice all year for the culmination of all their hard work at the fair. Club members Klayton Schmid, Joslyn and Blaine Arnold, and Jocee Hoctor all did great out in the show arena. Jocee Hoctor finished her first year in beef 4-H with a Grand Champion First Year Junior Showmanship award. These four kids greatly appreciate the guidance they received from Mike. Jocee thought it was really cool to learn that her Aunt Kim Hoctor Stills, who was there to cheer her on as she showed, had been in one of Mike's 4-H clubs many years back.
In the 4-H horse club, under the leadership of Lauren Monroe, Jaycee McLean and Jocee and Jentry Hoctor competed in Western and English horse classes Wednesday through Friday. Jocee received a Reserve Grand Champion ribbon for her 4-H horse poster and finished fair week by receiving a plaque and beautiful halter for the Heart and Soul Award. Jentry, in her first year in horse classes, kind of cleaned up, as they say. She received Reserve Grand Champion English Pleasure, Grand Champion English Equitation, Grand Champion Discipline Rail, Grand Champion Trail, Grand Champion Bareback, and Reserve Grand Champion Costume. Her fair week came to a great end as that little girl received the High Point Award for the peewee age group and now is sporting a beautiful belt buckle of her own and won't have to borrow from her mom and dad's collection. Jaycee McLean, in tough competition with the very skilled intermediate age group, received blues in Showmanship, Western Equitation, and Discipline rail. She looked great out there in the arena with her beautiful horse, Sage.
I sure don't want to leave another special fair competitor out. Chris Anderson received Top of Show Awards for her beautiful stained glass lamp and colorful, exquisite quilt. Beautiful work, Chris. You are very talented and now the family member who receives that quilt as a gift will treasure it even more, knowing it was Top of Show.
I'd say our community enjoyed a great county fair this year and it was so good to be back after not having a fair last year. Thank you to all the fair board members and volunteers and all the adults who helped the kids with their projects and animals. Good luck to all the sewing 4-H kids who plan to enter their projects in the State Fair. It was a bit disappointing your projects weren't displayed this year due to lack of space, but I know you'll all be back there next year with more great sewing creations.
Now that fair is over, the kids have gotten down to the business of school. First day of classes started on Wednesday, Aug. 25. The high school volleyball girls have already had two weeks of practices and are looking forward to their first game. The middle school girls began their practices on Sept. 7. Glenwood parents, be sure to mark your calendars for both school picture day and superintendent's open house on Wednesday, Sept. 15. This is a good time to get acquainted with new Superintendent Greg Rayl and have some one-on-one discussions with him if you wish, in addition to meeting the teachers and seeing how things are going so far. And another date to mark down is Sept. 22, which will be a half day, with school dismissed at 12:06 p.m.
The Glenwood Women's Club rummage sale the last weekend of August was a great success and all the donations are very much appreciated. The proceeds from the sale will be used to fund all the community service projects the club does each year. A huge thanks goes out to all who supported by coming to the sale and finding great things they just couldn't live with-out, and by donating items for the sale. The club would like to extend special thanks to Bill Cooper, Debbie Feller, and Darlene Hathaway for their very generous donations that made our sale such a great success.