A group of Gorge tourism organizations and chambers of commerce has teamed up to create a guidebook full of "COVID-safe winter itineraries" for day trips to communities from Troutdale to Trout Lake and everywhere in between.
The guide is aimed at locals and activities are "designed to be very COVID-safe," said Emily Reed, network director for Columbia Gorge Tourism Alliance.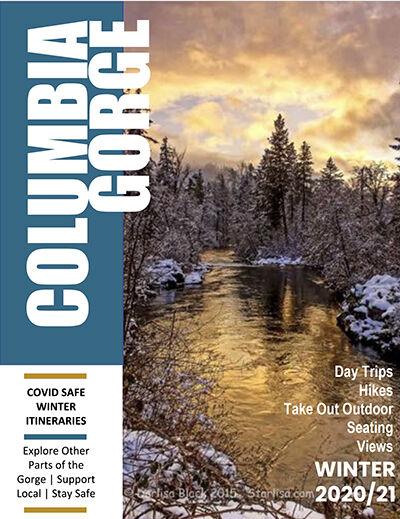 "This is actually a great time for locals to check stuff out without dealing with crowds of tourists," Reed said.
Reed said the guide was created after a socially distanced tour around the region in October which allowed participants to showcase their own area and hear about hidden gems in others'.
She said each chamber will be rolling the program out in their own community.
Lisa Farquharson, director of The Dalles Area Chamber of Commerce, said Wasco County is "not ready to invite people" as the county's COVID-19 risk was assessed to be extreme. She said the open invitation will be ready when that assessment changes.
Farquharson's visitor services manager, Lisa Rundell, attended the October familiarization tour. The tour stopped in Troutdale, Camas, Washougal, North Bonneville, Stevenson, White Salmon, Goldendale and Hood River.
Rundell, who has lived and worked on both sides of the Columbia, said Gorge residents sometimes take the area for granted.
"There's so much more here than you think about," she said. "I learned something new at every stop we made."
Reed said encouraging tourism is always "a double-edged sword" as there is a fine line between underutilized and "loved to death." She said the pandemic has complicated this issue further.
"In the short term, there's a real benefit to safely supporting businesses, but there's a line where things have to slow down if transmission becomes an issue," she said. "Folks have to balance the economic and the health problems of the pandemic. None of this is easy."