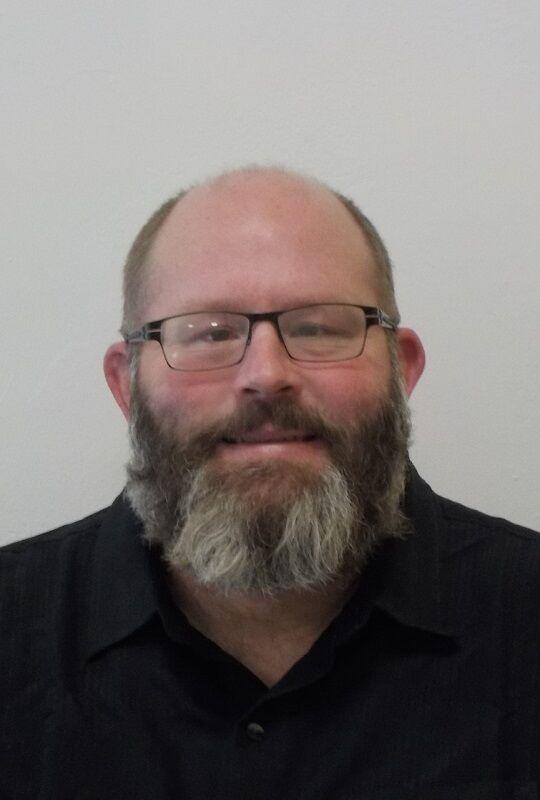 The Oregon Department of Education (ODE), in partnership with the Oregon Lottery, has named Jim Donnelly, Hood River Valley High School teacher, a Regional Educator of the Year. The award celebrates knowledge, dedication, innovation, and leadership.
According to the Oregon's Teacher of the Year website, the program was created to recognize exemplary public school educators, including Oregon teachers who inspire students and make a positive impact in the communities in which they live. For 2022, Donnelly is one of 16 educators across the state who received the recognition and $500 reward. The top three finalists will be named in the fall and receive an additional $2,000 reward.
Donnelly graduated from HRVHS in 1995. He earned an undergraduate degree from Oregon State University in English.
He earned a master's degree in creative writing from University of Iowa. After completing his graduate degree, Donnelly spent 10 years working for Dartmouth College and Oregon Health and Sciences University in public relations and internal communications. In 2008, he started coaching wrestling at HRVHS with the athletics director, Trent Kroll, and realized he enjoyed mentoring young people. Donnelly earned his teaching degree online and taught English for three years at Dufur High School before joining HRVHS five years ago. In 2019, Donnelly became the HRVHS success teacher, working with ninth grade students to support them as they transition into high school.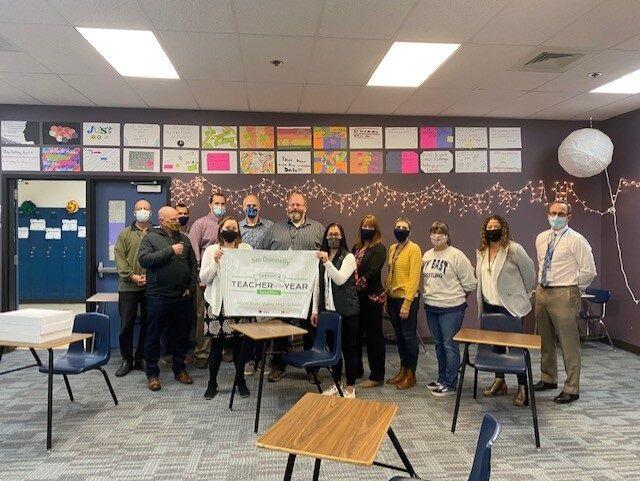 Fellow HRVHS teacher Kevin Haspela said Donnelly's work with the ninth grade success program reminded him of his mother untying his fishing line or shoelace knots for him when he was a child. Haspela said he would pass these crazy knots to his mom and she would always take a ridiculous amount of time to untie them for him.
"Untying difficult knots takes patience, skill, perseverance and love," said Haspela. "Jim has given all of these things to our school community, and especially our ninth grade students."
Donnelly is supervising the summer program at HRVHS this July. Hood River County School District plans to double the size of the summer program and is offering 14 new experiential classes, ranging from glider piloting, to cooking, to woodworking, to creative writing.
Donnelly said, "I'm excited for kids and teachers to have fun at school again — we've missed that."
In addition to supervising the summer program, Donnelly is involved in several initiatives around creating greater equity in schools and helping students to develop the social and emotional skills they need to be successful human beings.
Donnelly said he admires his students. Some of his students have experienced trauma and difficulties that would overwhelm the most resilient of adults, according to Donnelly. "These students still show up at school willing to give it their best shot. I think of that every time I walk into the building," he said. "It's all about creating greater equity in our schools so that all students have a clear shot at success on their own terms. There are a lot of students who look at the amazing opportunities we have at HRV and feel like those programs are for the 'other kids,' and by 'other,' they mean wealthy and/or white. As a teacher, I see my role as challenging my students to meet high standards while simultaneously doing everything I can to kick down barriers that get in their way."
HRVHS Principal Columba Jones said, "(Donnelly) is dedicated, reflective, and a strong advocate for equity. He has had a tremendous impact on our students, staff, and administrative team. Jim is a difference maker not just for our most vulnerable population of students but for our entire staff at HRVHS."
She added, "In the leadership role as the Ninth Grade Success Coordinator, (Jim) has been instrumental in closing the opportunity gap for all of our student subgroups. Students receive support via a class created and taught by him that emphasizes the development of skills under Social-Emotional Learning, Opportunity, and Academic Readiness, (S.O.A.R)."
Donnelly said he wants people to remember him as someone who was kind and helpful along the way. As an author who has written fiction, Donnelly said he has put himself into the heads of his characters to see the world as they do. He said this writing process is good practice for developing empathy. With students and colleagues, he said he likes to think he can see things from their point of view. Also, wrestling teaches you to work through the grind.
"The years go fast in education, but the days can be long," he said. "You need to be able to keep grinding away when the goal seems very far out ahead."
In addition to his teaching role, Donnelly coaches middle school girls wrestling and advises the HRVHS eSports club.
Outside of work, he plays online chess, walks his dogs, and occasionally writes fiction. He is also focused on being a father and getting his 13- and 15-year-old kids ready for launch.
Donnelly's personal motto is, "Don't let the perfect be the enemy of the good enough."
HRCSD congratulates Donnelly for his Regional Educator of the Year award. Donnelly will be leading summer school for HRVHS this year. More information may found at bit.ly/2S2Yl1W.
For more information on Oregon's Teacher of the Year program, visit oregonteacheroftheyear.org.