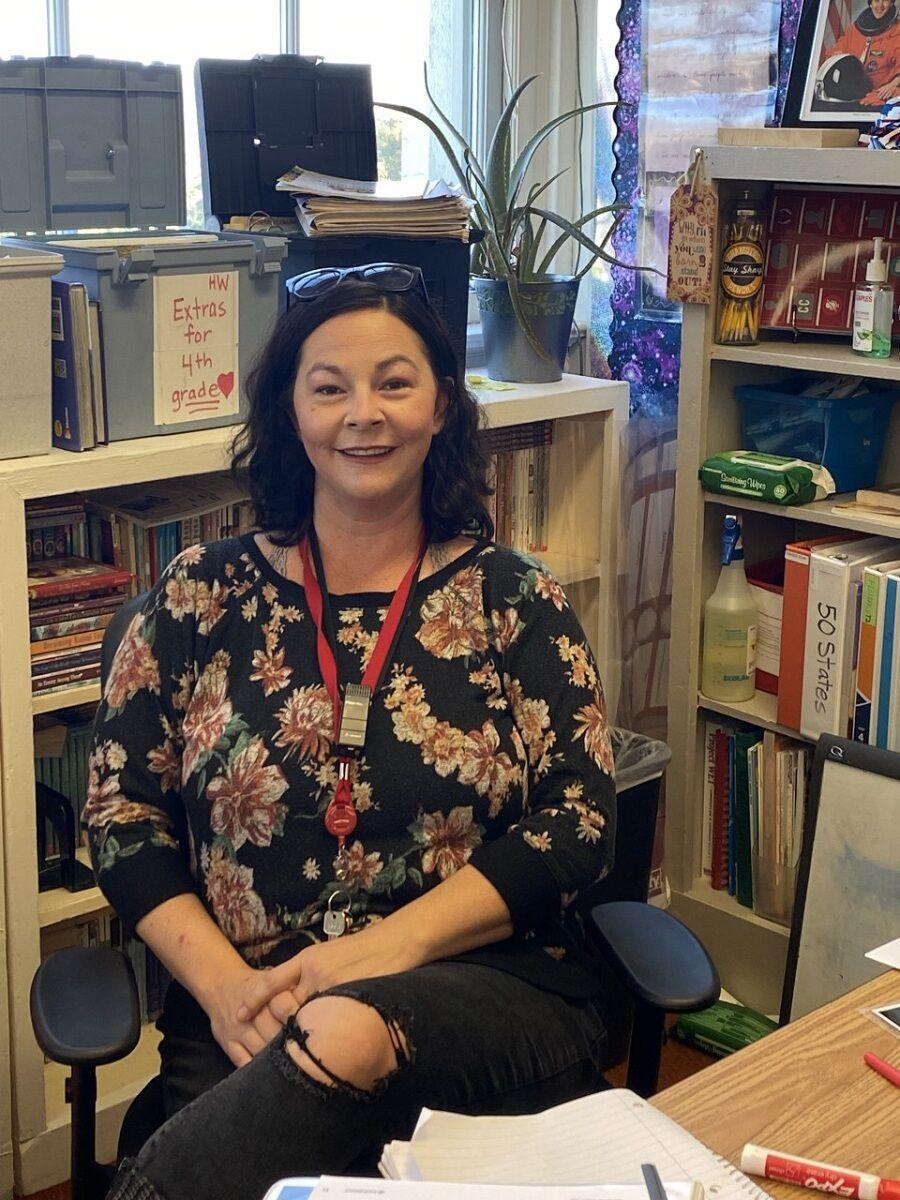 If there's anything that's been proven during the COVID-19 pandemic, it's that teaching can take many different forms. Though the traditional image is a teacher standing in front of a classroom, lecturing, that's not always the case. Especially throughout quarantine, teaching started to look different for every educator.
For Janell Geary, a current fifth grade teacher at Colonel Wright Elementary School who taught fourth grade in the spring of 2020, teaching was standing on a porch with a whiteboard.
She taught online, of course, during the day. She spent hours on Zoom, staring at dozens of little faces on camera, doing her best to manage a Google Classroom.
However, Geary was aware that not all of her students were making it to Zoom class.
"When it first happened, we had a lot of kids that just dropped completely off the face of the Earth," Geary said. "We had a lot of parents that thought, 'Oh, early summer' or 'Oh, extended spring break.'"
Though it wasn't technically Geary's responsibility, she took it upon herself to find the students who had vanished and make sure they were still learning.
"I hit many walls where it was like, 'Well, the only way I'm going to be able to get them to where they need to be is by showing up at their house," she said.
So that's exactly what she did, she said. She had around four kids who she would visit about three times a week. She would bring her whiteboard with her and they would socially distance. The child would be on one side of the porch and she would be on the other and for the next hour, she would teach. It didn't matter that it wasn't school hours, it didn't matter that she wasn't getting paid, all that mattered was making sure her students could learn.
"My job is to teach these children," Geary said. "As teachers we definitely don't do it for the money. We put our hearts into it and make sure our kids are learning. That's what my job is and I'm going to find every way to do it, even if I'm standing on my head, juggling upside down."
When the school year ended and summer began, Geary realized she had kids who needed tutoring. Because the school wasn't going to be running a summer program during 2020, she reached out to the school and asked if it would be okay if she ran one. She knew the school wouldn't pay her to do it, as it was an independent project, but she didn't care.
After renovating part of her house to make an office, Geary started brainstorming ways to hold a socially-distanced sort of summer school.
"I thought to myself, 'How do I make this work so I can have some of my students at my house but not in my house?'" she said.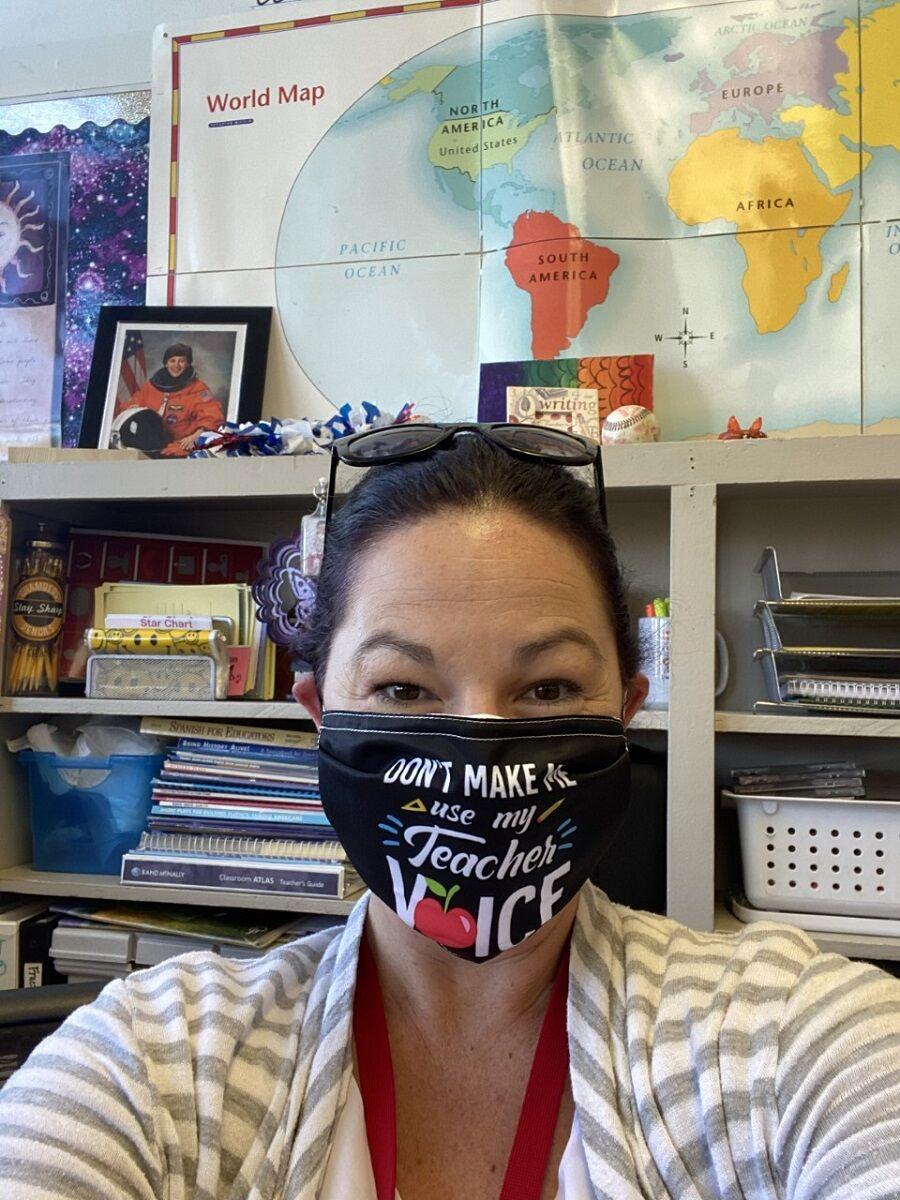 She ended up taking a bunch of old picnic tables and moving them so everyone would be under cover and far enough apart, but still able to see her and her whiteboard. She taught in different blocks, and it wasn't just her own students.
Geary said she had 12 students ranging from first to ninth grade. She taught three days a week, grouping students into where they were academically.
Some families paid her for her work, Geary said, but some were unable to.
"A lot of families weren't able to pay and I felt guilty making them pay, so I did a lot of trade," she said. "I had a lot of pozole made for me. You know, the families helped contribute as much as they could, they were so grateful."
After that summer, Geary rolled over to teaching fifth grade. It was nice, she said, because she got to keep some of her students that she already had rapport with in an online and in-person format. She said she believes that connection is really important.
"Once you make a connection with your students and they know that you are their cheerleader, they are more willing to work for you," she said.
Now, a year later, the school is back to being completely in-person. At least, officially. For Geary, her class is both in-person and online.
There have been concerns about the feasibility of doing both by other teachers, Geary said, but she's found a way that makes it really easy. Every day, when class starts at 8:15 a.m., she turns on Zoom on her second computer. That computer faces the board and she never moves or touches it. It runs all day, with students who aren't in person able to pop in and out as they want.
Geary also runs a Google Classroom and every graded assignment is posted there so that students who can't physically be in class can still learn and stay caught up.
"Here we are in our third week and I've had a number of kids miss out, including kids that have been quarantined, and those students haven't been missing work because they were still with us online," she said. "Whether they're in class or at home, there's just really no excuse to be behind. They can move forward with us no matter what."
Geary said she lets the online students know when they're leaving for PE or music, or when it's time for lunch and recess. She tells them what time they'll be back so they know when to return to the Zoom room for class, but she never turns off the Zoom, so students can stay in the room if they want.
Another thing that Geary has implemented in her class since the pandemic is a very open policy with parents. She said working with parents throughout online schooling showed just how important it is for parents to be involved in their students' education.
"The most amazing thing that came out of the pandemic as an educator was the affirmation that communication with parents and working together as a team is key in a student's success," she said. "This year, even though we're in person, I'm holding strong to that idea."
Geary has already held three parent meetings to ensure parents know exactly how she runs her class, she said. She's also already given the parents a tour.
"The parents are curious, you know?" she said. "They want to know where their student sits and what the class looks like. Are they really 3-feet apart like everyone is saying and are they safe? And so I've really walked through those routines and made sure the parents understand that I am taking this as seriously as everyone else."
She is grateful for the relationships she has with her students' parents, Geary said, especially because parents can play such a big role in how kids look at the situation and they approach COVID safety.
"Parents can play a huge role in this by promoting the safe precautions we're taking to keep everyone in school," she said. "I feel like that is really important to talk about because I'm finding there's still a lot of things we need to get better at doing."
Though Geary is glad to be able to support her students both in-person and online, teachers are having a hard time, she said.
"We teachers, we are worn down and tired. We're doing a lot more than what our contracts say at this point because we love teaching and we love our students and we love our community," she said. "I feel like my job never really ends but that's okay because I love it. I wake up every day going 'Yes! I get to teach today.'"