Skyline Health has begun its COVID-19 vaccination pilot program, offering doses of the Moderna COVID-19 vaccine to all of its employees and to frontline healthcare workers from the community who are eligible to receive the shot in the first rounds of distribution.
Workers sat in isolated chairs along two tables in Skyline Health's meeting space and waited to receive the first of the double-dose regimen. Those inoculated will then receive their final shot 28 days later. 
So far, Skyline Health has received 500 doses of the vaccine.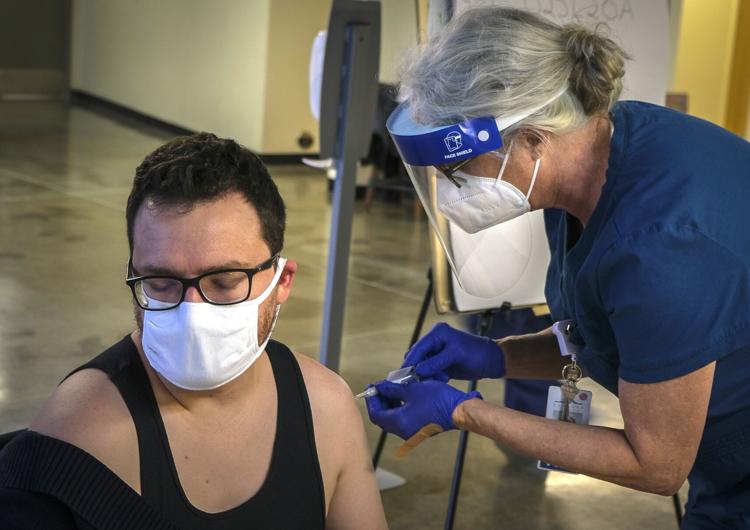 Some employees of Skyline have already begun their regimen, due to Klickitat Valley Health in Goldendale receiving their first doses of the Pfizer-BioNTech vaccine last week (as Skyline CEO Robb Kimmes explained, KVH has the capacity to distribute the Pfizer-BioNTech vaccine because they have a freezer cold enough to store it, while Skyline does not. Thus, Skyline received the Moderna vaccine, approved just a week after the Pfizer-BioNTech vaccine.) Healthcare workers have been driving to Goldendale since last week to get the shot.
Such was the case of Skyline hospitalist director Matthew Swanson M.D., who received his first shot last week at KVH. He, along with other recipients of the Pfizer-BioNTech vaccine, will go in to get their second shot 21 days after the first. 
Swanson, who has taken the role of coordinating the hospital's response to the coronavirus since the beginning of the pandemic, said he believes the vaccines will be what gets us through the fight.
"The vaccine has been proven to be safe and effective, except for adults who experience severe allergic reactions," said Swanson. "We're strongly encouraging everyone to do it."
Swanson said much of his role moving forward will be focused on educating people on the vaccine and continuing to educate people about best practices under a pandemic, such as social distancing and wearing masks to contain spread of the virus. His detailed Frequently Asked Questions write-up on the vaccine can be found here.
"It's pretty amazing for a virus that we've only know about for this year," said Swanson. Not only do we have a vaccine that can end this pandemic, Swanson said, "now we have a vaccine platform — a way of addressing future pandemics."
1A workers, the highest prioritized group to receive the vaccine, consists of high-risk workers in health care settings, high-risk first responders, and residents and staff of nursing homes, assisted living facilities, and other community-based, congregate living settings where most individuals over 65 years of age are receiving care, supervision, or assistance, according to the Washington state Department of Health.
Skyline Health elected as a goal to get everyone in their facility vaccinated "because it's such a small facility. Everyone is around each other," said Swanson.
Skyline Health has also received some doses of the recently FDA-approved infusion of casirivimab and imdevimab, a therapeutic administered together by intravenous (IV) infusion. The therapy works to treat symptoms of mild- to moderate COVID-19 symptoms in adults.
Swanson said the hospitals around the area are working together in a collaborative fashion to treat COVID-19 patients in the area, and in one instance, have delivered a dosage of the therapeutic to a patient across the river to Providence Hood River Memorial Hospital.
Wasco County
Residents and staff of the Oregon Veterans' Home in The Dalles and The Dalles Health and Rehabilitation, two local skilled nursing facilities, were the first in Wasco County to receive COVID-19 vaccinations, according to a press release from North Central Public Health District (NCPHD). Mid-Columbia Medical Center in The Dalles also received 100 doses and began vaccinations on Tuesday, Dec. 29.
Columbia Basin Care, a Skilled Nursing Facility in The Dalles, and planned to vaccinate interested residents and staff on Thursday, Dec. 31, depending on pharmacy schedule and vaccine supply.
The Springs at Mill Creek, an assisted living facility in The Dalles, begins vaccinations Jan. 6.
Hospitals and nursing facilities were the first to receive vaccine doses in Wasco County. Vaccines are free to all residents and staff.
First responders
The Oregon Health Authority has also prioritized emergency responders like police, firefighters and ambulance crews to be in the first group to get the vaccine.
A shipment of 100 COVID-19 vaccines arrived Dec. 30 at NCPHD, and MidColumbia Fire & Rescue (MCF&R) in The Dalles and health clinics in Moro, Arlington and Condon will soon begin distributing the vaccines to emergency responders in Wasco, Sherman and Gilliam counties.
The health district serves those three counties, and the district and its community partners will have a key role in ongoing vaccine distribution to groups other than hospitals and long term care facilities, which receive the vaccine directly.
Emergency responders such as firefighters, law enforcement and ambulance crews are in the first group— along with hospital staff and long term care facility residents and staff — designated by the state to get the vaccine.
Dave Jensen, operations chief for MCF&R, said paramedics are licensed to give vaccines, and they received training on entering information into the state's immunization database. He began immunizations Dec. 31.
The health district is getting the Moderna vaccine, which is 95 percent effective at preventing COVID-19 illness and requires two doses 28 days apart.
"It's important that all of the collective agencies here step up and help get through this to our capacity, and help out where we can," Jensen said.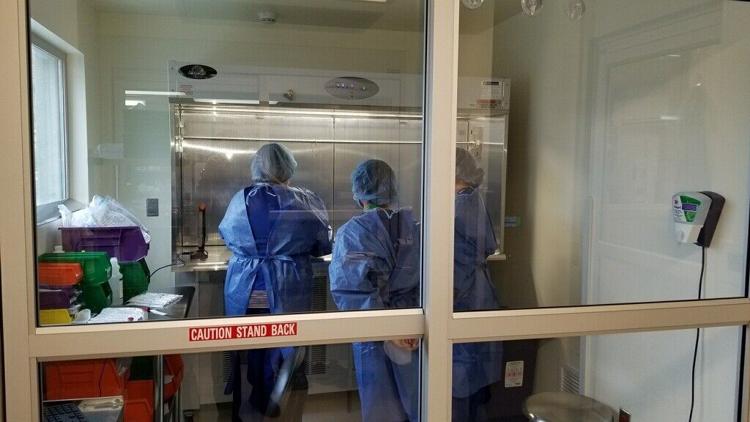 The Sherman County Medical Clinic in Moro will handle vaccinations for that county's emergency responders, and the Arlington Health Center and the South Gilliam Health Center in Condon will dispense the vaccine to Gilliam County emergency responders.
Due to limited initial supply of vaccine, the federal government recommended it be given in phases, starting with healthcare and long term care staff and residents and emergency responders, then essential workers, then older adults and those with pre-existing conditions, and then the general population.
It will take many months before everyone who wants one can get a vaccine. In the meantime, to continue slowing the spread of COVID-19, it is vital to wear a mask, keep physical distance, wash hands frequently, avoid gatherings, and stay home when sick.
Vaccine details
Two vaccines, by pharmaceutical companies Pfizer and Moderna, have received emergency use authorization from the U.S. Food and Drug Administration. MCMC got the Moderna vaccine, while the three local skilled nursing facilities are getting the Pfizer vaccine. Each vaccine requires two doses, the Pfizer three weeks apart and Moderna four weeks apart.
In large trials of the two vaccines, the most common side effects reported were pain at the injection site, tiredness, headache, muscle pain, chills, joint pain and fever. They are more common after the second dose, but last only a few days.
Again, it will take months to roll out the vaccine completely, and it is still critical to continue wearing masks, keep physical distance, avoid large gathering, wash hands, and stay home when sick.
Officials said vaccines are limited and being administered according to state protocol, and public should not call the health departments.