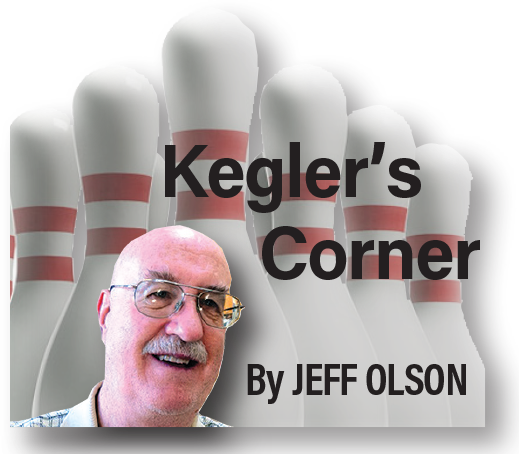 The first round of bowling action in the Monday Industrial and Wednesday Fraternal leagues concluded last week at Orchard Lanes, Hood River's fun-spot up on the Heights.
There wasn't much suspense in the outcome of the Industrial as Collins Aerospace had a big lead going into the last night of the round and they extended that to a huge 36 point winning margin. Congratulations to the cracker-jack, solid Aerospace crew which is comprised of Collins main-man Ken Thornton, who we welcomed back to ten-pin action this season after a long hiatus plus long time regulars Paul Dethman and The Dalles renowned all-star Jeff Miller, who is one of the top bowlers in the Northwest. Paul is an avid bowler who competes in three leagues, Ken was a 200 average bowler in the past and Jeff's impeccable bowling reputation precedes him. Mr. Miller is currently carrying a pro-like 220 average. As a result of taking round one, Collins becomes a top seed in the Industrial league championship bracket tournament held at the end of the season. Winning a round is a big step to becoming a league champion, which is not an easy thing to do.
Things were a bit more complicated in the high-powered Fraternal finish. Going into the last night of action, which was a nail biting position round, Electronics Assemblers was in first place by just three points over the 3 Wizards. We have chosen that team name for them because their regular name is a bit harsh. And, why not, they certainly bowled like wizards by absolutely crushing the Assemblers trio in a 22-3 point thrashing. The Assemblers fell to fifth place after this drubbing. Rising up to second place were the MWB boys which is another team whose full name is a bit too colorful. They overpowered the Hood River Supply crew in a 21.5 to 3.5 point shellacking but it wasn't enough as MWB fell six points short of the winning three Wizards. Congratulations to the Wizards, anchored by 200 average fast ball specialist Stan Pratnicki, newcomer Coby Henning and Bennie Lopez. Coby really put it to the Assemblers as he jumped out of the gate big-time by firing an opening scratch 235 game which was 75 pins over his average. A big start like that seems to set the tone in a critical match and the Wizards ended up stomping on the Assemblers in that first game, beating them by a whopping 193 pins. In the match, Bennie chipped in sharp 212 and 211 games while speedy Stan rocked the racks with his normal staccato strike game that helped him amass a 633 series. The Wizards were hot! This is a really big deal, because by winning round 1, the Wizards automatically qualify for the league championship roll off at the end of the season.
Rod Pratt and Kyle Van Cleave highlighted individual action last week with big 700 sets. In the Industrial, Rod's down and in game was en fuego in his first and third games. He started with a powerful 10 strike 275 game but in the second game the lane oil carried down causing a tricky transition that gave him fits as it does to most of us. Then, almost like magic, he returned to the "zone" in the third game after starting with a spare, Rod rolled 11 strikes in a row, notching a huge 290 game. Rod ended up with an awesome scratch 736 three game series which was 154 pins over his average. That was the top individual performance at the lanes last week. With this classy effort Rod also joined the bowling elite in Hood River as his average jumped to 201 pins per game.
Kyle's smooth, pin busting slants were also right on in the Industrial as he scattered the sticks to the tune of a lofty 732 set that was highlighted by a big 278 game. The Dalles right hander finished up his night's work 114 sticks over his average which jumped up to 206 pins per game.
Completing our Team of the Week are proprietor Patrick Olson, former HRVHS star Chad Mason and orchardist extraordinaire Joey Sheirbon. Patrick had a good week on the lanes rolling series of 688 in the Industrial, 711 in the Tuesday Nite Mixed and 680 in the Fraternal. That amounts to a nifty 231 average for the week. Chad started his session in the Tuesday Nite Mixed with an 11 strike 279 game which pushed him to a scratch 662 set. Joey was just a notch back in the same outing with a scratch 654 series. Mr. Sheirbon is having a great season as he is currently averaging a cool 205 pins per game. Great bowling everyone!
LEAGUE HIGH SCRATCH GAMES AND SERIES
Kyle Van Cleave: 278, 732
Patrick Olson: 259,247, 711
WEDNESDAY AFTERNOON SENIOR COLTS AND FILLIES:
WEDNESDAY NIGHT FRATERNAL: