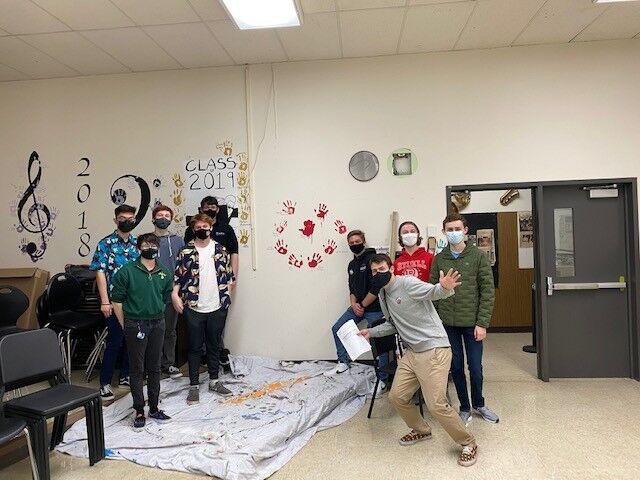 How do you rehearse and perform during lockdown — or after lockdown, with mandated social distancing requirements in place?
For students and teachers in Hood River Valley High School's theater and music programs, the answer is, "You adapt."
Rachel Harry, 2017 Tony Awards and Carnegie Mellon University "Teachers with the Excellence in Theater Education" winner and longtime HRVHS theater teacher, and Dan Kenealy, music director, found ways to overcome a multitude of challenges that came with teaching online during the 2020-21 school year — and while classes are in-person this fall, there have been new challenges stemming from continued COVID-19 protocols.
"The past 18 months have been rough," said Harry. "Artists need to perform. They need to collaborate. They cannot work from a void. Add to this spirit the age of the performer — teen — and it is catastrophic."
Harry found herself and her students feeling trapped by the online nature of virtual classes, having no outlet for their art.
"Our joy, our sense of who we are, is tied up with performing, with creating art. We were trapped, instead, to sitting at a table with a laptop, trying so hard to get our students to participate," she said. "I emailed a lot of students, I stayed after our Google meets to just chat one on one, I texted and talked on the phone. It was exhausting."
Harry noticed a shift after winter break 2020, when her advanced theater students created a Google Meet, where they could hang out after school and talk — and support each other. She had other classes do the same.
"When you can reach out to others to help it means that you are not dwelling in your own mind but thinking about others," she said. "It helps a lot."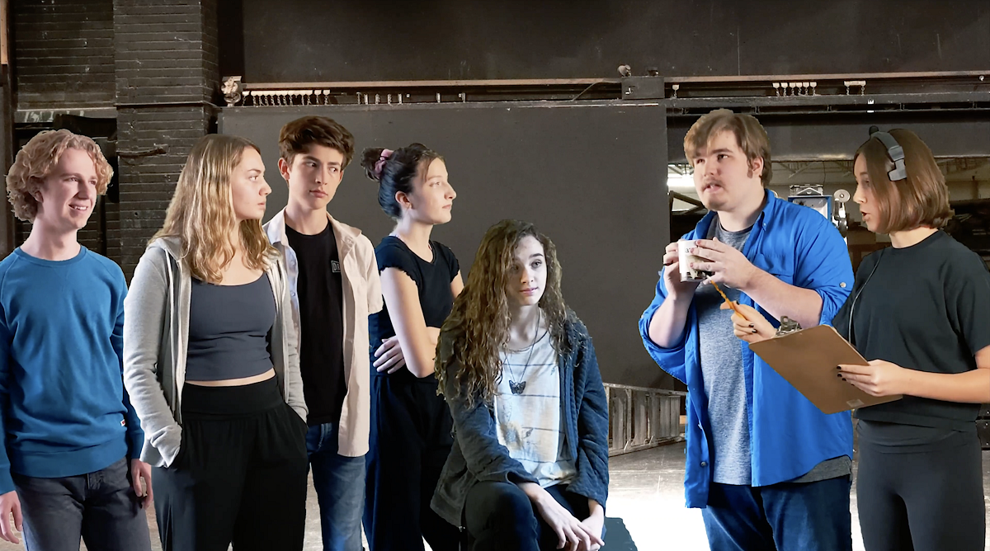 Students created films, one of which was "Everything I Know I learned by Being in A Bad Play." Harry used a green screen and original music (daughter Tay Lynne is a filmmaker, and son Duncan Krummel is a professional composer) — and received an email from the playwright, telling her how much he enjoyed the production as a movie.
But still, she said, actors need an audience. And with coming of the new school year, she was hopeful that performances would be in person and on stage. She selected the fall musical keeping in mind that there could be small audiences, and the spring play with hopes of performing to a full house.
However, with the current case surge and protocols, she is now looking at filming the fall play once again, but is hoping to have a family, in-person audience, spaced into pods to give the actors feedback.
Performances are one thing — classes are another.
"We have to keep a close check on where students are on stage, as well as when they might be at the 3-foot distance with someone else for more than 15 minutes," Harry said. "I work on the stage, and the students are on their feet. I have to choreograph each class so I have a record of who was standing near someone in case someone is exposed to COVID-19."
She's also added more classwork in shooting film, teaching students about camera angles, shot lists, shot size and storyboarding. "Not normally what I teach, but this is the new paradigm we live in," she said.
Thought it has been difficult, Harry said her goal is not just to survive, but to thrive. "I am a firm believer that you must find the positive in any situation," she said. "It is there, perhaps hidden, but it is there. My learning curve on filmmaking was incredibly steep — my daughter is an award-winning filmmaker, and she was a great source of information and help. Learning how to navigate this area of the performing arts is a great thing for my students to learn, so we will make it work."
Kenealy has also had to modify his program, virtual and in-person classes alike.
"I would say one of the biggest challenges was finding ways for students to keep creating music in their homes while the rest of their families were also trying to work or study," he said. "Students would sometimes tell me during class things such as, 'I want to practice my trombone but my dad is on a conference call so I will have to practice later tonight.'"
For those without a quiet, dedicated space to sing or practice instruments, Kenealy offered written work, such as reviewing music-related TED talks or concerts.
"Some of my favorite things that came out of the online learning in terms of written projects were the 'Soundtrack of My Life' projects that some students completed," he said. "In this assignment, they were asked to provide a list of five songs that had personal meaning to them, and to describe how those songs related to major events of their lives.
"In addition to talking about their personal experiences and relating them to their songs, they also were asked to create cover art to their albums," he said. "When these assignments started rolling in, I can't tell you how moved I was. I read about students who lost family members to cancer. I read about their favorite pets. I read about their favorite vacations, and their first loves. I realized that I had incredibly gifted writers and artists among those students who I had only seen through the lens of music. It was incredibly touching, and it gave me insight into their lives that I don't think I otherwise would have gotten the chance to see if we were having a 'normal' year and preparing a live concert."
Recitals were put together using piano accompaniment tracks along with students' solo recordings on their instruments, or singing to karaoke tracks, which were sent to school staff "after hours and hours of editing" so students could receive feedback; some were featured on the weekly What's Up HRV news show.
When in-person classes resumed this past April, he had two choir classes. "The chamber singers' group, which has always gone to state competition and been an excellent choir, was particularly ready to get back at it and sing again," he said. "With limited class time, we focused on two particular songs that we thought could speak to the moment in history in which we found ourselves," those being "Earth Song" by Frank Ticheli and "Wade in the Water," a traditional spiritual arranged by Moses Hogan (see below for recording information).
Now a month into the 2021-22 school year, Kenealy said enrollment in music classes is down, both at the high school and middle school levels.
"Understandably, I think parents and students are a bit fearful of re-entering the music classroom, where so much of what we do contributes to extra aerosols and droplets in the air," he said.
For the first trimester, band students have the opportunity to participate in a drumline, which should be more COVID-safe, he said. Choir students are continuing to sing masked and distanced as much as possible.
"We will try our best to provide some outdoor concerts this year and/or continue to make recordings for the community to enjoy," he said. "I want to do some research into microphones that might help them be more audible if we were to attempt an outdoor concert at a venue such as Jackson Park."
He welcomes donations that will allow him to purchase additional drums so students can provide music at football games and assemblies while staying safe (see below for donation details).
"I have wanted to start a drumline for years, and this seems like the perfect time to do that," he said. "However, this is not cheap! A set of 10 Yamaha marching drums costs about $6,000, which will require regular maintenance with new drumheads and sticks … I was able to scrape up the funds to get this rolling, since we have not done a music tour over the last couple years, but it definitely made a big dent in my budget this year, eating up more than half of what I had saved up over the last couple years."
Rachel Harry, HRVHS theater teacher, set up a fundraiser for her birthday in hopes to raise $8,000 to split between the music and theater programs.
"My birthday wish was that if you don't donate to us, please donate to a theater of your choice, such as Big Britches, Columbia Gorge Orchestra Association and Plays for Nonprofits," she said.