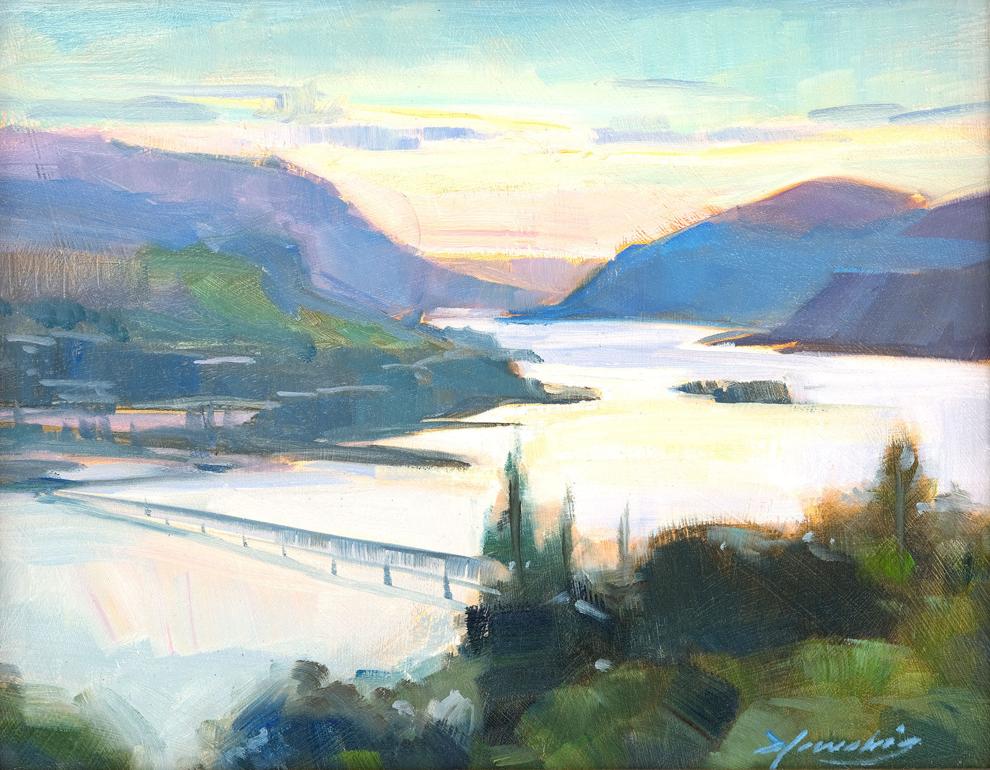 GOLDENDALE — Elo Wobig of Portland was recently selected as the winner of the Friends of the Columbia Gorge ribbon in the 15th annual Pacific Northwest Plein Air in the Columbia Gorge at the Maryhill Museum of Art in Goldendale.
Wobig's winning oil painting ("Opaline Sunset") — a westward view of the Columbia River, the Hood River Bridge, and the town of White Salmon at sunset — was one of several Gorge plein air paintings recognized by Maryhill and partner organizations.
"It's important for me to paint where I'm from and where I've lived," said Wobig. "I don't have to go very far to find incredible beauty in the Gorge."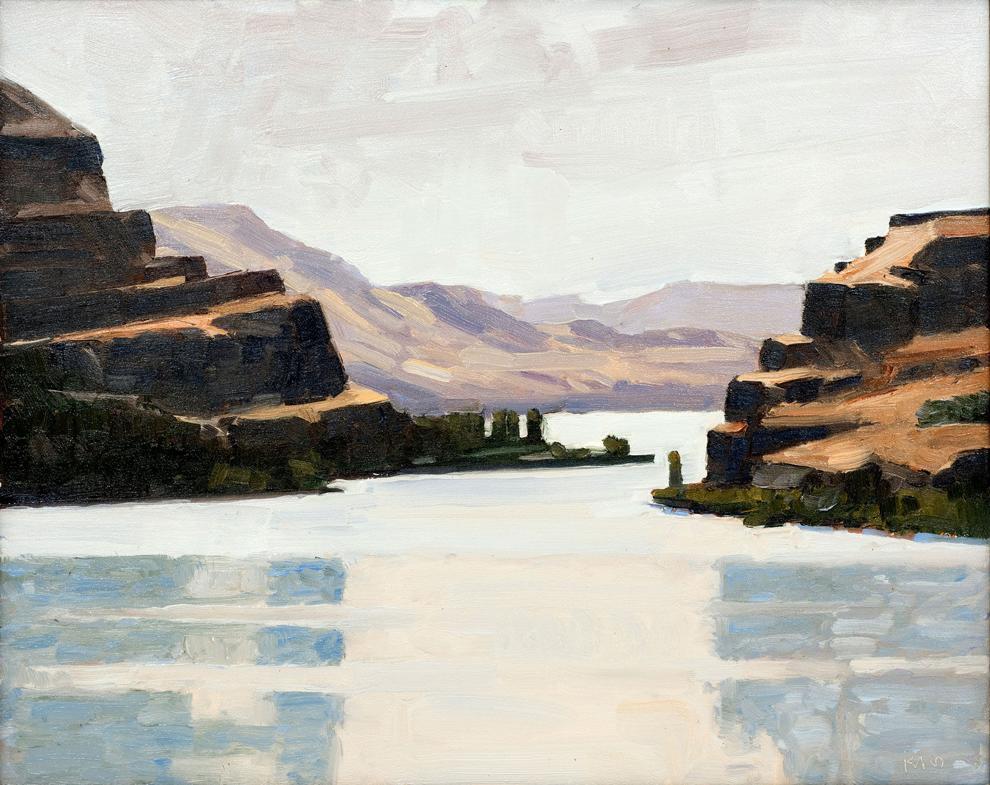 Ken Klos of Portland was selected as the Friends Ribbon runner-up for his oil painting ("Catherine Creek — Upriver") of the view of sunrise over the Columbia River just east of Catherine Creek. In addition to being the runner-up for the Friends ribbon, Klos' painting was separately awarded by Maryhill as first place for the entire paint-out. Erik Sandgren of Portland was additionally recognized as an honorable mention for his acrylic painting ("Sherars Falls, Deschutes River") of Native fishing platforms near Sherars Falls on the Deschutes River, just south of the Columbia River Gorge National Scenic Area.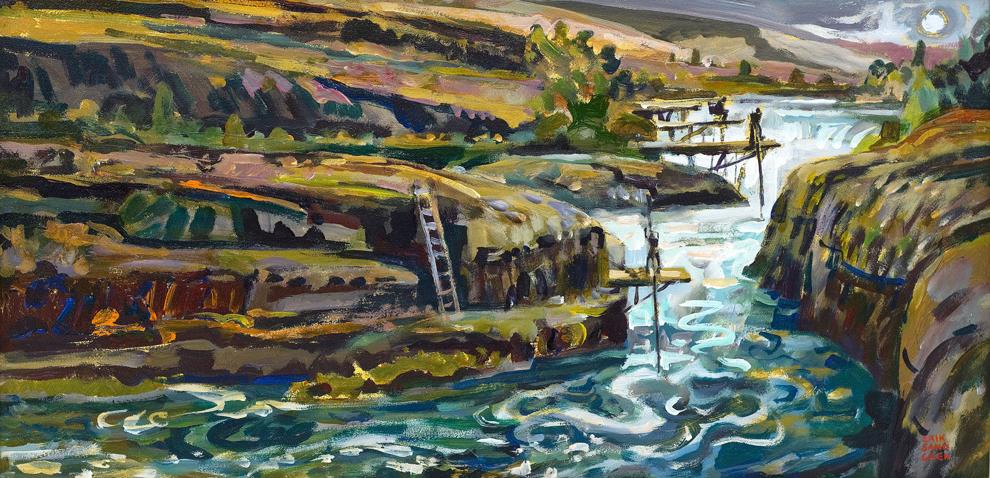 Chosen from approximately 150 entries, the paintings by Wobig, Klos, and Sandgren were selected by a special Friends' judging team (Burt Edwards, communications director; Melissa Gonzalez, outdoor programs and communications specialist; and Lisa Berkson Platt, member, board member) as best illustrating and celebrating the natural beauty and sense of wonder of the Columbia Gorge, said a press release. For her winning painting, Wobig will receive a $250 cash prize; Klos will receive a $100 runner-up cash prize. All three artists will receive a complimentary one-year Friends gift membership and their paintings will be featured in an upcoming Friends' print newsletter and blog article.
The paintings were chosen at a special judges viewing held on July 31. The Maryhill Museum of Art has facilitated and hosted the plein air competition since 2016; the 2020 event was canceled due to the COVID-19 pandemic.
"We are pleased to continue our collaboration with Friends of the Columbia Gorge," said Steve Grafe, curator of art at Maryhill. "Friends and Maryhill are both Gorge-focused and we agree that responsible and visionary management of the region is advantageous to both local residents and those who travel from near and far to experience its unique natural and cultural wonders."
Staff from Friends and Maryhill first met in February 2019 to explore potential partnerships that could further both organization's public education efforts. Following up from that meeting, the idea of awarding a new Friends of the Columbia Gorge ribbon award at Maryhill's summer plein air competition was developed.
"I think there is a natural affinity between the stewardship of arts and culture and environmental communities," Berkson Platt said. "How much richer is our understanding of where we live and what we must care for when we see it through the eyes of an artist? The Pacific Northwest Plein Air competition is a fantastic way for Friends to broaden our support for Gorge partners and to create new ways to present our mission to the public."
Paintings from the Plein Air event will remain on view and available for purchase at Maryhill until Aug. 28 in the Event Sales Gallery in the M.J. Murdock Charitable Trust Education Center. Proceeds support Maryhill Museum of Art. As work is sold and removed, other work created during the paint-out will replace it.