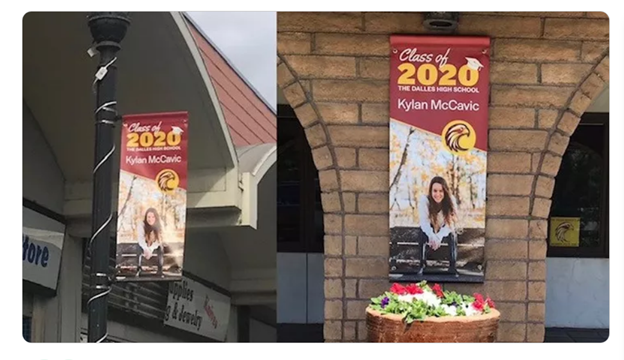 THE DALLES — Two hundred students are graduating from The Dalles High School June 3, and to celebrate their accomplishments, senior banners will be displayed throughout downtown.
The tradition began in 2020, during the beginning of the COVID-19 pandemic. "While the COVID-19 pandemic will be known forever for the terrible impacts it had on our world, in The Dalles it will also be remembered as the genesis of a wonderful tradition to celebrate high school seniors," said a press release. "As an effort to do something positive for the graduating class of The Dalles High School, the community came together to put up banners in throughout downtown depicting each and every senior. It was such a hit that three years later, it has become an annual tradition."
Organizers have raised about $6,000, but another $7,000 is needed, with time running out for organizers to have the banners made and displayed before the June 3 graduation date.
"We are asking for donations for this wonderful project which brings so much pride and joy to these graduating seniors," said fundraiser organizer Kristi Timmons. "Each banner cost $65 to make, which means we need to raise around $13,000 this year to ensure every student will have their own banner and get to see it hanging downtown next month, which they will then get to keep."
The North Wasco County Education Foundation is raising money on GoFundMe in an effort to pay for this year's banners. All donations are tax deductible. To donate, visit www.gofundme.com/f/high-school-senior-banners.