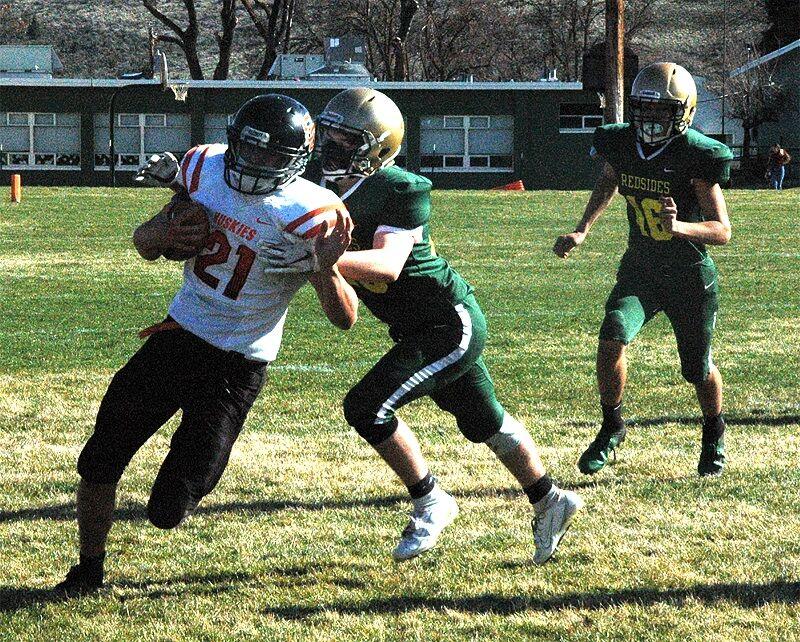 There are no official state playoffs this COVID-shortened, spring football season, but the final, home contests for South Wasco County and Dufur will serve as such.
The schedule makers (the school's athletic directors) got things right when they pitted the Redsides against Joseph and the Rangers against Adrian/Jordan Valley on the final weekend for most of the six-man and eight-man programs. Each team is unbeaten.
South Wasco improved to 4-0 last week with a 40-24 six-man win over Mitchell/Spray/Wheeler. The Redsides play Friday at 3 p.m. against unbeaten Joseph (4-0), a 46-24 winner over Echo last week. Dufur plays its final contest Saturday 3 at noon vs. the defending 1A champion Adrian/Jordan Valley Antelopes (4-0). Sherman County had its game last week against Harper Charter canceled; the Huskies (2-1) conclude their four-game spring season with a 7 p.m. home game Thursday vs. Mitchell/Spray/Wheeler in Moro.
Dufur played its second game in five days early last week, but the Rangers showed that short preparation time wasn't a problem as they won 48-36 over Powder Valley on March 23. The rare Tuesday contest showcased the undefeated Rangers' impressive ground game which accounted for 440 yards and proved too much for the 3-1 Badgers to handle.
"Powder Valley is a good team; they won a couple of games in the playoffs last year (2019) and they had lots of kids coming back from that team," Dufur Coach Jack Henderson said. "Our kids stayed after it and they continued working hard the entire game."
Henderson said Kaleb Pence (16 carries, 100 yards rushing) and Cooper Bales (15 carries, 248 yards rushing) ran the ball "really, really well, thanks to the good blocking of our offensive line and that was really the difference in the game."
Dufur took an initial 8-0 lead with 11:17 remaining in the first quarter when Bales scored on an 86-yard touchdown run and threw a two-point conversion pass to senior receiver Ben Schanno (three receptions, 65 yards). Powder Valley tied the back-and-forth game later in the period, but Dufur outscored the Badgers 14-6 in the second to build a 22-14 halftime lead. The Badgers regained the momentum in the third quarter by outscoring the Rangers 16-8 to knot the game, 30-30.
"It was a good back-and-forth game, both teams competed hard, and we created some scoring opportunities in the fourth quarter to help us get on top," said Henderson. "Defensively, we really flew around the field and Jacob Peters had three interceptions. We had a fumble recovery and we really played well defensively … that was a key to our success. We kept playing hard and making things happen, because Powder Valley kept coming back and making some plays."
Dufur regained the momentum early in the fourth. A 10-play, 65-yard drive, capped by a 53-yard Bales TD run put the Rangers ahead 36-30 with 11:59 left in the game. The Rangers extended their advantage late in the quarter when they scored 12 points in a span of 10 seconds.
Bales scored on a two-yard run, making it 42-30 with 2:08 left. On the ensuing Dufur kickoff, Powder Valley fumbled, and the Rangers recovered. Pence scrambled free for a 39-yard TD run, putting Dufur up 48-30 with 1:58 on the clock. Powder Valley scored a TD near the end of the contest for the final 12-point margin.
"We finally got ahead in the fourth quarter and we really needed the 440 rushing yards to be successful," said Henderson. "It was nice that our kids were able to get a few more days off during spring break."
Henderson said the Rangers will be tested this weekend. "They (Adrian) return quite a few of the kids that helped lead them to the championship in 2019. We'll have to play really well, but it should be a great football game. It will be good test for our kids to end the season and we're looking forward to hopefully getting another win and have an undefeated spring season."
Adrian improved to 4-0 with a 68-8 win a week ago against Imbler. The Antelopes are scheduled to play at Powder Valley on April 9.