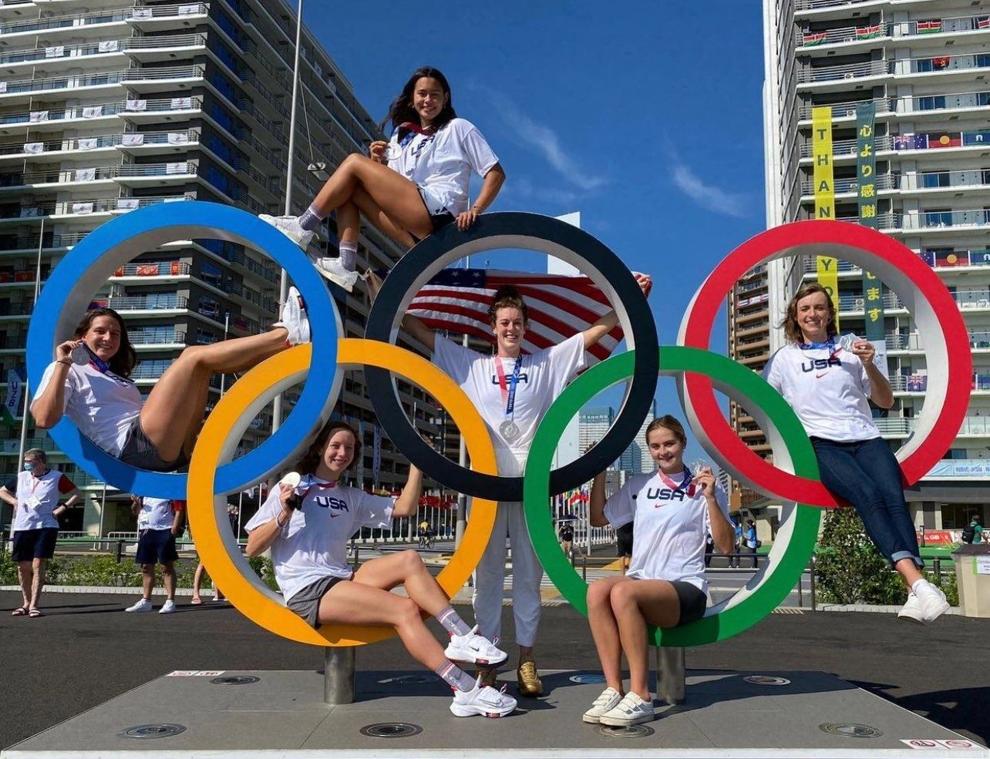 Bella Sims and Team U.S.A. Swimming finished in second place for the 4x200 meter freestyle relay race at the 2020 Tokyo Olympic Games. Formatted as a tournament, the Olympics Games open competitions with preliminary races and events in order to narrow the playing field. Events that are typically called the "final heats," "medal races" or "games," athletes and countries are seeded based on their Olympic qualifying times. In order to contend for a place on the medal podium, athletes must place high enough in their prelim race or meet the time requirements set by the International Olympic Committee (IOC).
With the second fastest qualifying time in the 4x200 meter freestyle relay, expectations were high for the United States. In her first international meet ever, Sims had the most pressure on her shoulders because she swam the first leg of the race for Team U.S.A. Diving off the starting blocks with the best reaction time, she kept pace with swimmers from China, Germany and Japan. Swimming down and back twice, Sims finished her leg in sixth place.
"It didn't turn out how I wanted," said Sims.
Her disappointment was short-lived as teammates Paige Madden, Katie McLaughlin and Brooke Forde closed the gap and rallied the U.S. to a first place finish in their heat and the second best overall time in prelims.
Unfortunately, the 16 year-old Sims was not named to the final race team, but without her they would have not had the opportunity to race for a medal. Even the most decorated womens swimmer of all-time knows that. Katie Ledecky sent an encouraging text praising Sims' hard work to get here she is now: An Olympic silver medalist.
"I didn't even know I was going to get a medal," said Sims.
In a shocking turn of events in the final race, China finished first and set a new world record with a time of 7:40.33. Ledecky, who finished an arms length behind the Chinese swimmer snagged a silver medal for the U.S. Allison Schmitt took over Sims' duties as the starter and was followed by Madden, McLaughlin and finally Ledecky.
When not training or competing, Sims said that outside activities were limited due to COVID-19. Athletes were not allowed to leave the Olympic Village and explore Tokyo, but the IOC had shopping centers and restaurants available. Masks were required and precautions were taken to limit exposure.
In an effort to be more sustainable, cardboard beds were constructed for the athletes to sleep on.
"They really weren't that bad," said Sims. "But they also weren't the most comfy."
And despite flying across the globe, Sims said jet lag wasn't a problem. The U.S. coaches instituted a sleep schedule on the plane, which aided the transition.
Sims shared a room with Katie Grimes, one of her training partners at Sandpipers of Nevada swim club. Grimes placed second in the preliminary race, but just missed a bronze medal in the 800 meter freestyle.