The Dalles Chamber of Commerce honored the "Distinguished Citizens" for 2021 with a virtual banquet.
"This has been a year like no other, and we are going to — we are determined to — celebrate," said Lisa Farquharson, director and CEO of The Dalles Area Chamber of Commerce, as she introduced the 2021 Distinguished Citizens Awards Banquet ceremony.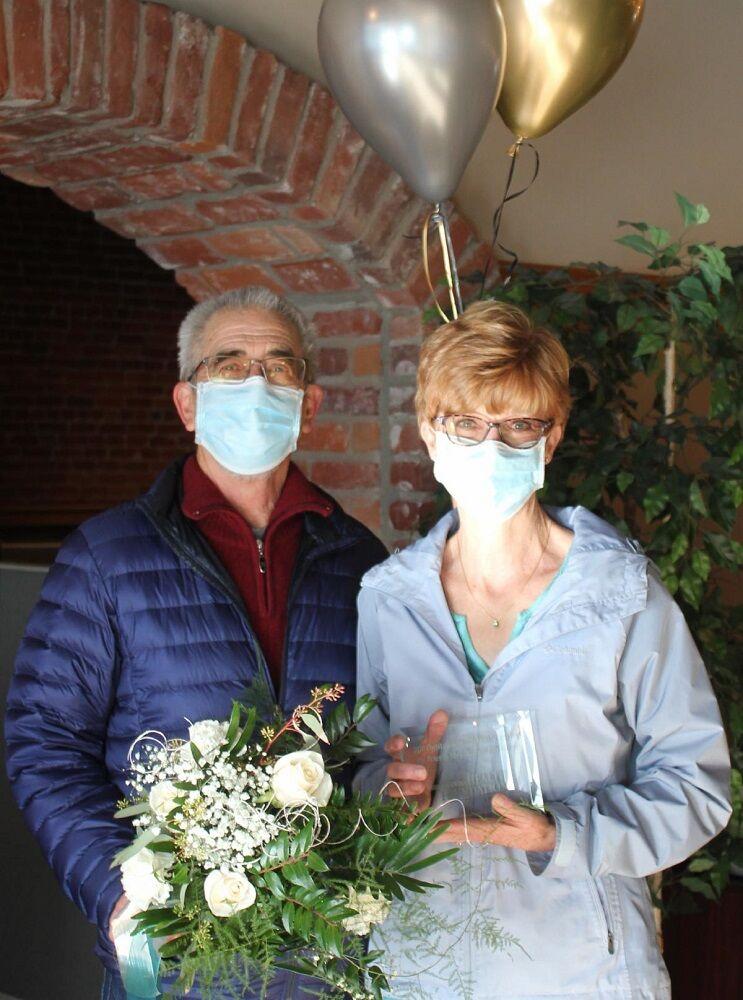 Presented by online video, the ceremony named and honored the year's outstanding man, woman, educator, volunteer, and business of the year, as well as the outstanding agricultural achievement.
In partnership with the Mid-Columbia Health Foundation, the year's outstanding philanthropic group and philanthropist were also honored.
"We saw, and continue to see, imagination and creativity from our business owners, who have found ways to conduct business even with the daily changes that were happening in how, when, and where they could do businesses," Farquharson said.
The Dalles Mayor Rich Mays noted "this year's theme — dedication, imagination and determination — appropriately describes those who have persevered through this most challenging of years. Despite COVID-19, our town has been working hard, and has had some success," he said, referencing new construction at the college, a new mural, and businesses throughout town moving forward despite the challenges brought by the pandemic.
"Last year I said the coming year would be an exciting year for the chamber," said Chamber Board President Connie Ford. "Well, maybe the word shouldn't have been 'exciting.' Little did we know the words frustrating or discouraging would be more appropriate."
She reviewed the many delays, cancellations and changes last spring, and the ongoing challenges faced by those in business — not just the pandemic, but the summer's fires as well.
Yet the community found ways to work together and celebrate.
"It amazes to me how people and organizations come up with these creative solutions," she said, like the drive-thru Thanksgiving Day community meal. "There are some very creative people out there. We do what we need to do."
Business of the Year
Columbia Gorge Honda and Toyota was named Outstanding Business of the Year.
Community partnerships were key in the selection of the business of the year, Farquharson said.
"They are a new company, they came to our community with a heart for people and a willingness to serve," she said.
They have worked with community clean ups, including coordination, picking up trash and disposal of it.
They helped with the "All About The Cherry" campaign, helping highlight the cherry and all it does for the region while encouraging people to spend local dollars in local businesses.
When public high school graduations were canceled, they created banners to be displayed in front of the dealership and then given to local graduates.
They sponsored a drive-in movie at the Sunshine Mill & Winery one evening while collecting goods for the Columbia Gorge Food Bank.
"It is businesses like this one that make our community an amazing place to live and we are proud to have Columbia Gorge Honda & Toyota as the 2020 Business of the Year," Farquharson said.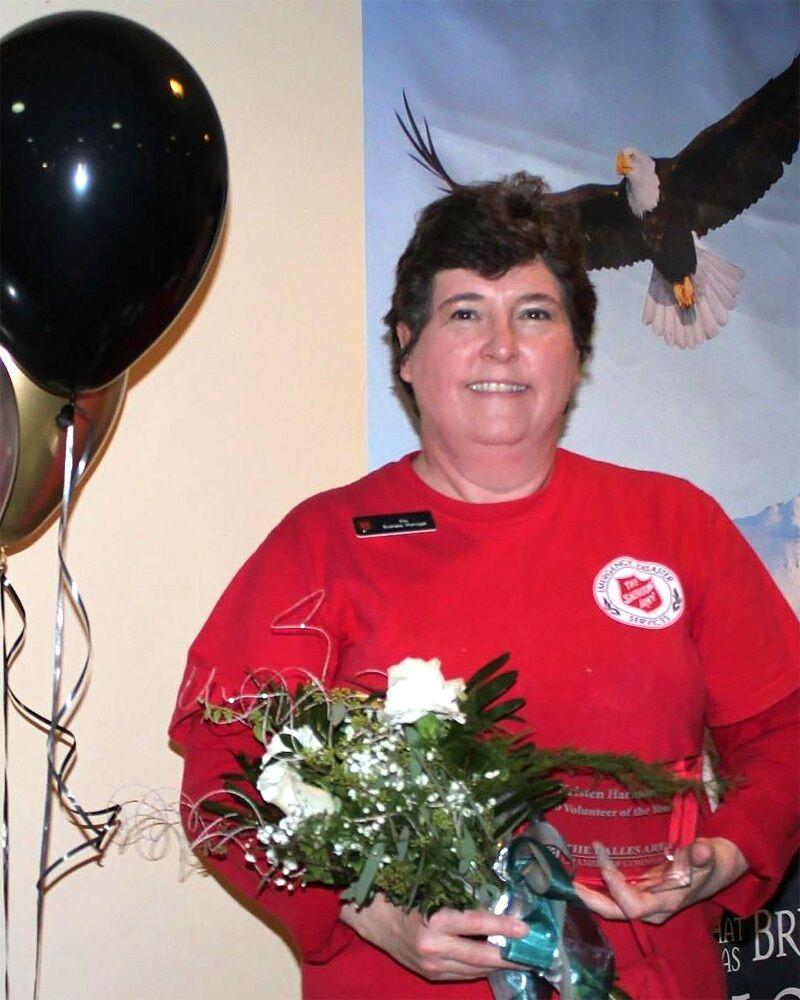 Volunteer of the Year
Kristen Harmon was named Outstanding Volunteer of the Year.
Harmon works full time serving the community managing The Dalles Salvation Army in addition to continual service.
Her dedication to service began shortly after her graduation from high school.
Her volunteer work includes helping to recruit volunteers, coordinate donation efforts of monies and supplies, and making sure events function smoothly.
She is especially busy during the holidays, helping make sure community members have a meal to take home and enjoy for the holiday.
Among her volunteer work is coordinating and helping The Dalles Lions Club members as they visit each local school and conduct vision tests for the students. She also follows up with the families to make sure they get the care, financial assistance and eye wear they need.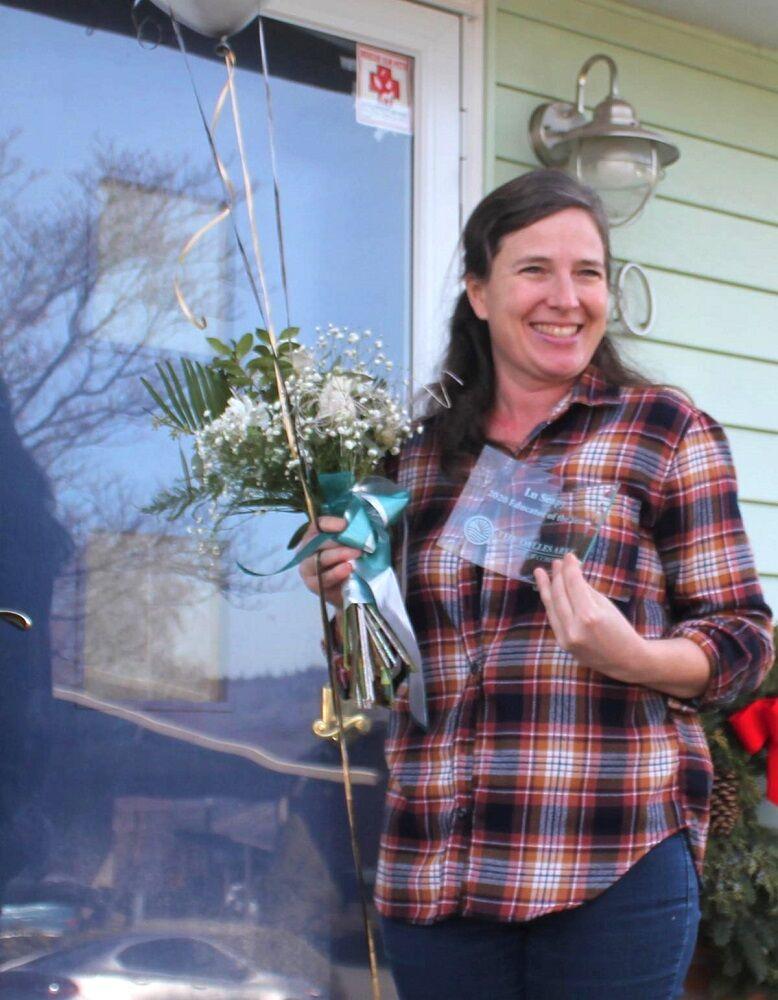 Educator of the Year
Lu Seapy was named Educator of the Year, due in part to the assistance she has given fellow educators learning to teach remotely during the pandemic.
Seapy has taught and coordinated more than 200 classes, field days, workshops and other programs that have engaged more than 1,000 youth along with 40-70 Wasco County Educators.
Seapy works with OSU Extension in The Dalles.
'She is an outstanding example of a dedicated and passionate educator," said former student Jacob Field. "She is dedicated to the quality of her programs, and she works constantly to adapt and improve them with a focus on her students' needs and interests."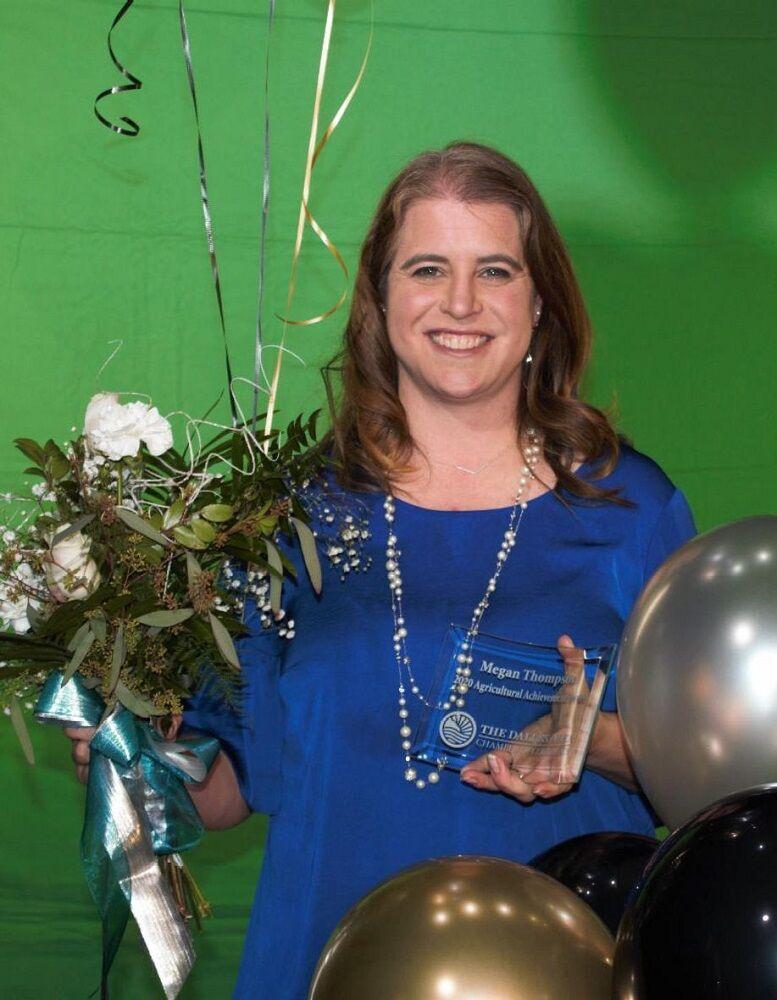 Agricultural Achievement of the Year
Megan Thompson received the Outstanding Agricultural Achievement of the Year. She works as a liaison between growers and processing companies.
She has served on county, state and regional boards making sure to represent our area and the Sweet Cherry. She most recently became the chairperson for AgLink and is active in the work they do to educate communities in Oregon about agriculture. She was also appointed as the chairman of the Oregon Sweet Cherry Commission.
She has also helped with fundraisers for local non-profits, donated to many local events and is active in helping St. Mary's academy while helping her sons with their boy scout projects and fundraisers.
She also sits on the The Dalles Area Chamber's Board of Directors
Recently, as the new president of Cascade Cherry Growers, she oversaw the construction of a new cherry hydrocooling facility in Dallesport.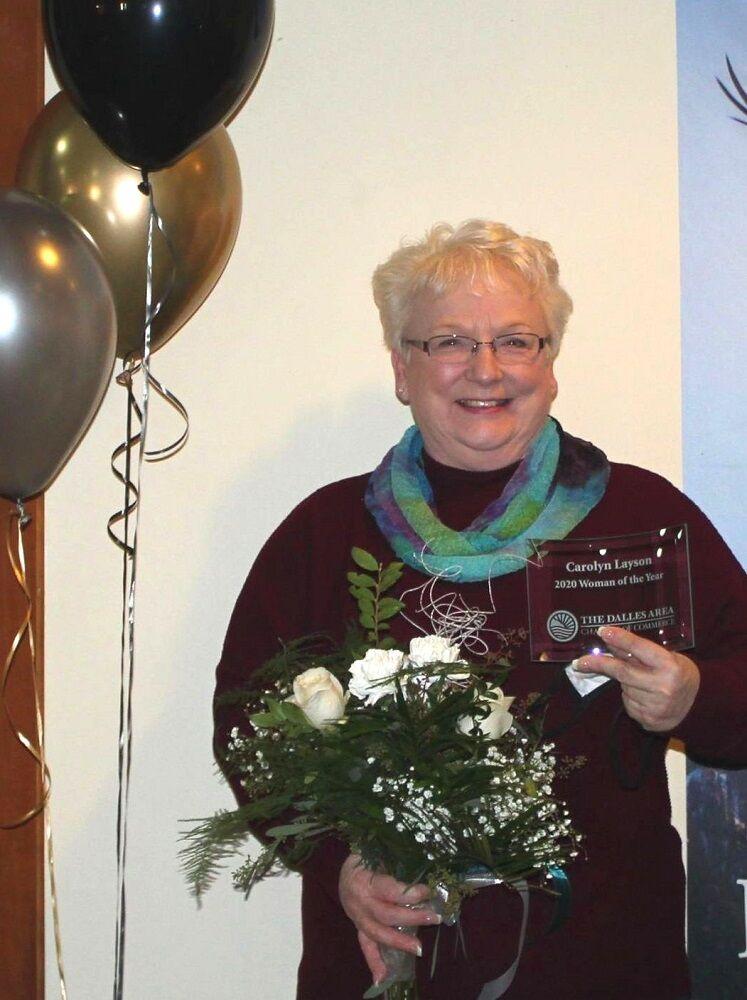 Woman of the Year
Carolyn Layson was honored as Outstanding Woman of the Year.
Layson is actively engaged in the community, including working with many projects of The Dalles Lions Club. She is also involved as a volunteer helping the many veterans in the community,
"She is a volunteer that may seem invisible, but she is vital to the success of our community.," Farquharson said. "She has a passion for The Dalles and the people in it."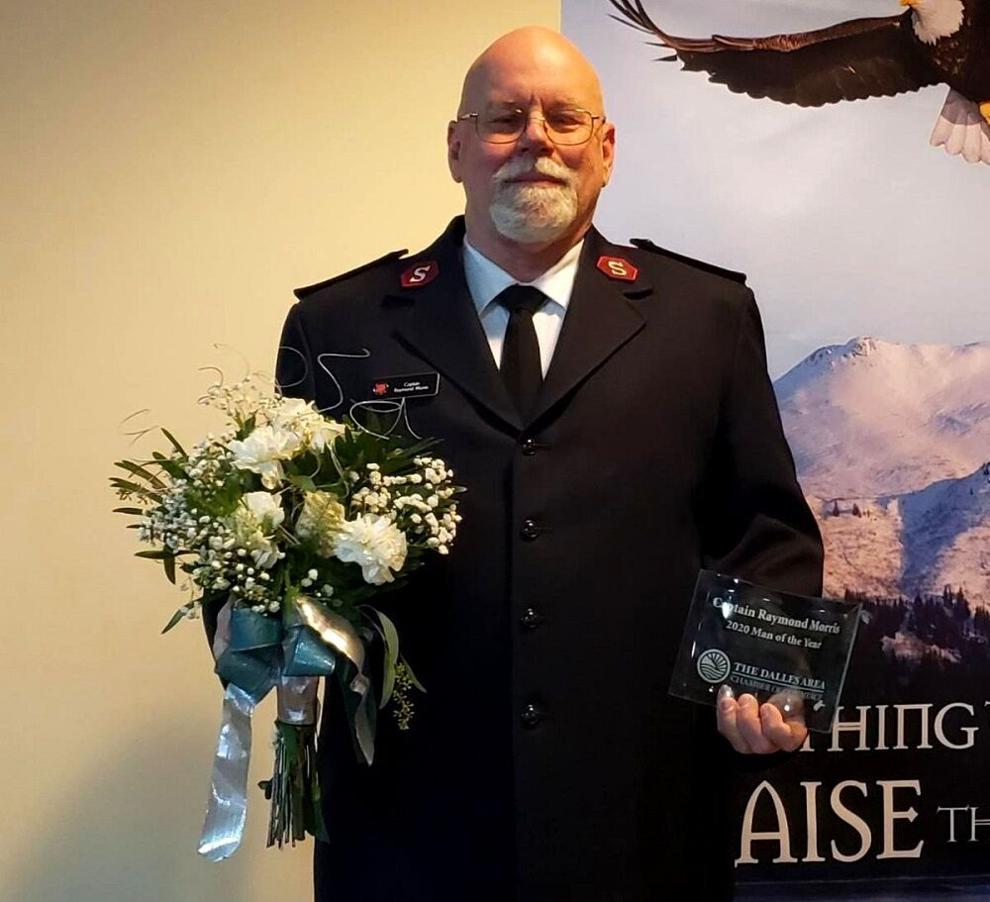 Man of the Year
Captain Raymond Morris of The Dalles Salvation Army was named Outstanding Man of the Year.
Morris has stepped in and stepped up to assist in a way that has a daily impact on community members in and around The Dalles., said Farquharson. "His passion to serve people has driven him to go above and beyond his call of duty during this pandemic," she explained. His long hard hours of service are backed by compassion and a fire in his heart to serve others."
Morris oversees programs that involve retail, food, youth and is also minister of a church.