For Doug Rigdon, owner of Wild Columbia Salmon, it all started with the organic movement: Fresh-caught, wild salmon was a healthy, local organic food, caught in the nearby Columbia River.
That was in 1992, when the fish "came back" after significant declines in the 1980s. "That's when pollution from the aluminum plants upriver ended," Rigdon explained.
His stand, and a processing facility and market in Stevenson, have since became a trademark feature of the Gorge, popular with visitors and residents alike.
The key to the popularity of his stand, especially with travelers and tourist? "We give away samples, we give away food," Ridgon said.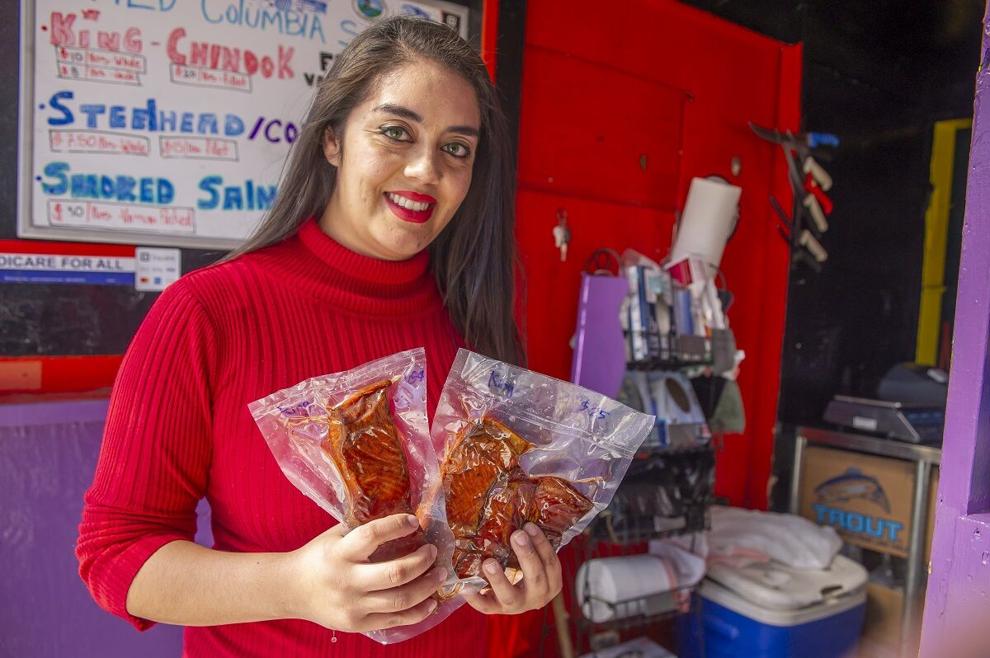 When a customer purchases a fresh fish, they often don't want the backbone and small pieces removed in the fillet process. The small pieces don't suit the top-quality smoked salmon Rigdon sells by the pound throughout the year, so instead the small scrap pieces are loaded into a small smoker next to his fish stand.
He said travelers sometimes balk at the price per pound of his best smoked salmon, so "I give them a big bag to sample." About half his customers today pass through once a year, and having tried the samples, the next time they travel through the Gorge they stop and buy more. "It's an added value," Rigdon said. The flavor and quality of the samples he gives out brings customers back year after year.
"If I don't put it in that smoker, and later give it away, it goes back to the river," he added.
It takes about 200 pounds of cut fish to make 100 pounds of smoked salmon. Each day fish that don't sell are frozen fresh or smoked at his Stevenson facility and sealed into vacuum bags for year-round sales.
Rigdon grew up as a Yakama farm boy, where his family grew peppermint. His mother, a tribal member, taught school, his white father working with incarcerated juveniles. He wasn't allowed to join tribal fishermen on the river as a boy because he had no male relatives to introduce him to the fishing community, he said. While attending college in Seattle he worked at Pike Place Market, a fish market, and learned the ins and outs of marketing fish.
Working in Seattle, he found there is something special about fish markets. "Every day, all over the world, it's happening. People are buying and selling fish. It's our honor and privilege to be part of it."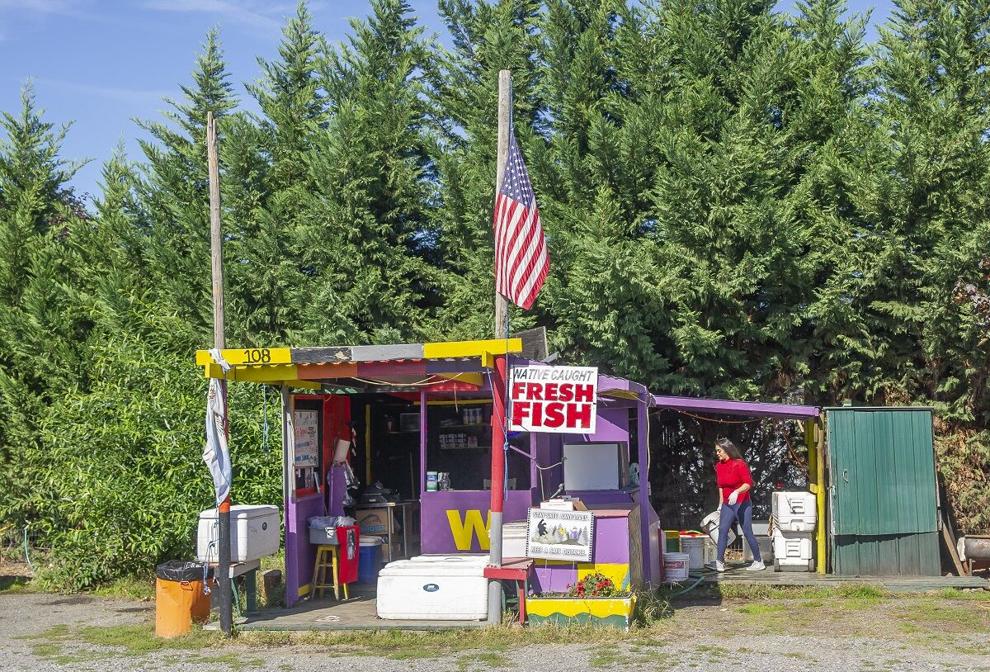 His fish stand in Hood River and FDA-approved facility in Stevenson are both special places, he said. "We have our own feel here," he explained. "There is a vibe to it, a feel to it. I've met so many people, I feel very blessed. All the good outweighs the bad things that happen. I live a very blessed life here on the river."
Araceli Ramirez, who has worked at the Hood River fish stand for five years, said the atmosphere there was welcoming. "You feel more love, more patience." She spends her time at the stand filleting and selling fish, cutting alder wood for the smoker, and loading the scraps in the smoker for samples. She said the samples only take six hours or so to smoke over the alder coals. "We usually fill it up in the mornings," she said. The larger sale pieces, smoked in Stevensen, take 12 hours or more to smoke.
As Ramirez works, Rigdon unloads fresh fish he purchased in the morning on the Klickitat River. He provides fishermen with ice for their catch, and has coolers and freezers on site as well. Certified scales and cleaning regiments are followed. "We follow all the rules, so they couldn't shut us down," he said.
If a fish doesn't sell fresh, it is cut and smoked or frozen and sealed in vacuum packs in Stevenson, where salmon is sold year round.
He also sells fish to local restaurants, hotels, bed and breakfasts, caterers and even food carts, delivering fresh fish to as many as 30 establishments prior to the 2020 pandemic.
Prior to the pandemic, he provides fish for many celebrations as well. "The salmon goes to a celebration, and is an important guest for all those families," he said. "There are a lot of good people in the world, and this brings those people around me," he said of his fish stand.
Another key to his success as a fish buyer and seller, Rigdon said, is that he pays fishermen $2 a pound for their fresh fish — far more than corporate fish buyers working the Columbia River, who offer fisherman as little as 25 cents per pound.
"I provide ice, I pay a higher price, I treat the Indian fishermen with more respect than the big companies," he said. A young fisherman on the Klickitat River might catch 100 pounds of fish in a day, and would only get $25 for his catch from a big fish buyer. Rigdon will pay $200 for the same fish, enough to make it worthwhile. "I feel like I contribute to my community," he said. "These kids, they know when I come rolling in they will get a good price."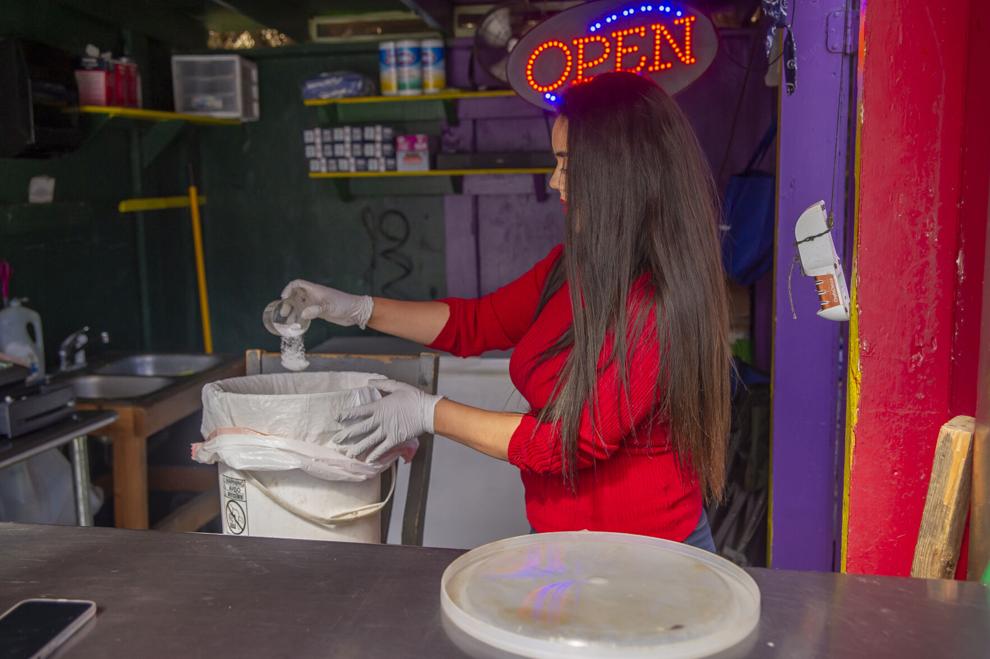 He buys from 15 or 20 fisherman, has eight employees between his two locations, and this year has been purchasing 300 to 400 pounds of fish daily throughout the season. The fish are sold fresh in season.
His stand doesn't compete with the "over the bank" sales of other fishermen, he added. "I have so much respect for them — it's not a competitive thing, it's a together thing," he explained. "We all work together. It makes my life better, keeps my mind right. I send them customers."
He doesn't drink or do drugs, another key to his success. "This is a hard industry, the river is tough down here. But I'm happy, I'm blessed every day."
When asked where he lives, Rigdon responded, "When?" He arrives on the river with the fish, returning as the tribal commercial fishing seasons open. As the season peaks in summer and into early fall he can often be found in a windowed "house" on a spit of the river, outfitted with wind and solar power, a "place to be out of the wind in a glass house, fishing."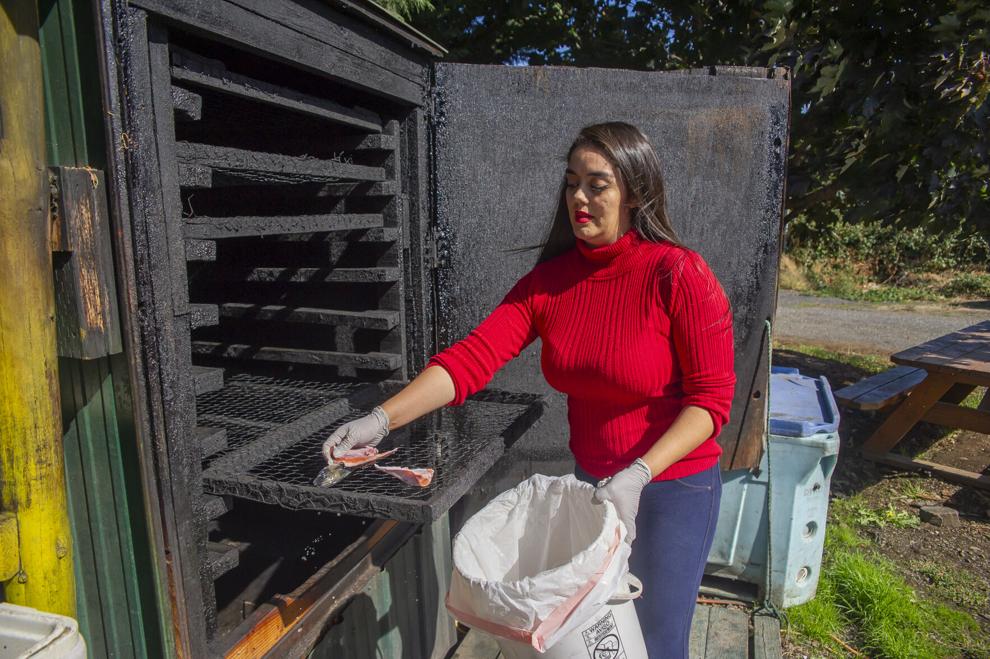 The rest of the year, it's hard to say where he might be. He lists a range of possibilities, stretching from the Yakima Valley to Stevenson. "I'm very footloose," he said.
During the season he begins his day on the Klickitat River, buying his first load of fish there.
It was on the Klickitat River he was first invited to fish by Leanard Dave, an elder, when Rigdon was in his early 20s. "He's my mentor," Rigdon said. Having had little contact with the tribal river fishery as a boy, "doing native things was a choice I made," he said.
He still fishes, but these days "I'm the guy that pulls the fish for the Hood River area," he said. His sales are local, serving local restaurants and residents as well as travelers through the Gorge. He works Trout Lake to Parkdale, Stevenson to Hood River, and purchases fish from The Dalles tribal fishermen as well.
He loves the communities he serves.
"They've treated me with respect," he explained.