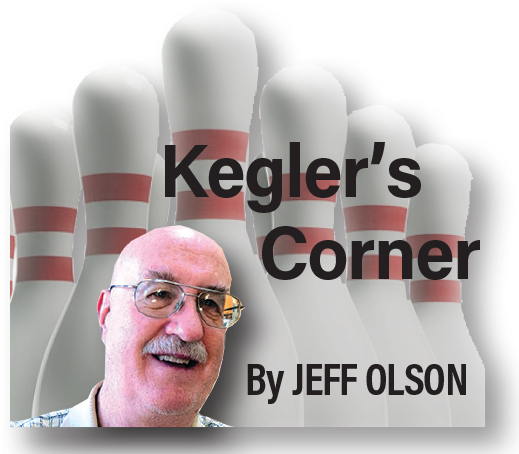 Last week it seemed like airplanes were flying in the Industrial bowling league up on the Hood River Heights at good old Orchard Lanes. Kevin Harris piloted a big, super jumbo 777 scratch series that included over 20 strikes in his three gamer. Kevin was "in the zone" racking up huge 265, 257 and 255 games. When you're hot like that it's almost like an out of body feeling! Kevin finished up a whopping 186 pins over his average, the top performance at the lanes last week.
All-Star Jeff Miller has been on high score auto pilot this season and last week was no different as he found runway No.9 in the same session with an old classic 707. They say that was a great plane. Jeffrey's strike filled antics pushed his team into a 10 point first place lead in the league. And how about new comer Luke Renfro, who had the sticks dancing off the deck with a nifty scratch 648 set that included nice 232 and 225 games. Luke was a heady 159 pins over his average.
The Tuesday Nite Mixed league also saw some salty shenanigans with the Mason family. Mom Judy beat her average by 122 pins and son Chad went on another one of his strike sprees, firing a cool scratch 277 game. Chad's 277 was the high single game of the week at the lanes.
All-Star Bernie Keys continued her assault on the hapless 3 pound, 6 ounce 10-pins with a mighty fine scratch 637 series in the Wednesday afternoon senior league. Bernie is currently carrying a spiffy 203 average. Every time she laces up, she shows why bowling is such a great game, women are equal to men. You can't say that about most sports. So, come on women, let's go bowling! Why not try your hand at a real big-time game instead of those play toy things on that little screen?
Finally, in the hot-shot Wednesday evening Fraternal league, Bill Pullum's big round house curve found the range to the tune of a solid scratch 660 series. Bill was the straw that stirred the drink last week as he spurred his Electronic Assemblers trio into an 11.5 point first place lead in this competitive league, the best in the Gorge. In the same outing, Mike Bosse punched out a big 255 game and 613 series which was 113 pins over his average.
We have enjoyed watching Mike's game steadily improve, he's rolling the rock more like a pro every day!
LEAGUE HIGH SCRATCH GAMES AND SERIES
Kevin Harris: 265,257,255, 777
Jeff Miller: 256,237, 707
Joey Sheirbon: 243,237, 650
WEDNESDAY AFTERNOON SENIOR COLTS AND FILLIES:
Bernie Keys: 246,220, 637
WEDNESDAY NIGHT FRATERNAL: