An independent film its director calls "a dark fairy tale" contains a key scene recently shot at Egg River Cafe in Hood River.
"It's the quintessential small town diner," producer Danielle J. Bowman said of the cafe, at the busy 13th and Cascade intersection.
The cafe, with its colorful chicken-themed decor, served as a critical scene for "Children of the Pines," written and directed by Joshua Morgan, who was on hand wearing an apron for his part in the scene, on March 16. Morgan, from Los Angeles and Bowman, from Orlando, worked with owner Greg Skwarczynski to facilitate use and to ensure adherence to coronavirus health protocols.
"Greg was very nice and allowed us in, and it's a great location, with the decorations and big wonderful windows," Bowman said.
"The quintessential small town dining room, with a beautiful homey look," is how Bowman described it. Asked if they did anything to the interior, she said, "The most we did was removed the plexiglass that are there for COVID purposes, because the film does not take place during COVID," Bowman said. The plexiglass was replaced after filming, and the space sanitized. All cast and crew needed to provide documentation of negative COVID-19 tests.
"Planning was before COVID and we had everything in place and we had a budget to accommodate everything safely and it really is lucky enough to be able to make art in a time like this, beyond anything, and we can provide work and everyone can be safely working," Morgan said.
"And it really worked out for this area as a small town nestled between huge mountains, and (Mount Hood) is this gigantic rock fits the story very well," Morgan said. He was inspired by one of his favorite films, Stanley Kubrick's "The Shining," with exteriors shot at Timberline Lodge. Much of the "Children" action takes place at a rented house in Government Camp, where the crew moved after finishing at Egg River.
Bowman summarized the film this way: "Riley, a junior in college, comes back home on winter break to visit her estranged parents, only to find they have taken up supernatural practices to heal the trauma within them." Morgan has made short films but this is his full-length feature directorial debut.
"Not so horror but definitely a thriller," added Bowman, who owns Dame Media. A full cut is expected by June or July, and after editing should be released later in 2021 at festivals, which are still mostly on line.
Work for the day started with the scene in which former high school friends Riley and Gordon, played by Kelly Tappan and Vas Provatakis, meet by chance in a local cafe as Riley arrives back in town for the first time in several years.
For Riley pulling up to the cafe, cameras needed the car to travel less than six feet, in light of how close the parking lot is to 13th and how busy traffic was.
The bright afternoon was perfect for the shot, but Morgan and cinematographer Ben Bach of Portland had to deal with traffic and other noise impacts.
Marlyn Rovig of Hood River stood on the north side of Cascade holding his "honk if you love Jesus" sign across the road. Many of the 300 or so honks Rovig said he received that day happened during the five takes needed for Riley's arrival at the cafe, but the crew was able to adjust.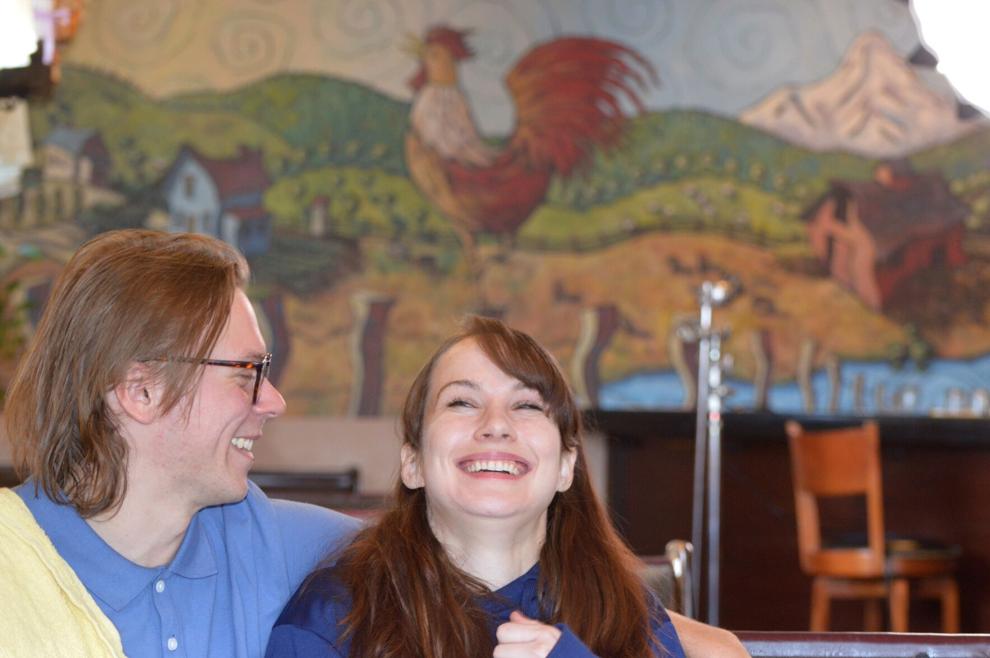 The cast and crew, mostly from Los Angeles and Portland, said they savored the chance to visit the Gorge, and enjoyed the bright vista of snow-covered Mount Adams north out the window of the cafe — but like all film shoots, it was all business.
"When we got here and saw the lodge where the exteriors were, it sank in, 'We're here,' but we don't have time to look around and appreciate things much.
"It's coming along fine, a little chaotic. It kind of reminds me of a frat house on a Saturday night," Bowman said.