As distance learning became the norm for the 2020-21 school year, many extracurricular activities — from sports to robotics, culinary and other clubs — had to get creative in order to operate at all. The Dalles High School Theater Department did just that.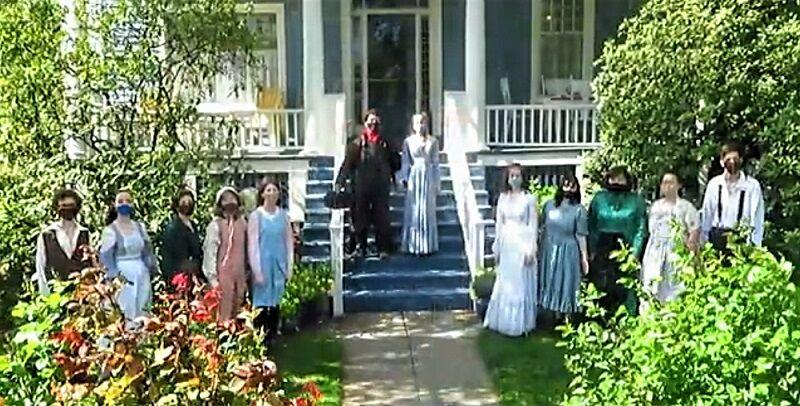 Due to COVID-19 restrictions, the TDHS theater department was unable to put on productions as they would have traditionally. Not only were they not allowed to perform inside the auditorium, students would have had to stand at least eight feet apart if they wanted to perform unmasked, according to Lowry Browning, TDHS English and theater teacher. Browning, who has been directing plays and musicals at the high school for the last 14 years, had to think outside the box — not only to put on a production, but to get as many students participating as possible. "I have many wonderful students in the theater department," she said. "I really wanted more students involved."
This led to the decision to film this year's productions. Browning said that she and her long-time theater department choral director, Corin Parker, spent the better part of this last year coming up with ways to put on a musical while still abiding by the COVID guidelines at the time, which included all students wearing masks while filming.
This led Parker to reach out to Mark Steighner, the artistic director of the Columbia Gorge Orchestra Association, about composing a musical tailored to their needs. According to Browning, Steighner had personal interest in the history of The Dalles and its historical figures, and in February 2021, brought to them a draft of the musical "Young Ben Snipes," a historical period composition based on the life of Ben "the Cattle King" Snipes, a famed cattle rancher and business owner who lived in The Dalles in the late 1800s.
Due to the subject of the musical, rather than be restricted to filming on a stage, the Theater Department had the freedom to film at different locations throughout town. This opportunity offered major advantages such as complete safety in following COVID-19 guidelines, though there was a learning curve to the experience as well. "It was very different directing for film than onstage," Browning shared, "filming, you have to look at the scenes in a different way. I'd never done anything like this before."
TDHS Senior Taylor Beeks, who played "Middle-Aged Ben Snipes," in the production, shared that some of the biggest adjustments they had to accommodate included performing with masks on, which restricted the actors in using tools such as facial expressions in their performances, as well as figuring out scene blocking. "We rehearsed at the high school with kind of a vague idea of what our scene would be when we got to the actual location," he said. "For a lot of them, we had to change most things because the filming locations didn't work out." Despite these adjustments, Beeks felt "everyone did a good job of pulling it together."
Beeks, who has been a core member of the TDHS Theater Department since his eighth-grade year, said that while he preferred acting on stage, he "had a lot of fun with (filming)," and would "definitely do something like it again."
In her interview with Columbia Gorge News, Browning wanted to recognize Parker's contributions to the production. Parker, who is also a music teacher at Chenoweth Elementary, filmed, edited, and put together the entire project. "She filmed it and had to superimpose the music. It was pieced together, bits and pieces, and Corin made it happen."
On May 21, there was a live, "grand opening," of the play for family and members of the cast at the Discovery Center. Due to the historical nature of the musical, the Discovery Center will be showing the movie throughout the month of June, on Thursdays and Fridays at 3 p.m. for museum-goers interested in watching. For any other community members interested in viewing the production, the movie is posted to the District 21 Media Youtube page, where it can be watched for free.
Anyone interested in supporting The Dalles High School Theater Department will find a link in the movie's description box on YouTube, provided by the North Wasco Education Foundation, where they can donate.