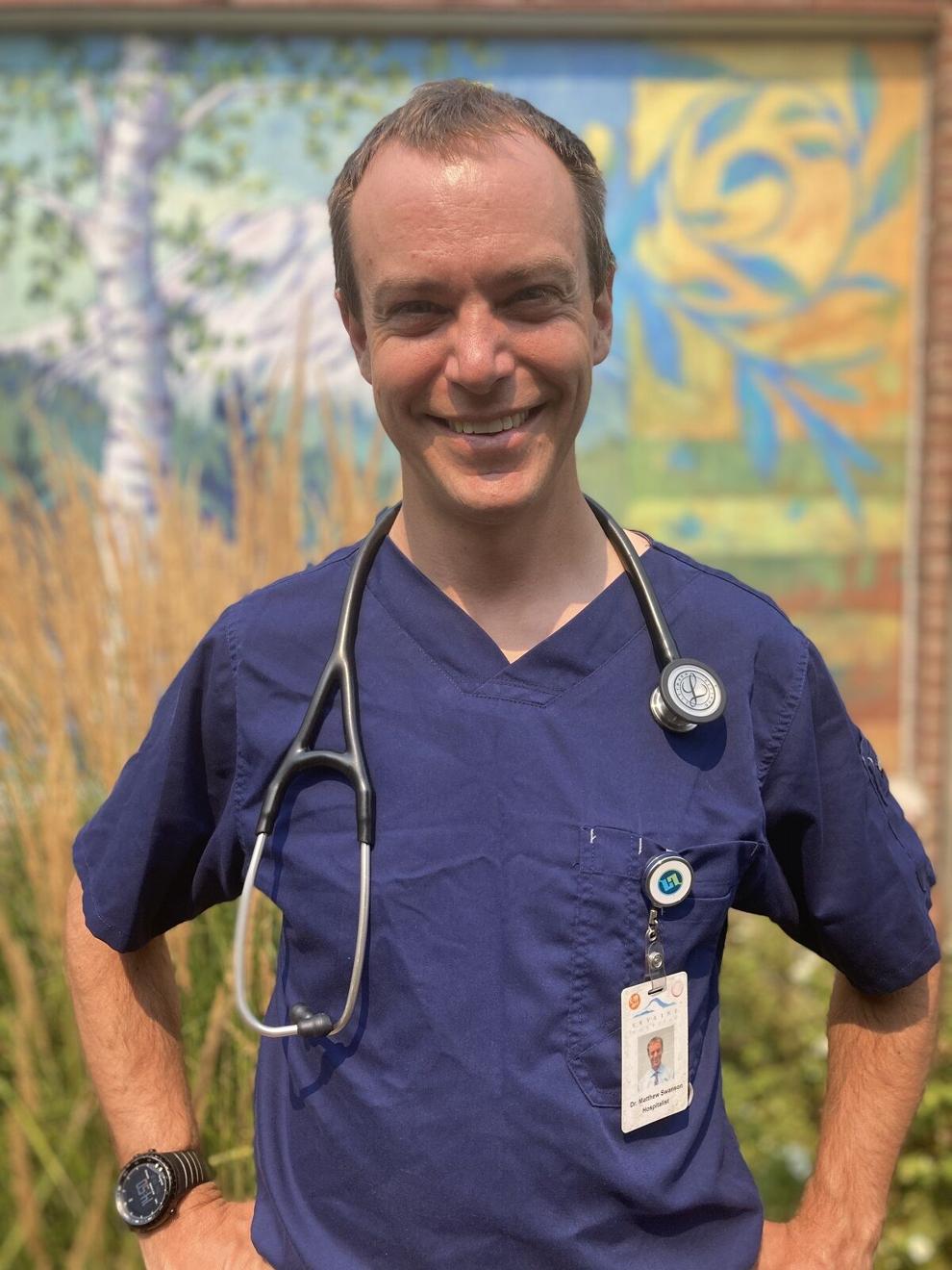 The last year and a half has been long and difficult for everyone, health providers especially. And now, as we near what feels to be like the end of the pandemic, the delta variant emerges to mix everything up. It's scary for everyone, but Dr. Matt Swanson is hopeful.
For Swanson, a hospitalist at Skyline Health in White Salmon, that hope comes from the COVID-19 vaccine, even in the face of the delta variant.
"What we're really in now is a pandemic of the unvaccinated," Swanson said. "The vaccines that we have are very effective against all the known variants of coronavirus, including the delta variant, which everybody's very concerned about right now. But vaccines only work, obviously, if you've gotten one."
Throughout the pandemic, health professionals everywhere, Swanson included, have been faced with unknowns, many of them terrifying. The whole first half of the pandemic, so much felt out of their hands including, potentially, their own fate and the fates of their family members.
"In medicine, we spend many years in medical school, and then residency, and then after we graduate, learning to manage problems that, for the most part … are pretty well understood," Swanson said. "So it was, it was very challenging to suddenly be thrust into a position where most things about SARS-CoV-2, the virus that causes COVID, were not known."
As time has evolved though, society has learned a lot about COVID and the way it works, Swanson said. In many ways it seems there are now more knowns than unknowns. One of the most significant is that we know that masking in public and following social distancing guidelines reduces coronavirus spread, he said. Additionally, the vaccine is a way for people to take their fates back into their own hands and protect themselves.
Swanson said the vaccines work impressively well at protecting from severe illness and death, despite the variants. Additionally, Swanson said there is little solid evidence to suggest that the methods for treating COVID change with the variants.
"We haven't sequenced anyone's coronavirus to see if we have delta variant at Skyline because we probably do and it doesn't change the management at all," he said.
The pandemic has presented the professionals at Skyline with a variety of challenges, Swanson said, including the obtaining of personal protective equipment, especially at the beginning.
"I think our big challenge initially was just being a rural place in a world of limited resources, limited tests, limited treatments, that sort of thing," he said. "Now we have plenty of masks, tests and drugs. Going forward, I think currently our biggest challenge is convincing people to get vaccinated."
That has proven a challenge; currently, in Klickitat County, 42% of people are fully vaccinated and an additional 4% are partially vaccinated.
Having such a large population of unvaccinated people puts the county at risk, Swanson said, which is why Skyline has been trying to prioritize outreach.
"If we've got a large percentage of the population not vaccinated, those people are always going to be vulnerable," he said. "That's one of the big challenges facing the community currently."
Swanson said he does understand the worries people have about the vaccine and believes they should talk out their concerns with a health professional. He also thinks it's important to weigh risks, he said.
"People's concerns are totally valid. It's reasonable to wonder about vaccines and to wonder about the safety of something that's fairly new," he said. "But we know COVID is terrible. I've seen patients suffer and die from it. And it's a terrible experience that is known, right? The risks, if you get COVID and are unvaccinated, of developing severe disease or death are well known."
Swanson said the vaccines have been proven to be safe and effective, even in the face of the delta variant.
"The bottom line is still the same," he said. "Everybody should get vaccinated, for their safety and the safety of the community."