The City of The Dalles council and the Wasco County board of commissioners will publicly review a proposed Strategic Investment Program (SIP) agreement with Google for the development of property Google has purchased in The Dalles — primarily consisting of the former aluminum plant site and the rodeo grounds — at two joint public meetings scheduled for 2:30 p.m. Feb. 17 and 5:20 p.m. Feb. 22, according to a Feb. 10 press release from Wasco County.
"This will have a lot of repercussions; citizens should know what is going on," said The Dalles Mayor Rich Mays, who was part of the six member negotiating committee made up of city and county representatives. "I think this is a good deal for the city, all six of us believe it is a good deal for the community."
Mays said the committee is "open minded about any input" received. "Nothing is set in stone until the city and the county sign the agreement," he said.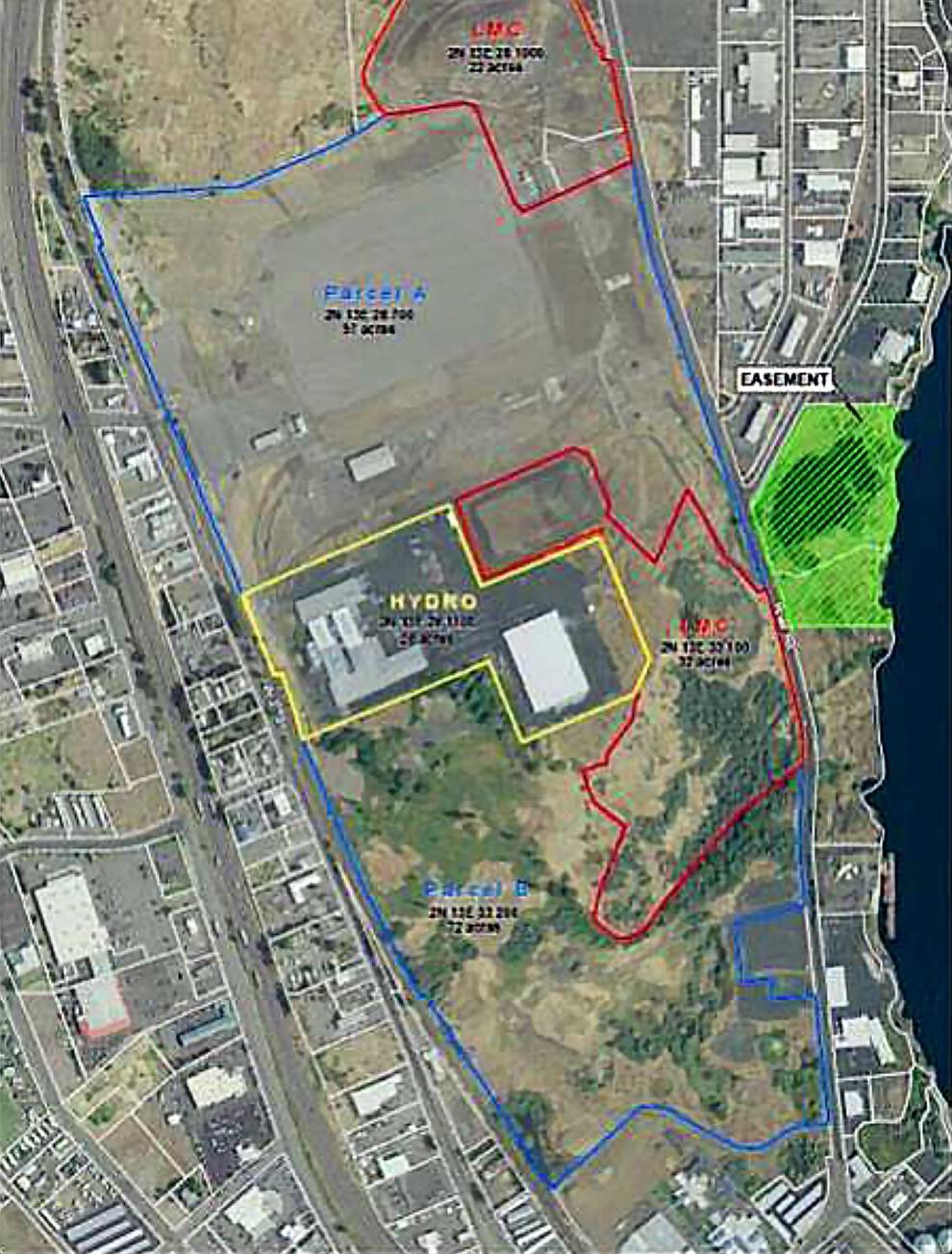 A decision on the agreement will be sought March 3 at the Wasco County Commission meeting and March 8 at the City of The Dalles council meeting.
The Strategic Investment Program is a state program overseen by Business Oregon. It provides up to 15 years of partial tax abatement for a project and is similar to an Enterprise Zone, also a state program, under which previous data centers were built.
Key points of the SIP agreement are:
• A 20 year window for two potential projects estimated at $600 million each, with up to 15 years of partial tax abatement for each.
• State Prescribed Taxes tied to the total investment, with each project having a State Prescribed Community Service Fee (CSF) based on 25 percent of full tax, capped at $2.5 million.
• A locally negotiated Guaranteed Annual Payment (GAP).
• Transfer of property from Google to the city and county. This includes right of first refusal giving the city and county the option to purchase the property from Google for up to 10 years after the completion of the final abatement.
The two public meetings are intended to present the draft documents, answer questions and take testimony.
A decision on the agreement will be brought forward at the March 3 Wasco County Board of Commissioners meeting and the March 8 City of The Dalles council meeting.
Documents related to the proposed agreement are available at www.co.wasco.or.us, under departments/board of county commissioners/agenda board packet and minutes, where there is a link to the Feb. 17, 2021 county agenda and board packet.
A summary of those documents appear below.
Proposed agreement
The proposal includes the potential for two projects, each including a data center, support facilities and a warehouse. Anticipated investment is estimated by Google at $600 million each; the initial $50 million of assessed value is taxed with a three percent increment annually.
The community service fee is based on 25 percent of tax savings capped at $2.5 million.
The proposed local negotiated agreement was worked out between Google, Wasco County and The City of The Dalles and includes:
• A one-time $3 million initial payment payable within 60 days of submission of the first data center building "construction in process" form for each project.
• A guaranteed annual payment of 50 percent for project one and 60 percent for project 2. If the property taxes and community service fee add up to less than 50 percent of the full property tax for the first project and 60 percent for the second project, the applicant will pay a "gap" payment to the city and county to make up the difference.
• Regardless of the above, a total $3 million minimum payment will be made each year for each project.
For project one, taxes on $50 million plus the community service fee plus any "gap" payment will be approximately $54 million. For project two, approximately $65 million.
Tax calculation based on $50 million will be distributed to all relevant taxing districts per project with 3 percent annual increase.
Distribution of the community service fee will be dependent upon an agreement of 75 percent of those districts within 90 days.
The "gap" payment is made to the city and county. A process for potential allocation of other tax abatement funds will be released within a year.
Also part of the locally negotiated agreement is the transfer of a minimum of 35 acres of "parcel B," near NORCOR and right of first refusal in effect for up to 10 years after end of final abatement.
Indirect benefits
According to the staff report, although there is no job creation requirement, the applicant does expect new direct and indirect jobs will be created and will enter into a "first source hiring agreement." The project will also include cleanup of a "challenged site within our community," the former aluminum plant. In addition, the projects will provide water and power revenue a potential aquifer storage and recovery.
Strategic Investment Program (SIP)
According to Business Oregon, which oversees the SIP program, the Strategic Investment Program is available statewide for projects developed by "traded-sector" businesses, such as manufacturing firms. "Traded sector" is defined in Oregon law as "industries in which member firms sell their goods or services into markets for which national or international competition exists." Depending on certain factors, like investment size, the SIP can offer exceptional benefits in terms of net present value.
The SIP program has three major pieces: Taxes (set by Business Oregon); a community service fee (set by Business Oregon); and a locally negotiated component developed by the applicant, county and city where the development is located.
Distribution of the community service fee between taxing districts will be set by those districts within three months, and can be mutually amended or revised at a later time. If no agreement is reached within three months, Business Oregon will set the distribution formula.
The community service fee is paid each year to local public service providers and equals 25 percent of each year's tax savings, but it is capped at an annual maximum.
SIP vs. Long Term Enterprise Zone
Both are up to a 15-year property tax abatement program.
EZ has requirements for job creation and wage/compensation minimums, SIP does not.
SIP is intended for large capital investments.
Google The Dalles
In 2008, Google opened its first two data center buildings. In 2013 another data center was built and work on a third facility began in 2016. According to a 2016 report by The Dalles Chronicle, Google's initial land purchase was 34.3 acres. Then it purchased the Roundtop Windows building and site, at 2.4 acres. Next came the purchase of the 26.9-acre North Chenoweth site, where an additional data center was constructed. Google then purchased the rodeo grounds and golf course site, at 73.6 acres, which was followed by the purchase of the 42.7-acre site (Northwest Aluminum Co. and golf course) along the freeway in 2016. At that time, they also signed a prospective purchase agreement with the state Department of Environmental Quality for the former smelter site. In all, the purchased land totaled 180.1 acres. With the smelter site, that would bring its total acreage to 276.1 acres.