Hood River joined the global "Walk & Bike to School Day" celebration recently, demonstrating a car-free School Street.
"Bike Train is the best part of my day!" said the always-enthusiastic Mariah, a third grader at May Street Elementary. We conductors hear similar things every day from the 30 student passengers who ride with the bike train or stroll with the walking bus. And Wednesday, Oct. 6 was a special day, because it was International Walk and Bike to School Day with more than 150 May Street students using their bodies, feet or wheels to celebrate.
Powered by a group of conductor parent volunteers, May Street Elementary runs two bike trains from behind Rosauers and up the hill from Safeway, as well as a walking bus from the A-B-C neighborhood. And for the special day, we added the traditional walking bus from Children's Park up the Ninth Street stairs. The students wake up their bodies, get the wiggles out and clear their brains before going to class, and on the way home, they trade stories, laugh, and make plans to play together.
I sound like my grandparents, but rain or shine, through freezing temperature and snow, everyone walked, biked or bused to school when I was a kid. It was the best part of my day. I loved how the cold tickled my nose or the way the rising or setting sun filtered through the trees, and I loved the sense of freedom and independence I had to play and explore. The opportunity to resurrect this joy that bookends arguably the most important part of a child's day (school) is what motivated me to volunteer to start the bike train program last April, when in-class learning resumed during COVID-19. I knew Principal Kelly Beard and I were kindred spirits when he told me about his free-range childhood and his mom's rule when he was a kid: "When the street lights come on, you have 10 minutes to get home." That was exactly how I grew up.
Last spring, when all the national trends pointed to returning vehicle congestion and drop-off lines accompanying schools reopening, Principal Beard and I worked on the bike train to give busy parents the "skip the line, free up my time" option. In the "it takes a village" spirit, parents could take turns shepherding the kids to school, giving the gift of precious free time to other parents. But, with safety and cars as the number one concern of parents, the program is built on trust and educating the kids on how to choose safe routes, cross the street and ride your bike in a safe way. Many of these kids have never walked or biked beyond their street, and if they have, their bike was put on a car destined for a car-free trail, or they were encouraged to go hog wild while mountain biking. We are teaching them everything from the ground up: Bike handling skills, the law, street riding etiquette, "spidey sense" intuition, empathy for others, and navigation.
I now own the "crazy bike lady of town" label. My passion is based in bringing back human-centered streets, and the resulting community wellbeing and resilience. I see Wally, a 93 year old, on his daily stroll of the Heights, using his walker to cross the double-one-way couplet of 12th and 13th, or Ed using his electric mobility device to share the crowded 12th Street sidewalk across Indian Creek to get groceries or visit the hospital. Our most vulnerable seniors, accessibility challenged, and kids deserve better. The streets should mirror the values of democracy, equity and local economy that we all seem to hold dear.
Using 12th and 13th as an example, it has eight lanes, roughly 120 feet of the 136 feet dedicated to vehicle storage and movement. Not including bus passengers, that equals 88% of the right of way designed for a single mobility choice, driving. In a true democracy, that space would represent all mobility choices, giving more space to people who walk, roll or bike. We need wider sidewalks, safer crossings, separated bike lanes on busy streets, and calmer neighborways where kids travel and play.
As a way to realize the calm neighborway and also help May Street Elementary with a safety problem, we demonstrated a School Street on Wednesday, too. Plastic barriers and cones were placed at Pine and Ninth and June and Eighth streets to restrict through-vehicles, with volunteers who moved cones for residents and teachers to get in and out. The result was a friction-free, joy filled, and much safer way for students to access the walking and biking entrance to school.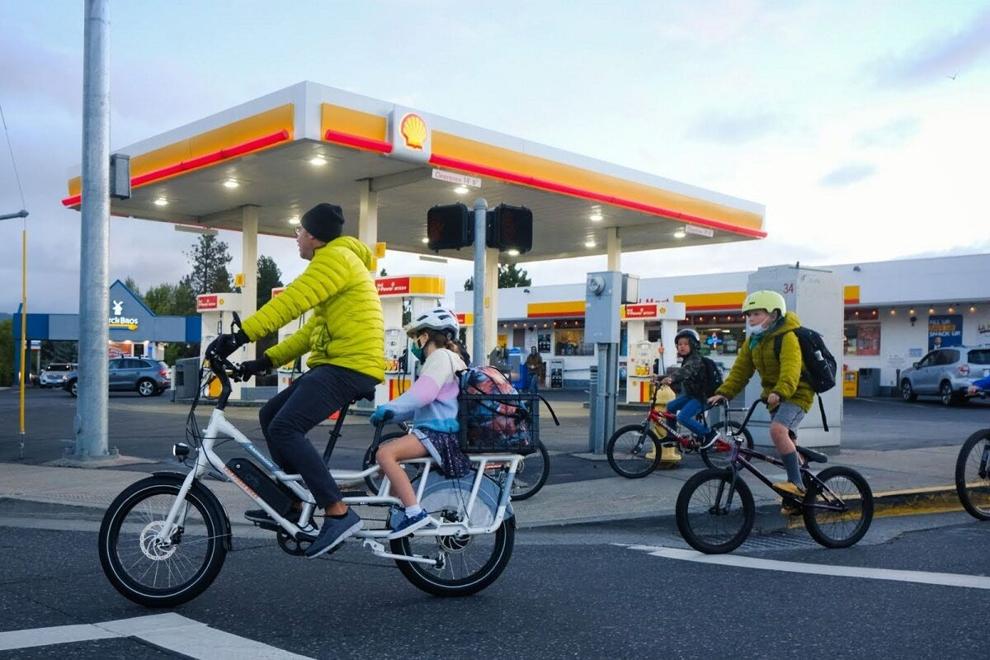 "This was so simple, can we make this happen every day," was heard in different ways by parents, kids and even local residents. As it is with being an advocate, too often the pre-conversation gets hung up on the negatives with vehicles or change resistance. This is where the magic in a demonstration project is: That people get to experience the change immediately, versus looking at a design cross-section on paper. They get to use it, feel the untapped joy when the burden of safety around vehicles is eliminated, and not only does the world not come to an end, it functions better for everyone. Instead of parents driving through these streets to drop-off or pick-up their kid, they did so a block away and watched them walk safely down the car-free street and then proceed on their way — versus sitting in a line of cars for 15 minutes.
The joy was felt all around on Wednesday, thanks to the school, City of Hood River and parent volunteers. To put it best, I will quote our passionate passenger Mariah again:
"This day was fabulous — let's do it EVERY DAY!"
Megan Ramey is mobility safety coordinator for Anson's Bike Buddies, funded by the ODOT pedestrian safety grant.