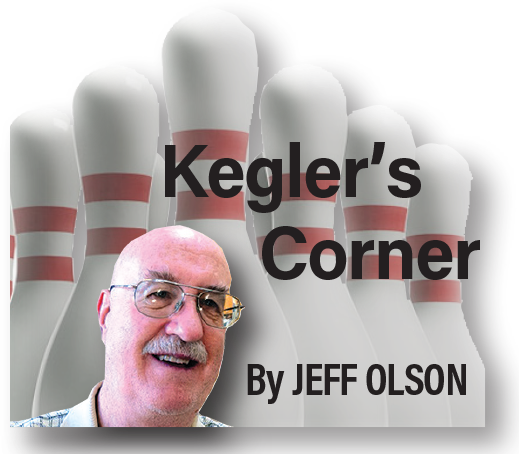 Team Nishi is going to win the first round of the Tuesday Nite Mixed league at Hood River's Orchard Lanes. There is still a week to go in the round but Team Nishi has amassed such a lead that no one can mathematically catch them.
Team Nishi has won 31 points and Take Ten is their closest pursuers with 25 points with only 4 points available to win each week. So, congratulations are in order for Team Nishi's dynamic quintet, Jeff (keep 'em low) Hasegawa, Joey (cherry picker) Sheirbon, and the legendary bowling Kawachis, Stuart, Janet and Kristen. Team Nishi won with solid contributions from everyone. They have knocked down the most pins and they have posted the highest scratch game and series in the league.
Joey Sheirbon gets the nod as the team sparkplug as he is currently averaging 203. As we have pointed out many times before a 200 average in bowling is akin to par in golf, it's an indicator of a very good player. Joey has been a long time mainstay in Hood River's bowling league action and he's shown steady improvement over the years. This is the first time Joey has risen to the austere 200 average level. Joey plays the lanes in the high scoring down and in mode, rolling the ball with good speed and nice revs that he controls beautifully because it doesn't over hook. As a result, he hits the 1-3 pocket with ease, making those 3 lb. 6 oz. pins dance into big strings of strikes and equally important, he makes his spares. Folks, that's a mighty fine formula for success.
Scoring at the lanes is getting better and better with each passing week. This past week was shortened due to the holiday and a few folks were understandably absent but a quick look at our team of the week stars shows big numbers. This big five group is comprised of talented pin busters who have become familiar household names in local bowling circles. They have definitely solved the local lane conditions and seem to get in the limelight with amazing regularity so we won't elaborate further on all of their current exploits with a couple exceptions.
We are really impressed with young Levi Phelps who has definitely become a bowling star. He shows up so often with these pin splattering numbers that he is now carrying a classy 207 average. And, as we've pointed out before, he is doing that without any practice. That's a sign of pure, awesome natural talent!
Bill Whetstine had a bit of hard luck in his last session in the Fraternal. He was just a tick away from notching the fifth perfect 300 game at the lanes this season. In his last game of the night he blasted eleven straight strikes and needed just one more for a perfecto. His last shot came up just a bit light in the pocket and even though the pins danced all over the deck, the seven pin remained standing. So, he settled for a 299 game, close but no cigar as they say. But, don't feel too sorry for Bill, he's logged a bunch of 300's in his career and finishing up with a 747 three game series is mighty fine bowling in anybody's book. We were chatting with Bill afterward and he said karma must have been involved because one of his early tosses in that eleven strike string crossed over for a lucky strike that we call a Brooklyn, so he wasn't too upset with 299.
Finally, it's good to see lefty Mike Parke making the big five. Mike is a heck of a bowler who has recently joined the senior set. He's been stirring the sticks for a long time and knocking so many down that we have nicknamed him, the doomsday striking machine. Watching him bowl it's like he's on autopilot! He reminds us of the legendary pro Earl Anthony, another lefty, originally from Tacoma, who some say was the GOAT. We've never seen anybody roll more strikes than Earl Anthony except, perhaps, our own Jeff Miller! Earl won over 40 PBA tournaments mainly because he was like a robotic strike machine. Let's go bowling everybody.
LEAGUE HIGH SCRATCH GAMES AND SERIES
Patrick Olson: 275, 242, 708
Nancy Asai: 232, 226, 637
WEDNESDAY AFTERNOON SENIOR COLTS AND FILLIES:
Mike Parke: 279, 213, 664
WEDNESDAY NIGHT FRATERNAL:
Jeff Miller: 267, 249, 750
Levi Phelps: 256, 252, 732