The state's switch of Hood River's coronavirus rating from Extreme up to High Risk two weeks ago allows some indoor seating for the first time in months and opened up limited opportunities for Hood River County restaurants.
For Kris Klejah of The Mesquitery on Hood River Heights and Justin White of Apple Valley BBQ in Parkdale, the change to a new set of regulations has been a happy opportunity that comes at the same time both restaurants are expanding what they do.
Klejah has re-introduced minimal indoor seating, both in the restaurant and the adjoining bar The Shed, and his newly-expanded Shed Lounge, with hopes to return soon to patio service; he has the burners ready to keep guests warm outside.
White is standing pat with take-out only at Apple Valley, and has purchased the former Blue Canoe restaurant building a block east, to open as Baseline Biscuits in mid-March or so, which he will run along with Apple Valley BBQ and Apple Valley Store, on Tucker Road south of Hood River.
Under the current High Risk status for Hood River County (Wasco is still listed as Extreme Risk, meaning indoor dining is prohibited),indoor dining is allowed. Takeout is "highly recommended." Indoor capacity is not to exceed 25 percent maximum occupancy or 50 people, whichever is smaller. Outdoor dining is allowed, 75 people maximum. Indoor and outdoor seating is restricted to six people per party and per table maximum, limit two households. All establishments must close at 11 p.m.
At all times when not eating or drinking at a table, customers and staff must wear masks and adhere to social distancing.
County Health approval is the one major step remaining for Baseline Biscuits; White and his crew repainted the interior and added booths for what he calls "a fresh new look," and exterior painting will happen when the weather improves. Baseline will be open 7 a.m. to 2 p.m., with what White calls "southern hangover food": Biscuits and gravy and other morning fare, and alcoholic concoctions including Bloody Marys, Mimosas and Morning Mules.
At Apple Valley, "We haven't changed since the first lockdown, we went to to-go only and no outside seating. We figured we'd only be able to fit 12 people in the dining room including the servers and we'd need to add another server for two tables, so it just wasn't worth it at this time. Hopefully we'll be able to open outdoors in March, and maybe reopen that way at the same time as Baseline Biscuits."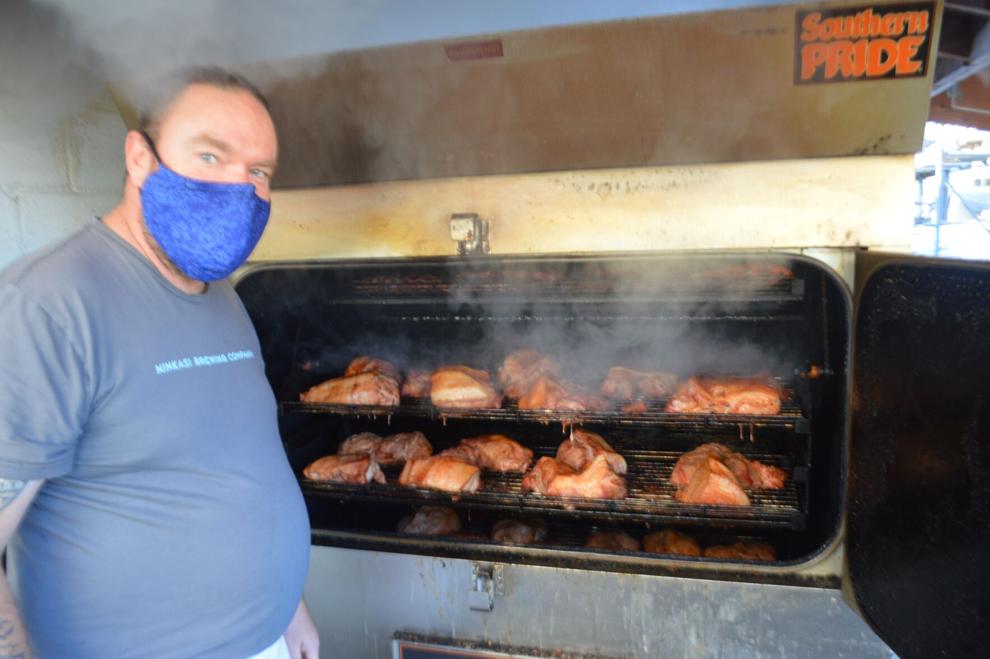 Pies and other Apple Valley fruit products, preserves and barbecue sauces can be ordered online and then picked up inside the dining room, where a full line of Apple Valley products are for sale on a retail basis.
Meanwhile, the prospect of his new business opening in about a month is "exciting and nervous," and White will be going on a "hiring spree" this week.
Mesquitery kept going with take-out service for the past year, and Klejah and his crew have tried to bide their time.
"We kept the kitchen staff employed, but there was not much for servers, and I would fill in, and it was tough. We were focused on keeping workers working so when we could open again I wouldn't have to look for new people. I was trying to keep as many people as I could with the business we had, not counting to make many profits at the time but be ready when we were able again and have a crew ready, and be successful." Klejah said a new website and on-line ordering system installed last year helped streamline takeout service.
Allowing some diners inside provides another welcome source of revenue, Klejah said.
"You still have the same crew in the kitchen, and you have to hire back bartenders and servers, but it has improved things a lot.
"I hope all the regulations are going to be a little looser in the next few months as we take care of the pandemic, somehow, so we can, you know, live a normal life again."
He is looking forward to allowing more people to enjoy the sleek "Shed Lounge."
"When the pandemic happened, we lost our tenant (a dry cleaning operation), and knew it was going to be hard to find a solid tenant," Klejah said, "and I decided to use the time to expand it and put lots of sweat equity, and I worked with friends who are contractors and turned this into an additional lounge area where people can have a drink and also have the same food on the restaurant side." He also added a video gaming room and two restrooms.