The Hood River County (HRC) Community ID has officially launched, with 76 county residents registering for their cards during a launch event hosted by The Next Door at Hood River Valley Christian Church on Tuesday.
The program is the first of its kind in the Pacific Northwest and is one of over 30 local government ID programs in effect nationwide.
While the local government-issued ID cards don't replace state or federal government-issued ID, they're accepted by a variety of organizations within Hood River County, including the City of Hood River, FISH Food Bank and the Hood River Library. In addition, Solstice Wood Fire Pizza, Café and Bar will begin offering a 15 percent discount to card-holders on Mondays; and Lorena Sprager, program coordinator at The Next Door, hopes that more local businesses will soon follow suit with their own discounts for those with the HRC Community ID.
"There's been a lot of interest (in business discounts) for people who've gotten the cards so far. It's very beneficial for both community members and the businesses," Sprager said, because businesses get to decide what type of discount best serves their needs, and the offer helps locals feel more connected to the community. "It's that sense of belonging and really building a sense of community in a highly tourist economy," Sprager said.
The tagline for the program as a whole is "I Belong," tying back to a recent survey that identified a sense of belonging as a need within the Hood River community, Sprager said. "It's exciting to me that this was driven by identified community needs," she said.
The program was first pitched to local government by Gorge Ecumenical Ministries back in October 2017 and supported by local leaders throughout the community. Though the proposal received favorable impressions from both government and law enforcement officials, Hood River County's budget couldn't support the costs associated with starting up the program.
To make it work, Hood River County drafted an ordinance to authorize The Next Door to administer the program, and the Hood River County Board of Commissioners unanimously approved a three-year pilot program for the local government identification card in June 2018.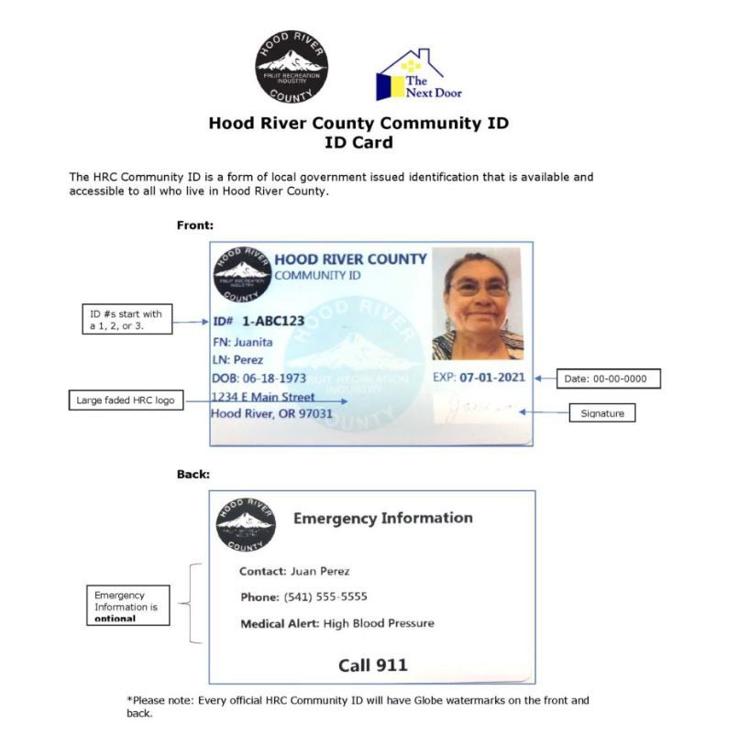 While the IDs themselves are officially authorized by Hood River County, the program is administered by Gorge Ecumenical Ministries via The Next Door and funded by private grants and card fees.
The cards cost $20 each, but applicants have the option to just pay $10, or to pay more as a donation to The Next Door.
"We wanted to make sure that we could address payment needs across the community," Sprager said about the pricing tiers.
The IDs are active for two years, and applicants will receive their cards in the mail two weeks after registration and payment are complete.
When asked why residents should consider enrolling for a HRC Community ID, Sprager said, "It's a way to show your pride to belong to such an amazing community of diverse people and get great upcoming discounts in this special place we call home.  The HRC Community ID is for all of us."
The Next Door will be hosting enrollment events at different locations around Hood River County about once a month, with the next scheduled for Monday, Oct. 21. Those wishing to attend an enrollment event are asked contact The Next Door at hrcid@nextdoorinc.org or 541-399-5006 at least a couple of days in advance, earlier if possible, to secure a spot and get more information.