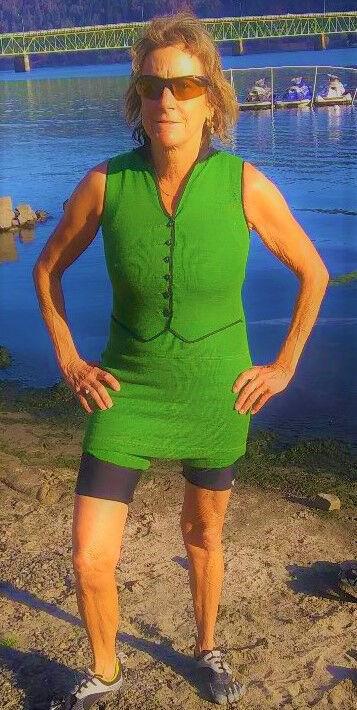 The woolen swimsuit gifted to me came with history, a personal challenge and a lesson in cold water swimming. Could this over a century old garment hold up during a swim from The Best Western Plus beach to the red buoy below the Hood River Bridge and back? I'd done this before in a wet suit and was curious to experience what early open water swimmers experienced wearing one-piece wool suits. Will the six black buttons pop off? When soaked will it stretch out and drag me to the depths?
The green swim suit with black piping was previously owned by Mercedes Foley. Born in 1892, she was an athletic mother of five. Before her children came, it could be assumed Mercedes wore the suit as a young bride who swam at Foley Lake Ranch, the present-day site of Foley Lakes, West of The Dalles.
The suit was given to Mercedes, an Irishwoman with red hair, by her husband Pat, who had a fixation for green. They were married in 1916. After Mercedes' death in 1977, the suit was among other garments that came into the possession of her granddaughter, Annette Byers, who gave it to me.
When I first tried it on, the suit fit more like a form fitting cocktail dress and itched. A hand-sewn label in the neck reads THIS GARMENT 100% VIRGININ WOOL. At the initial fitting, enough moth holes were discovered to question whether the suit would fray apart in the water. Bev Tuttle of The Dalles volunteered her darning skills before the first test swim in a salt water, heated indoor pool. Predicting the fabric would stretch proved opposite. After several laps, the skirt had shrunk considerably, yet was still comfortable and very warm.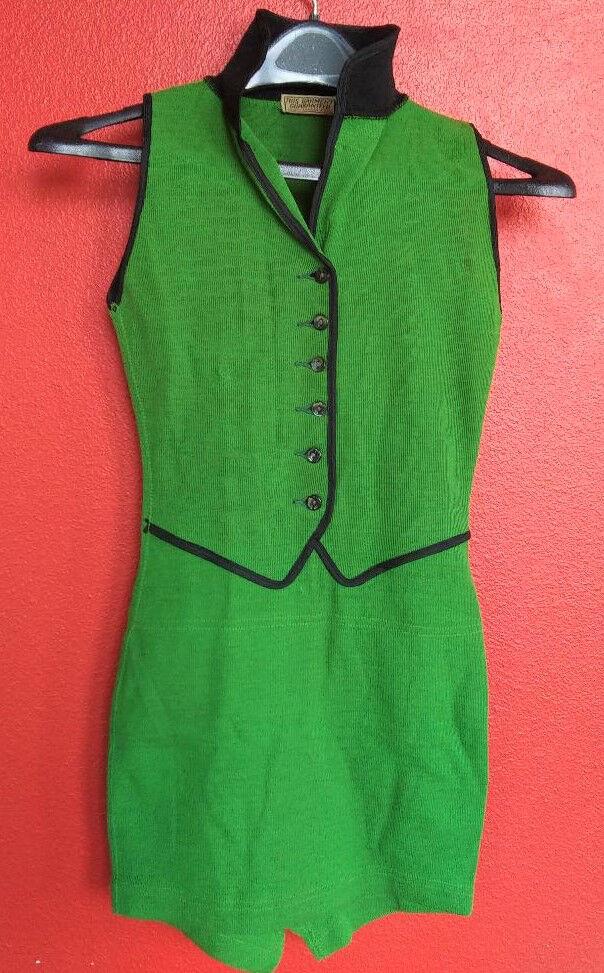 These same insulating properties were not experienced months later during a September swim, supported by a safety paddler, in the 58-degree Columbia River. Even though I wore Lycra bike shorts underneath, the frigid water penetrated the fabric like a sponge, getting heavier as I swam. The harder I swam, the harder it was to breathe.
As an open water swimmer and safety paddler for other swimmers, I recognized the signs of Swimming Induced Pulmonary Edema, or SIPE, a condition that causes sudden breathlessness during open water swimming. I'd experienced this once before while wearing a full wet suit and so knew it was time to get to shore and to get warm fast.
Dr. Jodi Ready, also a long-distance open water swimmer, has admitted watersport enthusiasts to the hospital emergency department in repository distress. "The presenting symptoms of SIPE are shortness of breath beyond what you expect and coughing. More likely, it will happen in water cooler than 60 degrees and exercise in these conditions only adds pressure. SIPE can be disconcerting and scary," she said.
Back on beach, the green knit clung tightly to my shivering body and I could see more moth holes than before the swim. Later, hand-washed in Woolite, Mercedes' dried suit was wrapped in moth-proofing cedar blocks and folded into a tight drawer. It's doubtful I will take it for a swim again. It's more certain that, after a full darning, it will suit me better as a cocktail dress.