Lawnmower racing was birthed in a place where ideas become realities. Irishman Jim Gavin sat in a southern England pub and pondered how to make motor racing more affordable. He landed on something that nearly every homeowner has in their backyard: a lawnmower. 
Soon after, he and his buddies set up a course modified their riding lawnmowers. To his surprise, people came to watch. 
Today, lawnmower racing — also known as grass car racing — has become a worldwide sport. Competitions occur everywhere from New Zealand all the way to the pacific northwest, including Wamic, Ore. Located 35 miles south of The Dalles, the Sportsman's Pub & Grub is home to the largest grass car racing track in the United States. The Wamic Speedway — as it is known by the locals — is the scene of the 2021 National Championships.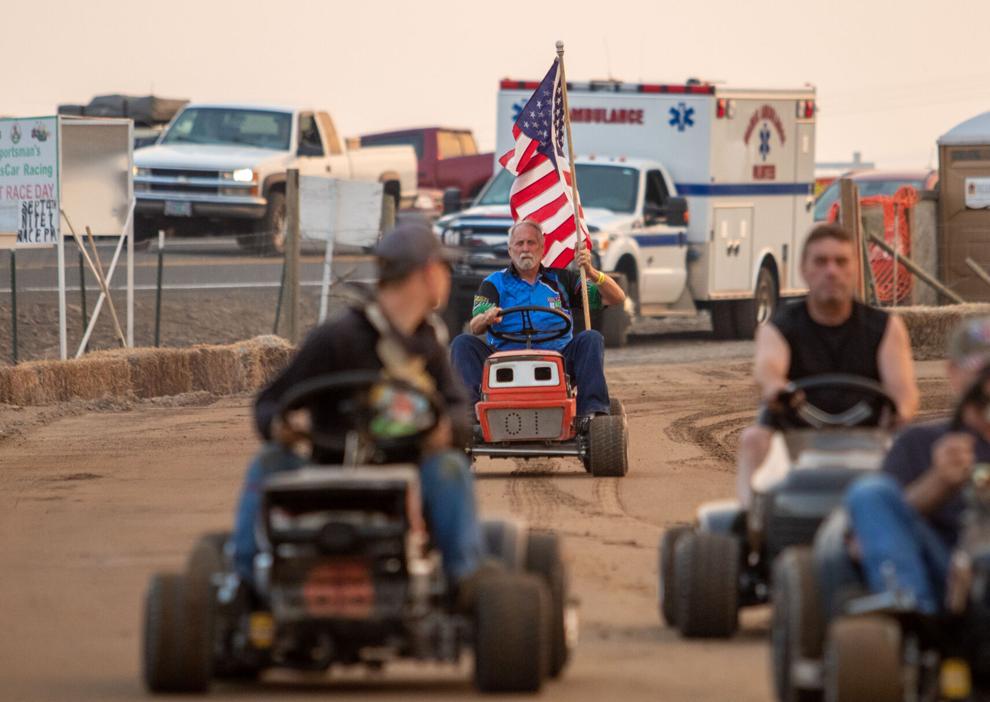 While the people involved in the sports are important, the track itself has evolved to be a leading character. Wamic resident, Joshua Woelke headlined the races, while his dad Glenn is praised as the father of the track. Ask anyone in the area and they will say Glenn has done more for Wamic Speedway than anyone ever has.
"Go back 5 years ago and this track looked like the horse pasture out back," said Mark Grant, one of the race announcers. 
What started out as a scrappy race track delineated by gallon water jugs and red tape has since been transformed into a "world-class facility" as described by the racers and ESPN alike. 
In 2014, Glenn added hay bales sporadically around the track in case racers took a corner too sharply. The lawnmowers-turned grass cars often catch on fire or experience mechanical difficulties, so it's crucial the track has a convenient exit.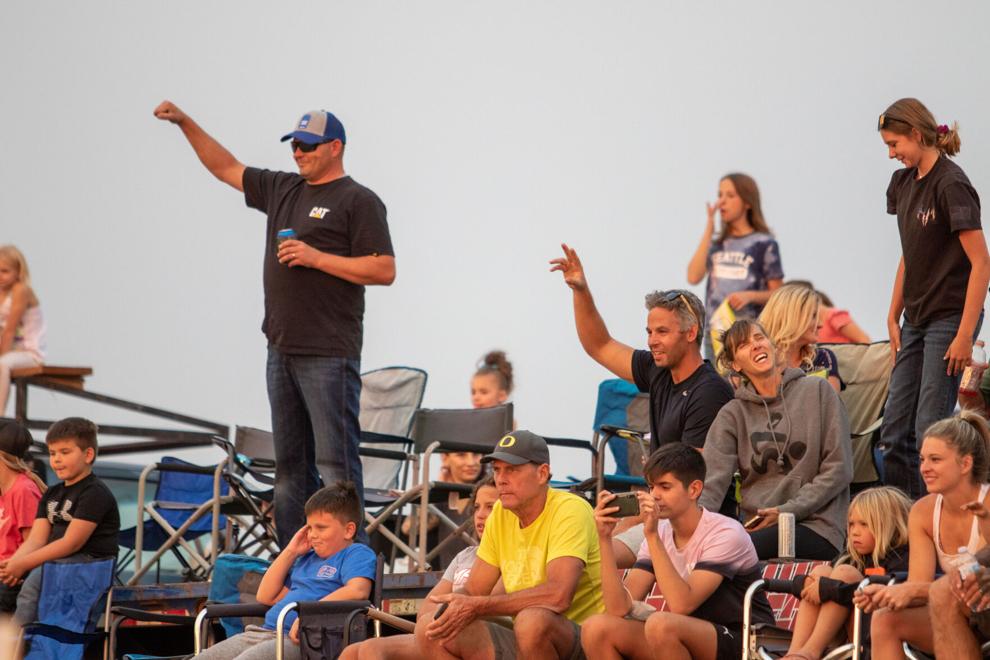 As the sport grew in popularity, now attracting a steady crowd of "street people" along the rural highway, so did the track. Last summer, one of the covered areas that housed an outdoor kitchen toppled over. So Glenn and his crew — comprised of locals and other racers — got to building a new one, this time with an emphasis on stability. Spectators wanted to be able to drink beer, turning race days into parties. 
More improvements came in the form of a 24-foot-long grader to level the track and a road roller to compact the surface. A perfectly mowed lawn in the center added visual appeal to the roots of the sport. Glenn boasts the green grass inside the track as his favorite feature.
"I got the greenest grass in Wasco County," said Glenn, half joking, half serious.
Grass car racing is especially popular in the south, so how did the National Finals end up in tiny Wamic, Oregon? Kerry Evans, president of the United States Lawn Mower Racing Association (USLMRA), has ties to Oregon deeper than just racing lawn mowers. Three years ago, he married his wife, Debbie, on Randy Marshall's ranch outside of Wamic. Evans is a certified mechanic for small engines and discovered grass car racing when a customer came into his Alabama engine dealership to get help modifying his lawnmower engine for racing purposes. 
Twenty-six years later, Evans is a member of the USMLRA Hall of Fame and the current hand-picked president for the lawnmower racing association. As the president, he oversees all competitions in the United States and is responsible for choosing the location for the annual National Championships, which were canceled last year due to COVID. Besides the quality track, Evans said that one thing comes to mind when considering a race location: the venue must offer a bar. 
"Drinkin' and racin' is what it's all about," said Evans in his southern Alabama accent.
If you want to take part in said activities, you must earn enough points during the season to qualify. Starting on Jan. 1, racers will have opportunities across the country to earn points that go towards the national standings. Enough points and you will be invited to the National races. This year Woelke and Roseburg native Sarah Elder were the top earners for the FXS (Factory Experimental Single) classification. The FXS class is for experienced racers who drive single cylinder grass cars. Woelke was also tied for first in the CP classification — single cylinder grass cars that max out at 20 horsepower and 50 mph.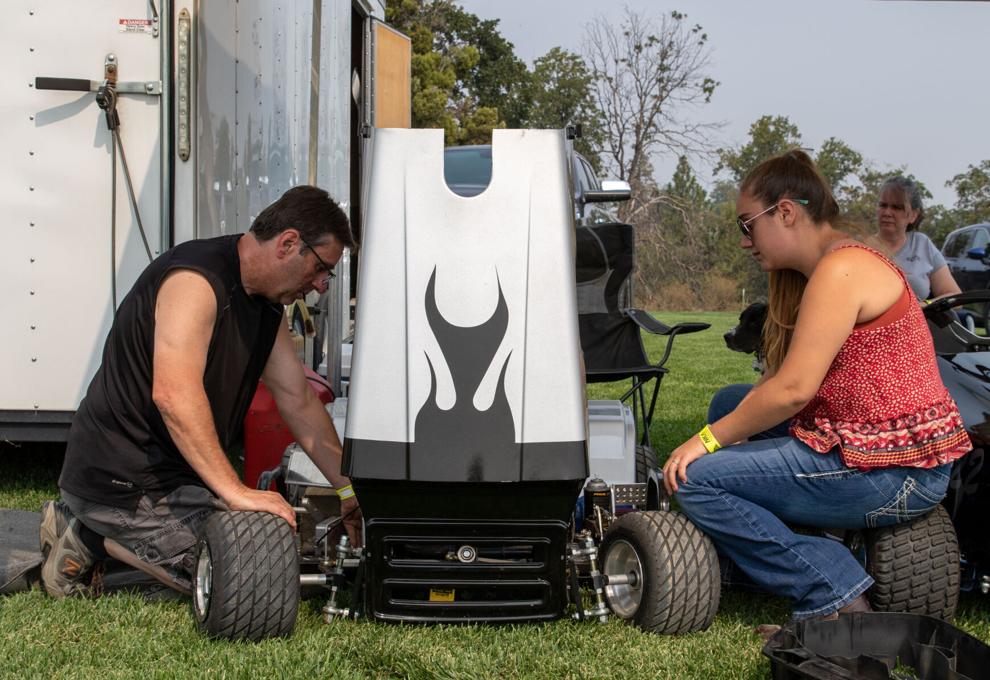 Garrett Penland led the FXT (Factory Experimental Twin) group of racers. Penland has been a force on the lawnmower. He placed first in every event he has raced this year. Among others who qualified and made the trip to central Oregon were racers from Massachusetts, Ohio and Georgia. The legendary Bobby Cleveland was in attendance as well — he holds the title of being the fastest man on a lawnmower, reaching 96 mph on the Bonneville Salt Flats in Utah setting a world record. Cleveland used the same engine at Nationals as he used to break the world record. People lined the road to tailgate and see some national champions crowned.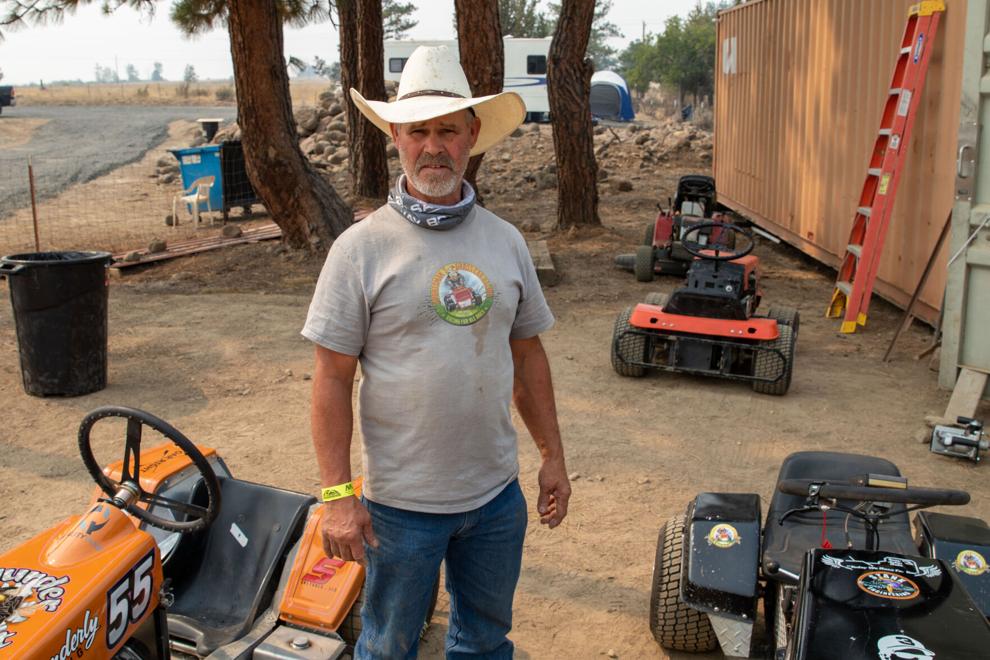 Pickup trucks, motor homes and mini vans showed up days before the races even began to get a good spot. Spectators stocked their coolers full of soda and beer, grilled some hot dogs and hamburgers to hold themselves over until the lawnmowers lined up at the start line. These races draw people from all over, but an overwhelming majority live in rural Oregon. With professional sports often located in bigger cities, grass car racing is the next best thing for those living in the countryside. The low-cost aspect plays a part in attracting certain individuals. You can take it as seriously as you like, but for some racers this is their livelihood.
Tim Wonderly of Stank Engineering has sunk $8,000 into his lawnmower. To him, this investment has paid off. Camaraderie and his teams success on the track has satisfied his ambitions. Unfortunately, his team was unable to keep up with Woelke.
This past weekend, Woelke, Pub & Grub owner came out on top. He was named National Champion in the CP Classification. 
"It's been a lot of hard work and dedication," said Josh. His grass car reached a top speed of 41 mph, which would put him over the speed limit driving past the track on Wamic Market Road.
Penland took home the trophy for the FXS class. His victory came down to wire as Woelke finished just two seconds behind him. Sara Elder finished third.
The sport of lawnmower racing may not be in the same spotlight as professional baseball or even NASCAR, but to a handful of people, it is everything. Thanks to Kerry Evans and the USLMRA, people who previously would not have had the chance to be a national champion, now can compete at the highest level.