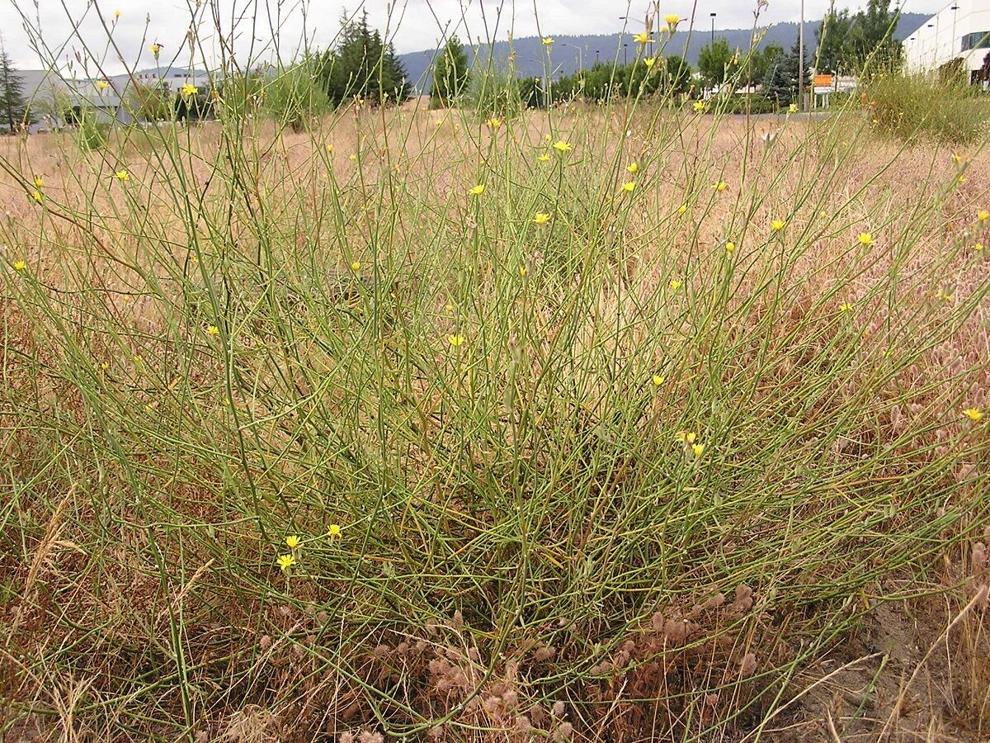 Rush skeletonweed (Chondrilla juncea) is a member of the sunflower family. In its rosette stage it resembles common dandelion, with hairless, deeply irregular toothed leaves. It even exudes a milky white juice when torn, like dandelion. Once the plant flowers, the rosettes wither and long, wiry, branching stems that range from 1-4 feet tall take over (although sometimes the plant can stay small and almost look like grass).
They have few leaves when in bloom. Flowering stems have course, downward-pointing hairs at their base. Stems produce small, yellow flowers that are a half-inch in diameter. The seeds are 3-millimeters long and have fluffy white bristles on one end that allow them to be carried in the wind.
If left uncontrolled, rush skeletonweed will produce a monoculture of interconnected plants. One plant can become an entire colony. If this plant has infested rangeland, it displaces native, beneficial forage. Rush skeletonweed is very common on the eastern end of the Gorge, and weed managers are working to prevent its spread west.
Rush skeletonweed does best in well-drained, sandy, or gravelly soils. It is found along roadsides, railways, in rangeland and pastures, and in disturbed areas. Seeds germinate in the fall and are viable for up to four years. The seeds disperse with wind and a mature plant can produce 1,500 to 20,000 seeds. It can also grow from root fragments in the ground.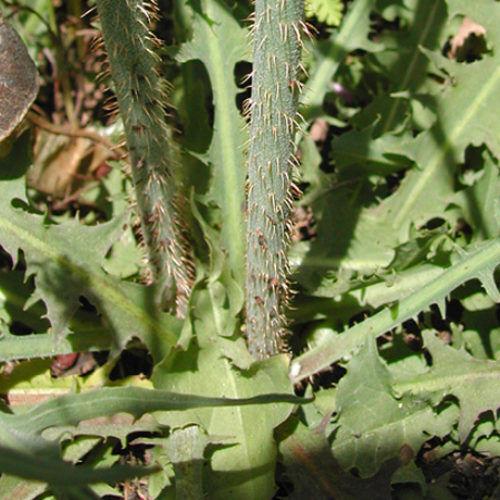 Controlling rush skeletonweed can be challenging and will depend on the management requirements at each infestation site. Management will require dedication for several years and should be flexible to be able to maximize effective control and minimize impacts. Preventing seed spread by mowing or bagging seed heads can be effective. Ensure that you don't spread weed seeds when traveling through an infested area by carefully cleaning boots, tools, and vehicles after working in an infested area. Herbicides should be used carefully while always following label instructions.
Consult the Pacific Northwest Pest Management Handbook for more detailed herbicide control options.
Conservation Districts are local, non-regulatory, public agencies charged with assisting land-owners and residents with responsible natural resource management and stewardship. Hood River Soil and Water Conservation District in Hood River, Wasco County Soil and Water Conservation District in The Dalles, and Underwood Conservation District in White Salmon are available to assist with a variety of natural resource issues, including soil health, water quality, fish habitat, wildfire risk, forest management, noxious weeds, pollinators, wildlife, livestock and agriculture.