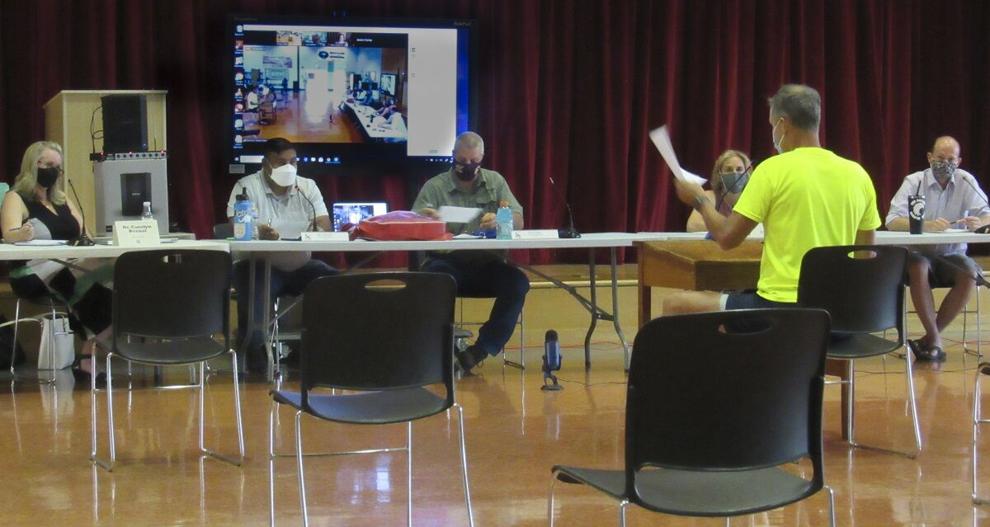 THE DALLES — In the Sept. 23 school board meeting, Superintendent Carolyn Bernal announced that starting the week of Oct. 4, District 21 is initiating an opt-in, on-site rapid COVID testing program for students as an additional mitigation measure against the spread of COVID-19 in schools.
In an effort to keep cases to a minimum, Bernal reported parents can voluntarily opt-in to the program, which will allow for their child to take the self-administered Abbott BinaxNow COVID-19 rapid test, consisting of a shallow nasal swab, should the student develop new symptoms during the school day or following a potential school-group exposure when testing is recommended by the local public health department. She confirmed that parents will be notified if their student is being tested, and results will only take 15 minutes to receive.
Bernal also announced the district is implementing a COVID-19 dashboard, which became available on the North Wasco County School District website on Sept. 27, displaying up-to-date COVID-19 information within the school district.
Updated every week, family and members of the community can visit the page to view current District 21 COVID-19 information, such as the number of positive cases for students and staff, reported in total as well as broken down by school.
In the meeting, Bernal reported zero on-site exposures, meaning there had been no COVID-19 transmission between students while at school, and all positive cases at the time were the result of community transmission.
"(This) is really great," Bernal said. "It means that inside our schools our mitigation measures are working."
Since the meeting, the number has increased to four on-site exposures within Chenoweth Elementary School the week of Sept. 18–24, with the rest of the district remaining at zero.
The COVID dashboard also breaks down the number of students and staff in quarantine, defined by Bernal in the meeting as "a period of isolation for individuals who may have been exposed to or have had close contact with someone who has COVID-19," but clarifies that the number is "rolling," due to the fact that some students or staff in quarantine may carry into another week while others will successfully finish and "drop off."
"It's not a brand-new number each week," Bernal said, "that number is always going to be in fluctuation."
During public comment, community members continued to hold mixed feelings for and question the need for masking mandates in schools. "I know children who have been in tears over having to wear masks," Danielle Jones said in an email submitted to the board for public comment, which was read by Board Chair Jose Aparicio, "I will not be having my children in school if this becomes a requirement for children to attend."
In contrast, Shanon Saldivar thanked the school board for the masking mitigation. "I appreciate that my daughter wears a mask to school everyday," she told the board. "I appreciate that the teachers and the support staff wear masks to school everyday … I feel that our district is prioritizing learning and safety of our children."
Other commenters questioned the necessity of masking younger children. "There is no scientific evidence that children are at great risk from the coronavirus," Robyn Malone said in her own submitted letter to the board.
Dr. Robert Schwartz, who attended the meeting but had his letter read by Aparicio, stated that "we were told that delta is so much worse for children … to date, Oregon is at four deaths from zero to 18 of children since the onset of COVID 19…We've had no childhood deaths in Wasco, Sherman, or Moro counties due to COVID-19, (but) have had several child suicides and drug overdose deaths in Wasco County in this past year. So, according to the logic that we use for COVID, we should drug test all children … to prevent overdoses and make all children take mandatory anti-depression medication."
According to the Oregon Health Authority, there have been five individuals ages 0-19 as of Oct. 1 who have died from COVID-19. A Sept. 3 American Academy of Pediatrics news article published on aapublications.org concurs that similar levels of severity were found in both original COVID-19 cases and those of the delta variant. The CDC has confirmed the delta variant as more contagious, with unvaccinated individuals at the highest risk of severe infection.
There were also multiple inquiries to the board asking when questions made by community members in previous meetings over the last month would be publicly answered. Aparicio said that Bernal and newly appointed Communications Director Stephanie Bowen are in the process of developing a FAQ page that will answer the more general questions that have been asked by parents and other community members over the last several meetings. Like the COVID dashboard, the page will be made publicly available on the district website once finished, though a specific time frame when that will be could not be given at the time.
"We have not done a good job historically, I've seen that myself," said Aparicio, "we know that communication is one of the areas of improvement and that's why we're so high on having Stephanie in our district."
The school board will meet again Oct. 28. For more information, visit the North Wasco County District 21 website. To view the entire Sept. 23 meeting, go to the district Facebook page or their YouTube channel, District 21 Media Channel.