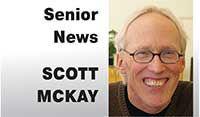 How do you know it's autumn? The leaves falling? The cooler mornings? The football hysteria? No, it's a mailbox full of solicitations from Medicare insurance plans.
And why? Because Oct. 15 is the start of the annual Medicare Open Enrollment period. Since each year the insurance companies can adjust their Medicare plans, the Open Enrollment period gives you a chance to decide if your Medicare plan is still the best option for you.
To help decide, you should have received your plan's "Annual Notice of Change," which describes any changes for next year. Review the changes and then ask yourself the big three Medicare questions. Does your plan allow you to go to the providers you want including your pharmacy? Are your prescription drugs covered? And how much does the plan cost?
Even if you're satisfied with your current plan, you still may want to look around to see if there is a better deal, especially if you have avoided the hassle and just opted to automatically renew your current plan each year.
But choosing the right Medicare plan can be frustrating, perplexing, and downright confusing. (Most adults can't identify what Medicare Parts A, B, C, and D cover. I always confuse Part A with Part B and it is not just my memory!) But all health insurance is complicated. Before I was enrolled in Medicare, I relied upon my employer or insurance agent — insulating me from the complexity of choosing a health insurance plan.
But now it's our responsibility to wade through the information and compare plans to make the best choice which many of you know is not easy. It is no wonder 62% of people have not changed plans!
But there is help. You can go online to Medicare.gov or call 1-800-MEDICARE (1-800-633-4227). Also you can study your "Medicare & You" handbook that you should have received in the mail.
There are also local options. There are private insurance brokers who specialize in Medicare. Or you can make an appointment with a trained volunteer SHIBA counselor who will help guide you through the process. It is free, confidential and they aren't selling you any plan. In Oregon call 541-288-8341 and in Washington call 800-562-6900 for assistance with your Medicare questions.
Most importantly, during Medicare open enrollment from Oct. 15 through Dec. 7, take time to understand your Medicare options so you can make the most informed decision — both for your health and your pocketbook.
In this month's column "Through the Eyes of An Elder" contributed by the Aging in the Gorge Alliance, Dan Farbach interviews Judy Merrill, a registered nurse discussing the importance of foot care for older adults and her participation in the first Community Conversations on Aging in The Dalles. Another must read! (See page B12.)
The name for a bruise created by someone sucking on your skin so hard that it becomes discolored was a hickey. I received correct answers from Mike Yarnell, Jeannie Pesicka, Emmett Sampson, Billie Maxwell, Sam Bilyeu, Susan Ellis, Louise Wooderson, Stephen Woolpert, Barbara Cadwell, Jay Waterbury, Rose Schulz, Gene Uczen, Doug Nelson, Keith Clymer (who mentioned you might get one of those during halftime at a football game under the bleachers. I don't know how he would know!) and Dorthy Winterfield, formerly from The Dalles class of 1965 and this week's winner of a quilt raffle ticket.
I remember back in the '50s listening to the Sunday comics being read on the radio which would have included this popular comic strip. For this week's "Remember When" question, what was the name of the comic strip for children and adults — with a bite of political satire — first published in 1948, created by cartoonist Walt Kelley and included various animal characters: Possums, alligators, owls living in the Okefenokee Swamp? Email your answer to www.mcseniorcenter@gmail.com, leave a message at 541-296-4788, or mail it on a t-shirt with the quote "We have met the enemy and he is us."
Well, it's been another week turning over another leaf. Until we meet again, the best accessory you can wear is a smile.
"Worry is like a rocking chair. It gives you something to do, but it gets you nowhere." — Erma Bombeck
Nutritious home-delivered meals and pick-ups are available for anyone over sixty. For more information, you can call the meal site in your area.
Hood River Valley Adult Center at 541-386-2060 — now open for in-person dining;
Sherman County Senior and Community Center at 541-565-3191 — now open for in-person dining;
The Dalles Meals-on-Wheels at 541-298-8333;
Klickitat County Senior Services — Goldendale at 509-773-3757 or White Salmon at 509-493-3068;
Skamania County Senior Services at 509-427-3990.;
Seniors of Mosier Valley — call 541-980-1157 at least one day in advance to order a Grab-N-Go meal. Monday and Wednesdays from 11-11:30 a.m.