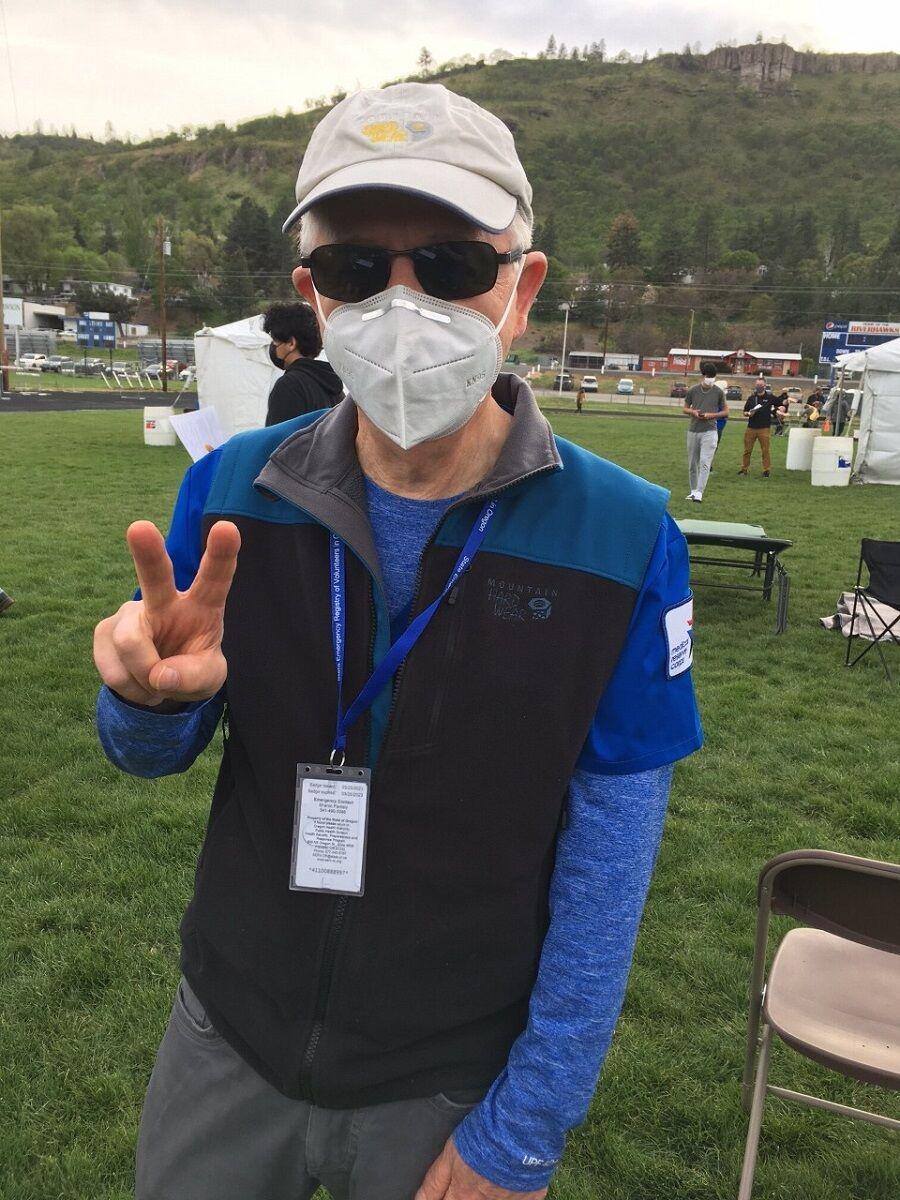 COVID-19 case counts are going down in Wasco County, potentially clearing the way for the county to move from "moderate risk" to the "lower risk" category in the coming week, North Central Public Health District health officer Dr. Mimi McDonell told the Wasco County Board of Commissioners Wednesday, May 19.
"Our cases are going down, they are declining," she said. "We had a surge of cases in April, and we still have over 300 hospitalized in Oregon," McDonell noted. State and national trends, however, show cases declining even as vaccination rates increase. "Positivity rates low, they are good," she added. Assuming it stays quiet, and the numbers low, Wasco County will move to the lower category May 28, just in time for the Memorial Day weekend. "Case counts are low enough to move, but our risk level remains unchanged due to the two week cycle used by the state," she explained.
Hood River County moved to the "lower risk" category last week due to more than 65 percent of adults being vaccinated, and the county having submitted a plan to the state to get the vaccine to those who are not yet vaccinated.
Sherman and Gilliam counties are also in the "lower risk" category.
"If your county has a lower risk to begin with, it will remain in lower even without hitting the vaccination metric," McDonell said.
Vaccinations in Wasco County are "trending down a little, but still at a good pace," she said. "It's not as fast as we might like, but continuing."
According to a May 21 press release from NCPHD, Nearly 21,000 vaccine doses have been administered in Wasco, Sherman and Gilliam counties through May 14.
Vaccination rates are expected to increase due to Oregon Gov. Kate Brown's recent announcement of a $1 million lottery prize open to any Oregonian 18 and older with at least one dose of vaccine by June 27. Also, one winner in each county will get $10,000, plus five children ages 12-17 will win $100,000 scholarships.
Through May 14, 20,969 doses have been administered by a variety of entities in the three-county service area of North Central Public Health District. Most vaccines are administered by NCPHD, which has held large vaccine clinics for several months now.
Local pharmacies, including Safeway, Walgreens, Fred Meyer and Bi-Mart in The Dalles and Murray's Drug in Condon are also offering vaccines. Their dose totals are not included in this count.
For the week ending May 14, NCPHD administered 836 doses, for a cumulative total of 13,740. One Community Health administered 141 doses, for a cumulative of 2,533. Deschutes Rim Clinic administered 27 doses, for a cumulative of 440. Other entities that were administering doses but no longer do have provided 2,850 doses. All Oregonians 12 and older are eligible for a COVID vaccine.
Vaccination clinics have also been offered at Arlington, Condon, Dufur and Sherman County high schools and The Dalles Middle School. Those age 12-14 must have parental consent for the vaccinations; those 15 and older do not.
On Wednesday, May 19, county vaccination rates of those age 16 and over were 52.1 percent in Wasco County; 46.7 percent in Sherman County; 36 percent in Gilliam County and 66.2 percent in Hood River County, McDonell said. Oregon has a vaccination rate of 62.3 percent for those 18 and older.
Sixty-five percent is benchmark to get to lower risk category. Wasco County Commissioner Steve Kramer said the county was hoping to get a vaccination plan submitted to the state, for when the county hits the threshold. McDonell said the county was likely to change risk levels based on low infection rates rather then vaccination rates. "We go up 1 or 2 percent per week, but there are diminishing return. We are at 54 percent, so that could take a couple of months," McDonell said.
When Oregon reaches a 70 percent vaccination rate all restriction will be lifted statewide, McDonell said.
Mask are no longer required outdoors for Oregon residents, McDonell said, but noted that does not include K-12 students. "However, the Oregon Health Authority strongly recommends unvaccinated or high risk individuals continue to wear a mask in crowded areas and at large gatherings," McDonell said. She encouraged others to "be considerate of others if they choose to wear a mask."
If people are full vaccinated, they can be indoors without masks or maintaining social distancing, with exceptions that include hospitals and health care setting; K-12 educational institutions; public transit and jails and correctional facilities.
Business employers and faith institutions must have a policy to check vaccine status, and request proof be shown prior to entering the business, prior to allowing vaccinated individuals to go maskless. However, businesses also have the right to continue to require visitors to wear a mask.
"It's a challenge for businesses and agencies," noted McDonell. "I honestly don't know how this is going to pan out. Protecting workers is number 1." Businesses with lower volume traffic will find checking for vaccinations easier than higher volume businesses. "This is all new, we are all lacking guidance at this point. For many, wearing your mask will be the easier option."
Kathy Schwartz, a retired nurse, noted that "we have some experience with this in the healthcare setting. In healthcare organizations, a lot of vaccines are required. Organizations started to require the flu vaccine in hospital setting, and if you didn't get the vaccine you had to wear a mask during flu season. It became a huge incentive to get the vaccine, so you didn't have to wear the mask day in and day out."
Commissioner Scott Hege added that at some point, we would need to rely on each other to follow the rules. "You have to trust your fellow humans. We do that every day when we drive. Not having to wear a mask and follow guidelines is an incentive to getting vaccinated. We will be sorting all this out in the days and weeks ahead, and hopefully we can get back to a much more normal state."
Starting June 2, and running for six weeks, a Mobile Vaccine Unit is coming to the Gorge, McDonell said. Vaccination sites will be announced. "They can run to 400 vaccinations a day, this will be a big help" in expanding vaccine availability, she said.
McDonell noted that contact tracing was still being done in the region, "but only if we have a good phone number and they pick up their phone. We have seen a decline in people willing to provide information. It's imperative, if one has COVID-19, to cooperate, and pick up your phone. A lot of young people don't have voice mail setup. Our tracing is only as good as the community allows it to be."
Wasco Commissioner Kathy Schwartz noted in closing that "if someone is vaccinated, they can move about with comfort. We are pretty well covered, if you come across someone who is neither masked nor vaccinated. If your high risk or in a crowd, you may choose to use a mask."
Mimi McDonell agreed, saying, "You choose your own adventure" when it comes to following — or not following — the guidelines.