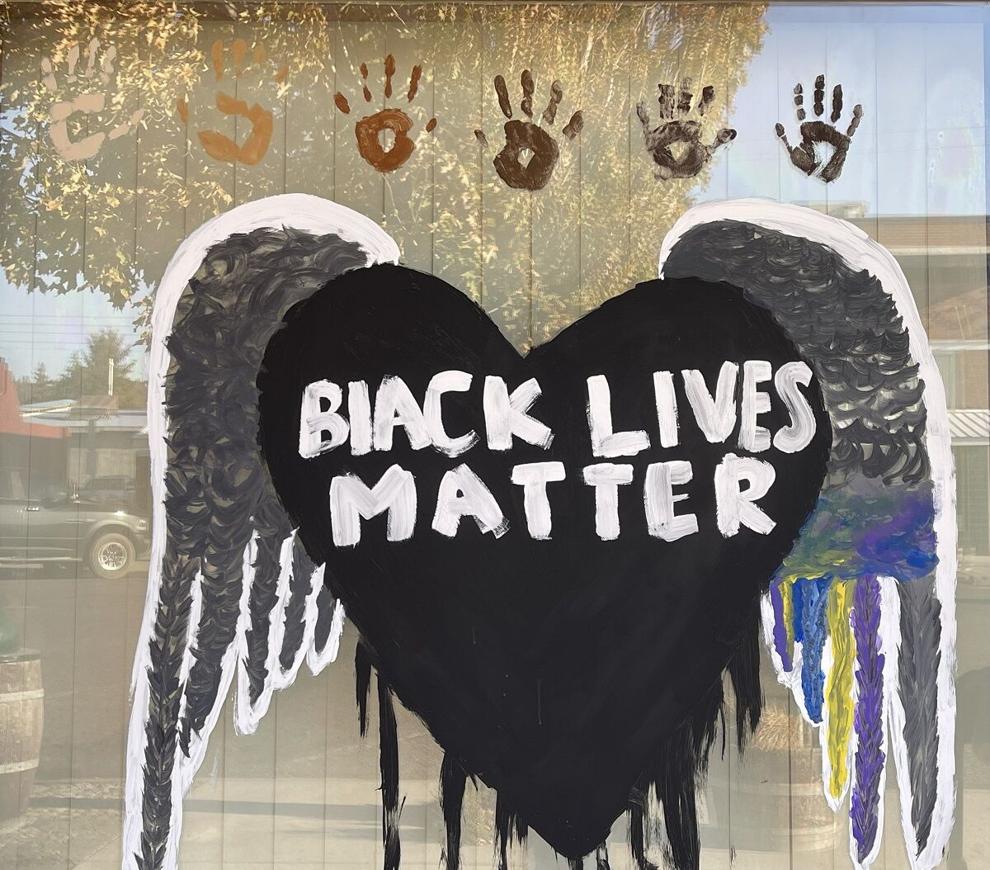 GOLDENDALE — Recently, youth outreach staff at Washington Gorge Action Programs (WAGAP) in Goldendale were disheartened by some community responses to a Black Lives Matter mural they painted on the E. Main Street office window.
The staff spent two hours working on the display. They were greeted by multiple verbal attacks from locals passing by and a visit from an officer with the Klickitat County Sheriff's Department, who watched their activities from a parked car.
The next day they arrived to find someone had removed the artwork altogether.
When asked how she felt on the day she was helping to paint the mural, Emily Liri said, "I felt unsafe and attacked." Liri has been a Youth Programs Specialist at WAGAP for the past year and a half, and part of her job is making local youth of all backgrounds feel safe and included.
Before the incident, WAGAP Executive Director Leslie Naramore had addressed with staff community questions of why the agency was putting up Black Lives Matter signs and murals. "People of color, particularly Black people, experience racism as part of their daily lives. They are also harassed and murdered by police at much higher rates than their white counterparts. This is why the Black Lives Matter movement exists," she said.
Giving a voice to underrepresented communities is part of the mission of Community Action Agencies like WAGAP. These agencies were created in the 1960s during the height of the Civil Rights Movement under President Lyndon B. Johnson as part of the "War on Poverty" and are as relevant today as they were then.
WAGAP's leadership has encouraged staff to focus on uplifting those left behind in society and express their support.
Liri said her passion to be an ally for the Black Lives Matter movement sparked her interest in creating the mural. When it was removed without permission, she said it made her feel defeated.
Naramore added, "To me, putting up a Black Lives Matter sign is no different than flying the pride flag, which we also do." She suggested that staff use this issue as a teachable moment with community members to explain the type of work they do.
"While people might respond to that, that 'all lives matter,' that statement cannot be true until a Black life is just as important as a white life," Naramore said. To better explain the difference between the two statements, she referred to staff an analogy from Keegan-Michael Key, an African-American actor, comedian, producer, and writer.
"When we hear the phrase 'all lives matter,' in response to 'Black lives matter,' it's like saying the fire department should spray down all houses in a neighborhood even if only one house is on fire because all the houses matter. And yes, your house matters 100 percent, but your house is not on fire," Key said during an interview with James Corden in June 2020, following the country's reaction to the death of George Floyd by police in Minneapolis. The interview is available online at www.youtube.com/watch?v=agr7W7SgBT4&t=7s.
Liri isn't giving up. She plans to redo the mural, but it will go on inside the window. She hopes for a more positive outcome this time.