This week, the final meals will be delivered from local restaurants to the Hood River Warming Shelter, located at Hood River Valley Christian Church on Indian Creek Road.
Sixteen Hood River restaurants and one in Mosier have taken turns since November preparing hot dinners and breakfast fare for the guests, as part of a nightly service to the unhoused: A bed, meals, and a place of refuge.
Providing the meals is a shared community service that started five years ago when one local chef saw a need and worked with his fellow chefs and restaurateurs and the Shelter Services committee to make it happen.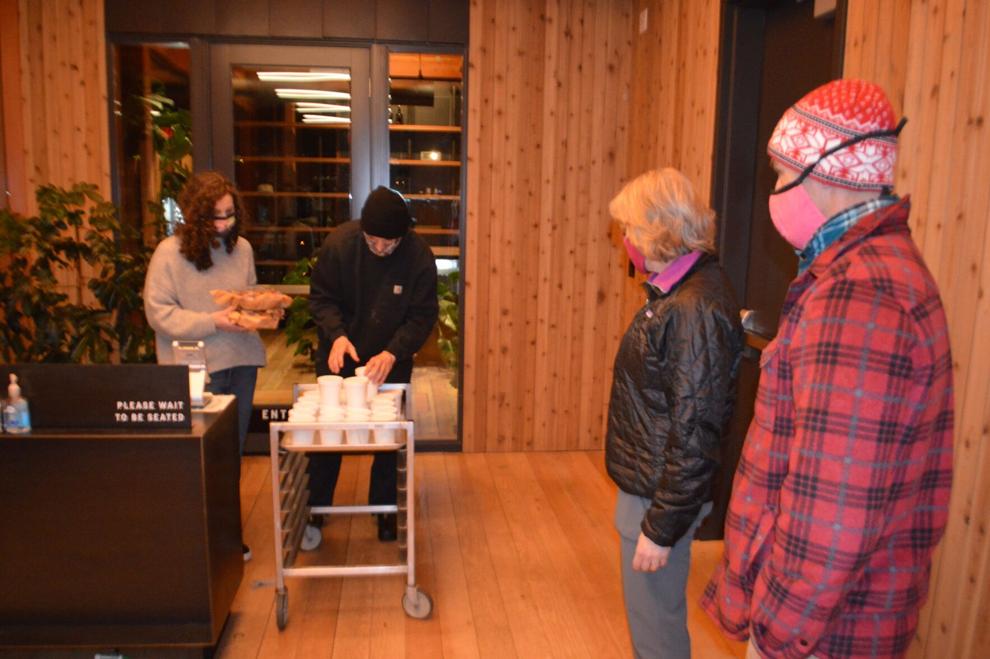 This season, serious adjustments had to be made to the program due to COVID-19, but in spite of that, this has been the shelter meals' smoothest year, said founding Chef Mark DeResta.
"It has always felt good to do it, and I imagine every restaurant feels the same way," said DeResta, chef at Riverside Grill for the past 13 years, and at Abruzzo Cafe before that. "I think it's a natural thing, since it started five years ago. Every time I take food the curbside I always say thank you to the food runners, because everyone has a part in it."
The process is simple: Restaurants take turns preparing meals, and volunteer food runners show up at 5:30 p.m. in order to have the hot food delivered and ready for guests by the time they arrive at the shelter starting at 6 p.m.
"We feel that helping those that need help right now is very important," said Chris Creasy of 6th Street Bistro and Pub. "I think this past year we have all learned to appreciate what we have and to try to help those that are less fortunate than us. The organization that is going on with the program is great, Sarah (Kellems, shelter director) is doing a great job and Mark has put his heart into this project. We are very happy to once again part of this project."
Shelter was founded 12 years ago and from the start, the program provided some form of evening sustenance, be it packaged soups and bread, or noodle dishes. Early on, Pelenti's pizza, still a partner, volunteered once a week to donate fresh pizza.
More restaurants joined the effort and five years ago DeResta forged a broader culinary alliance.
"Not only did we meet the needs this year but we actually exceeded over last year, and the general feeling is that during COVID, it feels that much better to help. It's been good," DeResta said.
"Being closed has been a difficult experience," said Chef Ben Stenn of Celilo Restaurant. "At Celilo, both the people and the physical space are a machine that isn't designed to be dormant. Our meal donation program has been a way to be active and helpful and overcome the darkness of this time.
"At Celilo, preparing food is what we do," said Stenn, who with his staff has been cooking for the Warming Shelter since the restaurant program started. "Cooking as a job is work and also fun. Cooking for hungry people brings purpose and meaning to our lives. "
DeResta said of 2020-21, "I couldn't ask for a smoother year. This is a time when everyone is feeling a little more compassionate and generous, and it has all gone off without a hitch. The new partners are all so generous. It's amazing. and we've added to it. It's gone great. There is more infrastructure that relieves my daily duty on it. It makes me feel a little guilty," he jokes. "I am so thankful for all the people who have continued with us or stepped up, and maybe we can add to it again next year.
"It's got wings," DeResta said.
Participating restaurants are:
Celilo Cafe, Solstice Wood Fired Cafe, pFriem Family Brewing, Pelenti's Pizza, Boda's Deli, Basik Acai, Mosier Company, Sixth Street, Farmstand, Kickstand, Double Mountain, Andrew's Pizza, Local Rhoots, New York City Sub Shop, Pine Street Bakery, Ferment Brewery, 6th Street Bistro, and Riverside Grill.
Sample meal donations included Celilo's braised pork shoulder and white bean stew, Farmstand's vegetable soup and bread, New York City Subs' hot turkey sandwiches, and Solstice's deep dish pizza.
DeResta said that last fall he knew that the shelter season (November-March) would have to happen under very different conditions, food service included, as the coronavirus crisis would place very different health and safety rules on food delivery. The 2019-20 season had ended just as pandemic restrictions came into place.
Now, guests would stay in separate quarters and there would be no indoor communal space, no shared dishes or platters, and the need for individual servings rather than large shared platters of pasta, chicken, enchiladas, pizza, salads, and other hearty staples of shelter meals past.
This year, meals would still be hot, and hearty, but under health codes had to be delivered and consumed in individual portions — in the year of take-out, restaurants had plenty of experience with that.
And participation by restaurants, despite 2020's economic challenges, sustained and expanded.
DeResta said, "In speaking with Sarah, I didn't know what to expect. All the shutdowns, all the struggles, with some restaurants able to be open, others closed, the 25 percent (occupancy) rule, everyone has had a rough go, and instead of saying to them, 'We'd love to have you help out', it was more of an invite, 'If you are willing to help out, but if you can't it is totally understandable'."
He said that by early in the season he had not needed to worry, but "I had backup plans."
Riverside, with its size and food storage capacity, has always been the backup when something happened to the schedule and a restaurant did not have servings ready for 5:30 nightly pickup.
In past years, DeResta used leftovers food from banquets and weddings "and things we would squirrel away in busy times to make meals, and this year we didn't have that," as event meals have not been happening.
"So I had to think about that as I didn't have all that to give. But really we had to plenty to give, and we had people reach out to us without asking, including Mosier Company, Local Rhoots and New York City Subshop, all new this year, and Pine Street Bakery has taken on new role providing a couple of morning meals, through a very generous donation from Tofurkey, also new to the program this year."
DeResta said the plan for increased breakfasts was contemplated last year, and became greater need this year with the shelter being outdoors and no storage capability or refrigeration. (Guests stay in heated Pallet structures, one or two persons each.)
"You cannot have simple things like cold cereal. So Tofurkey donated individual pizza pockets and I store them here and bring them to Pine Street and a food runner picks up there at 7 a.m. to the shelter and before they load on the bus at 8 they have a couple of hot pizza pockets to take with them."