HOOD RIVER — The Gorge Civil Air Patrol (CAP) Composite Squadron was one of four squadrons in Oregon that qualified and won the Quality Cadet Unit Award.
"Whether we met online or met in-person at Hood River Airport, all the cadets were enthusiastic and committed; that is why we won this award," said CAP Gorge CAP Cmdr. Capt. M. Donahue Revier.
Currently, Gorge CAP has 25 members total, 17 of whom are cadets, and eight adults.
The whole Squadron contributed to earning this award:
• Have three adult members train in Cadet Programs.
• Study Aerospace Education and complete projects in such for six months.
• Complete a Science Technology Engineering and Mathematics (STEM) kit supplied free of charge by National Headquarters. (Gorge CAP kit focused on quadcopters.)
• Have a percentage of cadets earn their fourth stripe in promotions.
•New cadets promoted within 8 weeks of joining
"Since we have started meeting in-person in April, our squadron is growing," said 2nd Lt. Katie Walker, Deputy Commander of Cadets. "On Tuesday, Oct. 5, we are hosting another Open House for students ages 12-18 interested in aerospace education, search and rescue and learning more about leadership."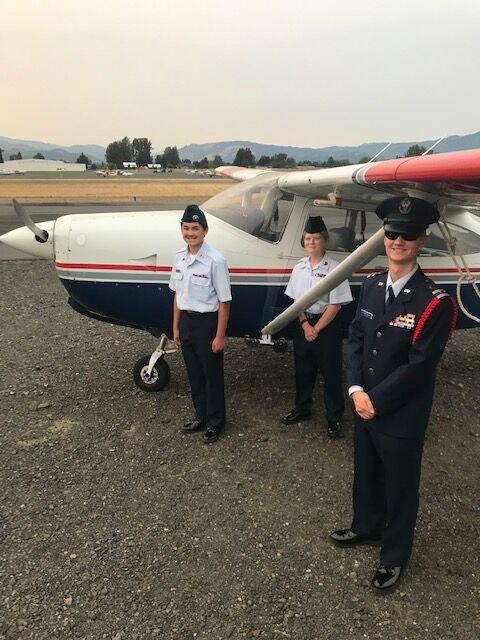 Due to COVID-19 restrictions, one area of measurement different this year than last was the number of cadet attending military style encampment, or participating in CAP aircraft orientation flights. However, Gorge CAP still offered 13 Orientation Rides this year to cadets in the squadron.
CAP formed during the early days of World War II as an organization of citizen airmen. The CAPs mobilize the nation's civilian aviation resources for national defense service and has evolved immensely since its founding in 1941.
CAPs are considered Total Force partner and Auxiliary of the U.S. Air Force. They are equipped to search for and find the lost, provide comfort in times of disaster and work to keep the homeland safe.
Aviation and related fields are also promoted through aerospace/STEM education and helping shape future leaders through CAP's cadet program.
CAP Cadet Programs are year-round and to become a cadet, applicants must be be at least 12 years old and not yet 19 years old. Cadets usually meet two hours per week and one Saturday per month, on average, and also have opportunities to attend leadership encampments, career academies, and other activities during the summer.