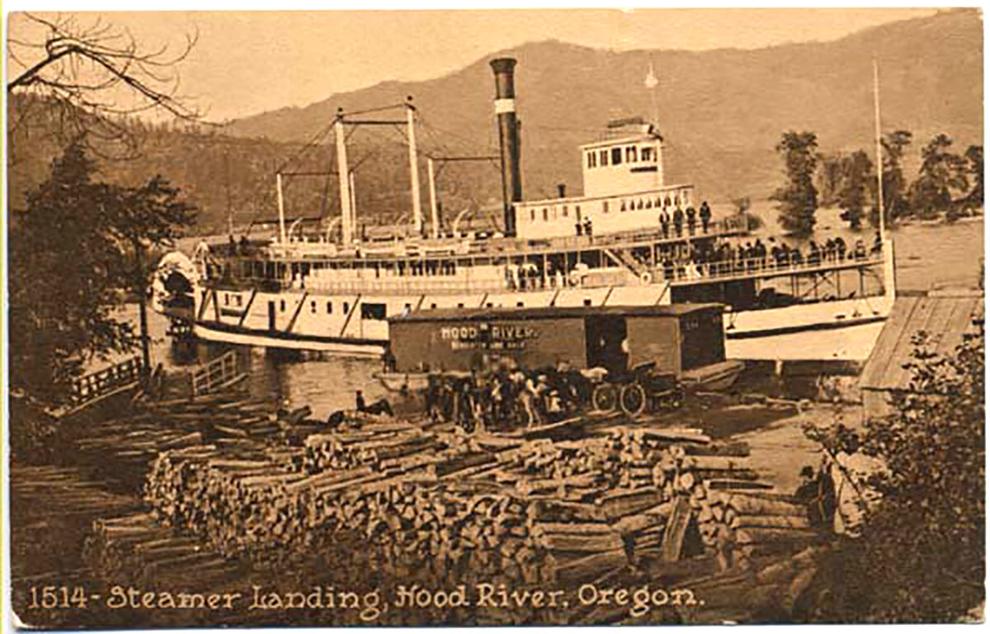 According to Simon Benson, who has been at home this week, there is every prospect of the Columbia Gorge Hotel being ready for business the early part of June. Work on the hotel has so far progressed that the respective crews can work without hampering each other, and progress is now at its maximum. It is stated that several of the rooms are now ready and the completed building will be ready to hand over well within the stipulated time. — Hood River News
With six Portland attorneys and virtually every legal light in The Dalles handling various angles of the case, hearing of the many water right claims on White River was today continued in the local circuit court room before George T. Cochran, representing the state water board. More than 200 farmers were interested spectators and witnesses today. — The Dalles Daily Chronicle
Several surveys made since the night of heavy frost the past week adds up to but one thing — loss in pears, cherries and strawberries is limited only to those areas which have long borne an unenviable reputation as unusually frosty. And even in these areas, the loss cannot yet be estimated correctly, for the reason that several other factors will have to be later considered before any accurate decision can be arrived at.
There was a definite loss in early strawberries in most of the zones visited, practically all centers of blossoms being black when the survey was made. — Hood River News
Albert Hingston, drama instructor of The Dalles high school, accompanied by eight members of the local Thespians troupe, will attend the Nation Thespian Play festival at Bloomington, Ind., June 2-7, leaving here May 27.
Hood River growers kept fingers crossed for the third frosty time this week as a curious snowfall that coated the upper and west valley slopes brought temperatures again plunging to the freezing point in many orchards. Oak Grove reported one inch of snow Tuesday morning, and snow lay that deep in the upper valley. Biggest fear for the rest of the week — clearing skies and calm winds that would allow frosting conditions on the areas already twice hit by frost this month. — Hood River News
Sites for a fish and wildlife management area, industrial developments and recreation are tentatively designed on a 25-mile stretch of the John Day Dam reservoir area, the Corps of Engineers reports. — The Dalles Daily Chronicle
Blossom Day this Sunday, April 26, is the culmination of a year-long effort by many Hood River organizations to give visitors and residents a look at the valley in full splendor. Mother Nature has cooperated during April by providing cooler temperatures, which have slowed bloom development on fruit trees in the valley. The snow-white pear blossoms will be in full bloom in the Parkdale area Sunday, when the majority of tourists drive the scenic loop up the valley.— Hood River News
Within about two weeks, a decision on new rules for parking meters in The Dalles is expected. Three studies have been made, each with a different approach. Recommendations include no meters Saturday and Sunday and tighter enforcement and a program to get people who work downtown not to park in front of stores. — The Dalles Daily Chronicle
After eight years as pastor of Bethel Congregational Church in White Salmon, Rev. Frederick Haag has made plans for his retirement, which will take him and his wife, Ina, to Walla Walla in the next few weeks. Sunday will be Haag's last service as pastor here, and after that he said he will be spending the next few weeks getting ready to move. Then it will be retire "and go to work" he said, adding he has several possibilities of interim ministries, "so I won't be just sitting around, I know that."
The Haags will not be newcomers to Walla Walla, as he also served there. He also spent time preaching in Spokane, Chicago and Cedar Rapids, Iowa, totaling about 40 years in the ministry. The move will also put the Haags closer to their daughter who lives in Spokane. — White Salmon Enterprise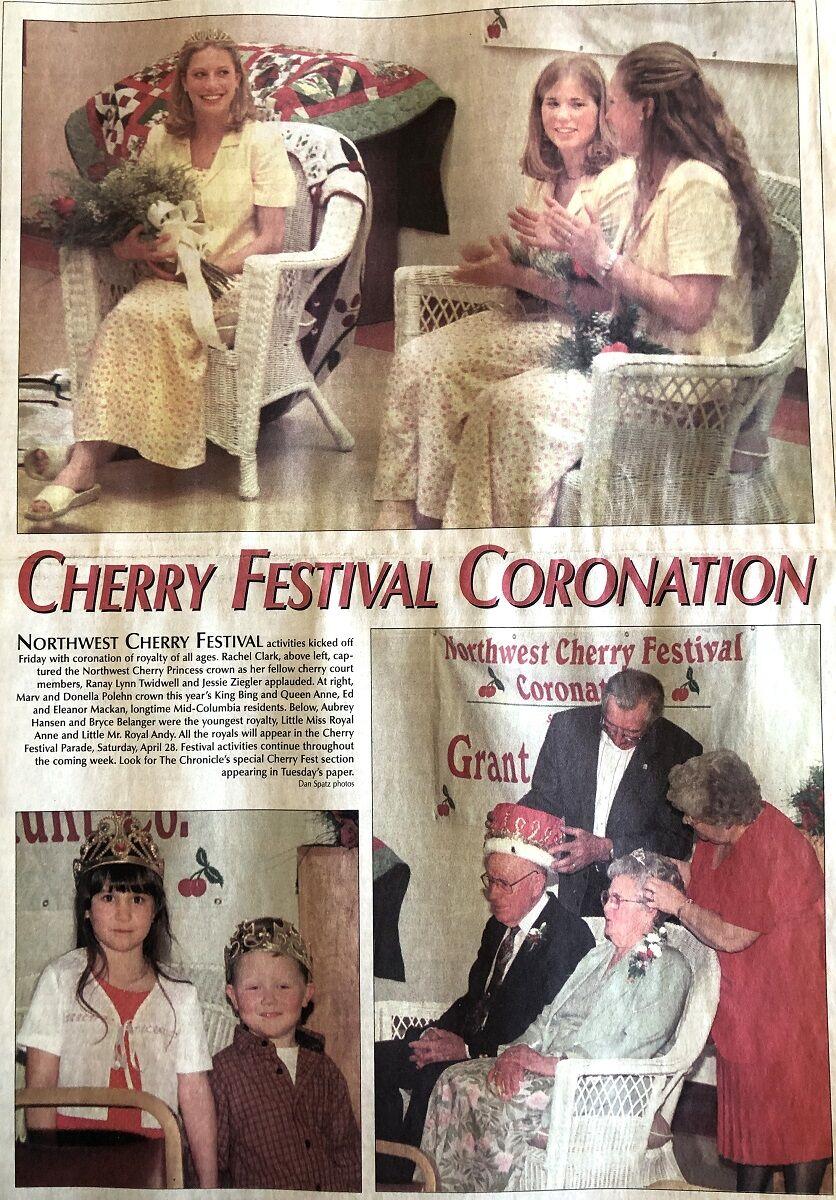 "There was lots to choose from. Everyone seemed to enjoy themselves." That's Clara Rice's description of the 2001 Blossom Festival, held over the weekend throughout the Hood River Valley.
"It went pretty well. We seemed to have a good flow of crowd through both days," said Rice, county fairgrounds manager, of the event-filled Blossom Craft Show in Odell. The fair had a record 99 vendors, though Rice said many commented they had "a lot of lookers and not as many buyers."— Hood River News
It's back to the negotiating table for members of the Oregon School Employees Association, Chapter 50 and The Dalles school district. Approximately 77 classified employees attended the membership meeting April 19, with a majority voting against the contract. — The Dalles Chronicle
"Battle of the Bands" open to kids from a tri-county region turned out to be a showcase of White Salmon talent. Although eight bands competed, the top three finishers all hailed from White Salmon. Leading the sweep was the band Luna Rise, who plays experimental folk, rock, and reggae. Members include Josh Benavides, Deb Benavides, Scott Head, and Jose Maya.
"That is the first competition we ever tried," said drummer Maya. "We are very excited about this." Luna Rise won the right to go to Viking Studios in Ridgefield and record a single. The recording session is expected to last two days. Mosaic took second place, playing a variety of "Space Rock" music — and includes band members includes Kevin Malella, Dustin Owen, Wes Trosper, and Casey Wagner.
Maxwell Prod took third place with a brand of progressive rock. Band members include Josh and Kris Patrick, and Andy Preston. — White Salmon Enterprise