... And how lovely will it be to put your basket in the crook of your arm and pluck those gorgeously perfect vegetables, or flowers from their stems for a lovely arrangement?! Okay, I think that might have been a scene from a movie I saw once.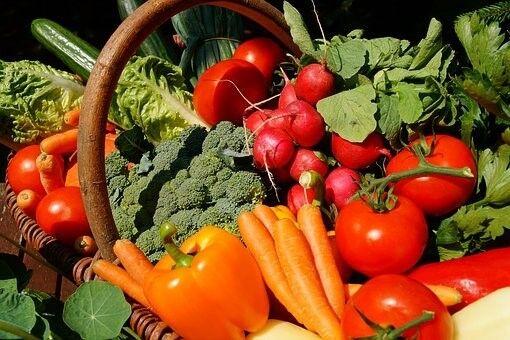 If this is your first time planning a vegetable garden I'd like you to think about a few things. Gardens are rarely perfect and every honest gardener will tell you the same thing. Gardens take a little planning and ultimately an investment of time. That shouldn't be a deterrent, however, because it's your garden and it can be anything you choose! Small (maybe containers on the patio), medium (maybe a 4x8 raised bed) or large (you've got a wide open sunny area that's crying to produce!), it's totally up to you, but before deciding there are a few things to consider.
Location, location, location. Most vegetables require at least six hours of full sun. If you choose to try just a couple container plants, they're easy to move about if you have a small area that gets sun, but shifts from morning to afternoon. With a raised bed you have the freedom of putting it exactly where it will receive the maximum sun. If you decide to plant in the ground you'll want to ensure that the area has good drainage, is fairly level, close to a water source and is well away from trees and shrubs that will compete for water. Most soils will require some sort of amendment, usually in the form of compost or nutrients. Having your soil tested is the best way to determine the appropriate amendment.
How much time are you willing to spend overseeing your plants? You'll want to check daily for pests, growth and water. Here's where size matters. Containers rarely take more than a few minutes to check; raised beds have very few weeds, but require the same maintenance regimen which may take a half hour or so and a large garden could take an hour or more, depending on the size and variety of plants and, oh yes, the weeds!
How many varieties of vegetables would you like start with? It's easy to get carried away when you're thinking about those fresh veggies on your table, but if you're a new gardener my suggestion is to start small, say three varieties at most. Once those little plants start growing they take up much more space than you'd think. Choose vegetables that you and your family love, because they will most likely produce abundantly!
Will you being starting your plants from seed or buying plants from a local source? If you decide to start plants from seed, bear in mind that you'll want to start about four to six weeks before you intend to put them in the soil and there are a LOT of seeds in one package. You might want to consider a seed swap with family or friends or just start them all and give some of those plants to other "would be" gardeners. (My first time starting from seed, resulted in 50 hearty little cucumber plants! I ended up putting an ad online for free plants because I couldn't bear to waste them and the recipients were ever so grateful!) Buying established plants from local sources is, by far, the quickest and easiest way to go, but watching those new shoots emerge from the soil excites me for what's to come!
How much money do you want to invest? There again, depending on the size, you can garden relatively affordable. The major investment would be soil and/or amendments as well as a few hand tools, a good garden hose and the seeds, or plants, themselves. If you're starting small a few hand tools will suffice, although if your plot is fairly large a good hoe and a hoe cultivator are invaluable tools for controlling weeds.
A comprehensive guide put out by Oregon State University, entitled Vegetable Gardening in Oregon can be found at https://catalog.extension.oregonstate.edu/sites/catalog/files/project/pdf/ec871.pdf.  This is a free, 16-page downloadable pdf that I highly recommend. Another really helpful article published by OSU is Raised Bed Gardening and can be found at https://catalog.extension.oregonstate.edu/fs270/html.
Regardless of how big or small you decide to start (I say start because once you do, there doesn't seem to be any turning back!) you'll have a new respect for all those farmers that show up at your local Farmer's Market. It's hard, dirty work and Mother Nature doesn't always cooperate, but at the end of the day you know that what you're doing makes a difference on so many levels. So my challenge to you is this, try gardening. You may say "never again" at the end of the season, but mid-winter when you start thinking about picking vegetables from your backyard for your salad, you just might be tempted to take a quick look at that seed catalog.
As always, if you have specific gardening or pest question you can submit them, online, to the OSU Hood River Extension, Columbia Gorge Master Gardener's virtual Plant Clinic at https://extension.oregonstate.edu/mg/hoodriver  or by phone at 541-386-3343 ext.38259. Master Gardeners are a great free resource for research-based information. Remember to provide detailed plant or pest problem information, as well as your preferred method of contact.