A man from The Dalles was arrested last week for the alleged sexual abuse and exploitation of a child under the age of 14 in Sherman County.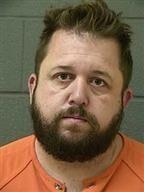 The Sherman County Sheriff's Department arrested Bryan Jay Paasch, 35, The Dalles, on a total of 10 charges related to the sexual abuse of a Sherman County child under the age of 14: Three counts of Using a Child in a Display of Sexually Explicit Conduct, three counts of Rape in the Second Degree, a count of Sexual Abuse in the First Degree, one count each of First and Second Degree Online Sexual Corruption of a Child, and one count of Encouraging Child Sexual Abuse in the Second Degree. 
Paasch allegedly had the child (name withheld by press) "participate in or engage in sexually explicit conduct for a person to observe" on three separate occasions in March 2020, and allegedly created a visual recording of "sexually explicit conduct involving a child," according to Sherman County Circuit Court documents. 
Paasch also allegedly had sex with the child on three separate occasions between March and August 2020, during which time he also allegedly sexually abused the child. 
In late March, Paasch also allegedly solicited a child online while he was in Sherman County and, on two separate occasions, offered to physically meet with a child. (Court documents do not specify whether or not this is the same child from the previous counts). 
Paasch is currently lodged at the Northern Oregon Regional Corrections Facility (NORCOR) on a $90,000 bail. The case is currently under investigation by the Sherman County Sheriff's Department.