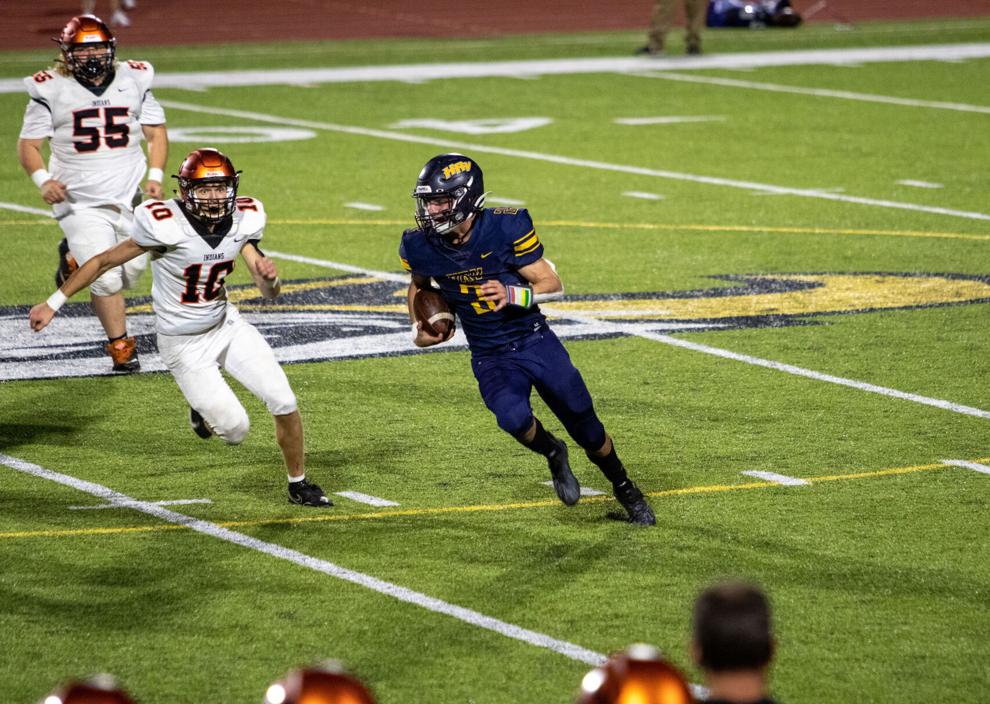 Hood River Valley fought off a valiant Redmond comeback Friday night, outlasting the host Panthers, 44-29, in Intermountain Conference football on a clear but breezy Central Oregon evening.
The Eagles (4-1 overall, 2-1 IMC) needed two Trenton Hughes scoring runs in the final five minutes of the game to hold off Redmond. The first score came with five minutes remaining on a 59-yard run by Hughes on a fourth-and-two play at the HRV 41. The score gave the Eagles a 37-23 lead.
The TD came after Redmond had scored 16 unanswered points to pull within 30-23. The Panthers responded again, pulling within 37-29 with 2:59 left on Cody Crain's one-yard run. 
Hood River let Redmond's ensuing onside kick go out of bounds and Hughes sealed the win with a 25-yard TD run less than two minutes later.
Trailing 44-29, Redmond didn't quit and came within inches of making it a one-score game again. But HRV recovered a Panther fumble in the end zone with less than a half minute remaining - after a long pass play - to hold on for the win.
Hughes was superb. The senior was nursing a broken finger he suffered Sept. 24 in the third quarter of the Eagles' 35-21 home loss to Pendleton. HRV led 21-6 in that contest when the two-way all-league starter was injured and didn't return the contest. 
Hughes showed few ill effects of the injury against Redmond. He rushed 22 times for 209 yards and three TDs, passed for three scores, had an interception, and blocked two Redmond point-after attempts. Teammate Shaw Burns had an efficient game in his own right, adding 151 yards rushing on 19 carries.
Redmond (2-2, 2-1 IMC) was led by senior quarterback Hayden Parrish, who finished 15-of-20 passing for 308 yards and one touchdown. He was 12-for-14 in the second half, leading the Panther comeback from a 30-7 third-quarter deficit.