Trout Lake artists gallery show
TROUT LAKE — The Trout Lake Arts Council will host a pop-up art gallery at the Trout Lake Grange the weekend of April 28-30. An artist reception with refreshments will be held on Friday April 28, from 5-8 p.m.
The gallery will continue to be open on Saturday, from 11a.m. to 6 p.m., and on Sunday, from 11 a.m. to 2 p.m. The show will feature a variety of work from Trout Lake artists Sarah Arnold, Todd Biernacki, Dennis Hartley, Brooks Heard, Norbert Miller, Tina Morris, David Sherburne, Sue Tibbott, and Carolyn Wilhelm.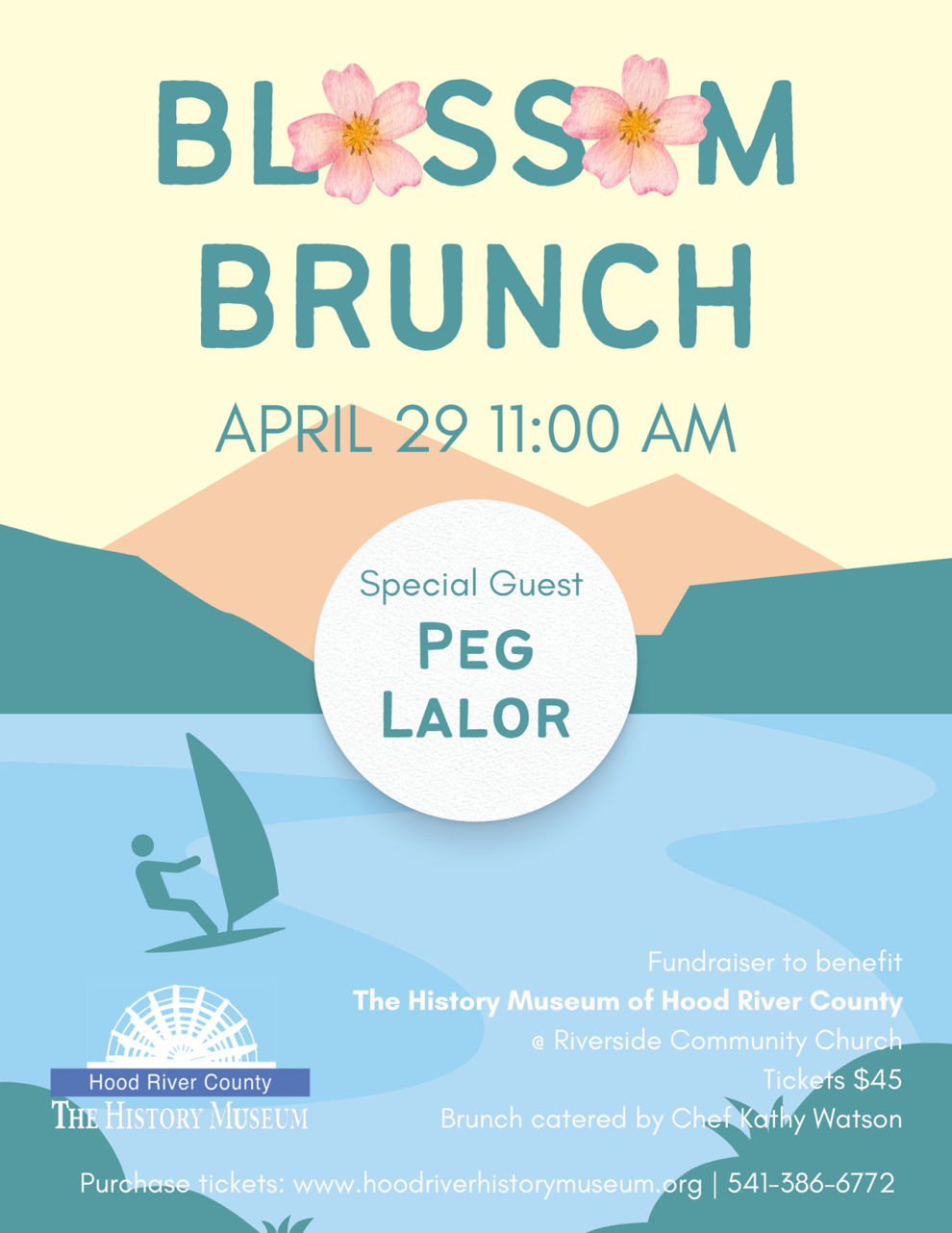 Blossom Brunch Spring Fundraiser
HOOD RIVER — The History Museum of Hood River County is hosting its Blossom Brunch Spring Fundraiser on Saturday, April 29 beginning at 11 a.m. at the Riverview Room at Riverside Community Church, 317 State St.
"Celebrate spring and The History Museum with a brunch and talk," said a museum press release. "Special guest Peg Lalor shares how she created the one-of-a-kind Gorge Games in the 1990s. The games attracted world-class athletes to the Columbia River Gorge to compete in events like windsurfing, kiteboarding, mountain biking, and adventure racing." Brunch will be catered by Chef Kathy Watson. Cost is $45; tickets are on sale at hoodriverhistorymuseum.org/blossombrunch.
For more info, call 541-386-6772 or email info@hoodriverhistorymuseum.org.
Gorge Winds spring concert May 7
THE DALLES — The Gorge Winds Concert Band will perform its annual Spring Concert on Sunday, May 7 at 3 p.m. at Gateway Church, 1111 Dry Hollow Road. Doors will open at 2:30 p.m. The concert will include medleys from the musical "Les Miserables," movie themes of John Williams, and a variety of other selections. Suggested donations are $10 per person or $20 per family; children under 12 are free. Refreshments will be provided at intermission.
For more information, visit gorgewindsband.org.
Yard by Yard conservation program
WHITE SALMON — Conservation begins at home, whether that home is the back 40 acres, or the backyard. Underwood Conservation District has been working with landowners for 80 years on farms, in fields, along streams, and this spring, is offering in-town residents a way to think about their own backyards (and front yards), find ways to improve wildlife habitat there, and celebrate it.
The program is called "Yard By Yard." It is a self-paced and flexible program, with a number of yard-scale efforts that people can do to "bring nature home." Participants work through a checklist of improvements in several categories, like soil, water, habitat, and wildlife interactions. There's no deadline, no cumbersome reporting or paper-work, and Yard By Yard is entirely voluntary, like all UCD efforts.
Upon completion, successful yards can post a small celebratory sign, and share photos and anecdotes of their struggles and victories, if they wish. Visit www.ucdwa.org/yard-by-yard to learn more about the new Yard By Yard program.
PRIDE book club books available
THE DALLES — The PRIDE Book Club, which meets from 6-7 p.m. on the second Thursday of the month at The Dalles-Wasco County Library, is open to people 18 years and older who are interested in reading and discussing LGBTQ+ books. The May 11 book is "The 57 Bus" by Daska Slater. Books are available at the library. Refreshments will be served.
New library hours announced
CASCADE LOCKS / PARKDALE — Hood River County Library District's Cascade Locks and Parkdale library branches began new business hours earlier this month, as follows:
Tuesdays and Thursdays, 2-6 p.m.
Wednesdays, Fridays and Saturdays, 10 a.m. to 2 p.m.
The Cascade Locks branch is located at 300 SE WaNaPa St. (in the southeast corner of Cascade Locks Elementary) and can be reached at 541-374-9317; the Parkdale branch is located at 7300 Clear Creek Road (downstairs in Parkdale Community Center) and can be reached at 541-352-6502. Or, for information on all library sites, email info@hoodriverlibrary.org.
Small gardens wanted for 2024 garden tour
HOOD RIVER / ODELL — Do you have, or know of a fabulous small space home landscape in the Hood River or Odell area? If so, Central Gorge Master Gardeners would like to consider it for inclusion on our 2024 Garden Tour to be held on June 15, 2024. The focus of the 2024 Master Gardener Garden Tour is small space landscapes that may include native plants, pollinator gardens, xeriscape (low or no watering), minimal or no lawn, or something innovative and out of the ordinary that makes efficient use of a small space.
Submit your suggestions of gardens (owners name, address, phone number and email) for the 2024 Master Gardener Garden Tour to Megan Wickersham, megan.wickersham@oregonstate.edu.